Bordeaux 2018 in bottle: UGC tasting highlights
As well as marking the year that France won the World Cup Final, 2018 will be remembered in Bordeaux as a tumultuous growing season, starting with nightmare weather conditions, and finishing "in ecstasy" (recap more on the 2018 vintage in Wine Lister's post-harvest and vintage assessment blogs).
Now that the wines have settled in bottle, it is the world around them that has been thrown into a state of chaos, though one managed impeccably by the organisers of Wednesday's UGC tasting (see photo below). Tasting around 130 wines, members of the Wine Lister team have chosen a selection of highlights, as examined in this post.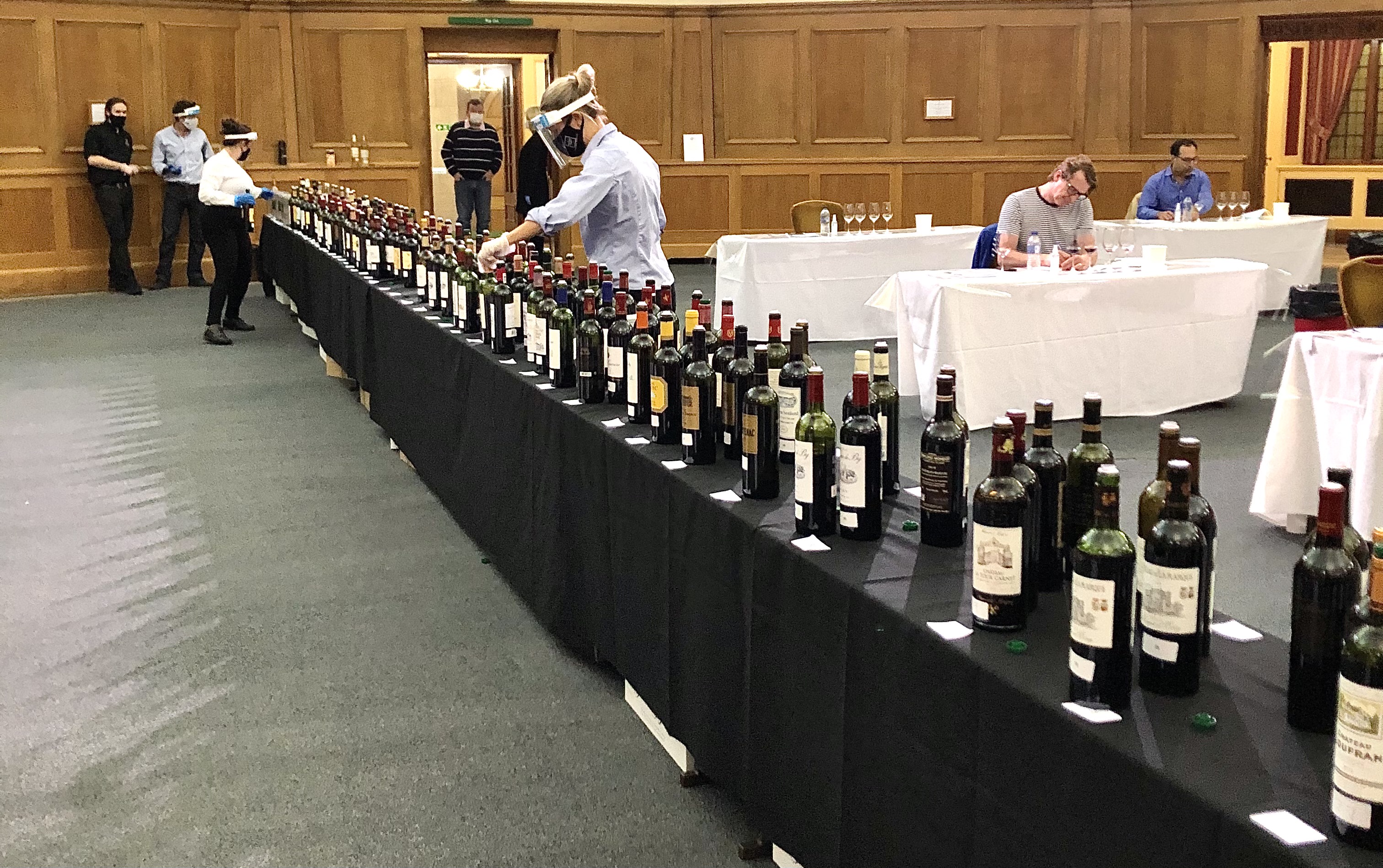 The team's highlights include seven of the 19 Bordeaux 2018s MUST BUYs, and 11 other picks that were showing the best out of those present at the UGC tasting.
Pauillac and Pessac-Léognan were our top two appellations, with four picks apiece. The two Pichons – Baron and Comtesse – were showing beautifully, the former impressing with a "ripe, autumn berry profile" and a "dense but silky texture". Pichon Comtesse – one of Wine Lister's favourites during 2018 en primeur tastings – exhibited toasty notes of "tobacco, coffee, and mocha" on the nose, that opened into an elegant and energetic palate of "black cherry with chai spices".
In Pessac-Léognan, Domaine de Chevalier presented subtly at first, but opened up into a "heady nose of plum and cassis", matched with an equally sumptuous palate that was "deep in tone, but lifted in structure". Malartic-Lagravière displayed a distinct Pessac minerality, and featured an intense, perfumed nose of "morello cherry and lavender". The palate showed more savoury flavours, nonetheless endowed with a "velveteen texture".
Elsewhere on the left bank, Margaux had three highlights, including the "sensual and floral" Giscours, and Brane-Cantenac – a "powerball of ripe, layered, and energetic fruit". MUST BUY Rauzan-Ségla displayed nuanced aromas of "blueberry and raspberry", with a notably generous and glossy mouthfeel.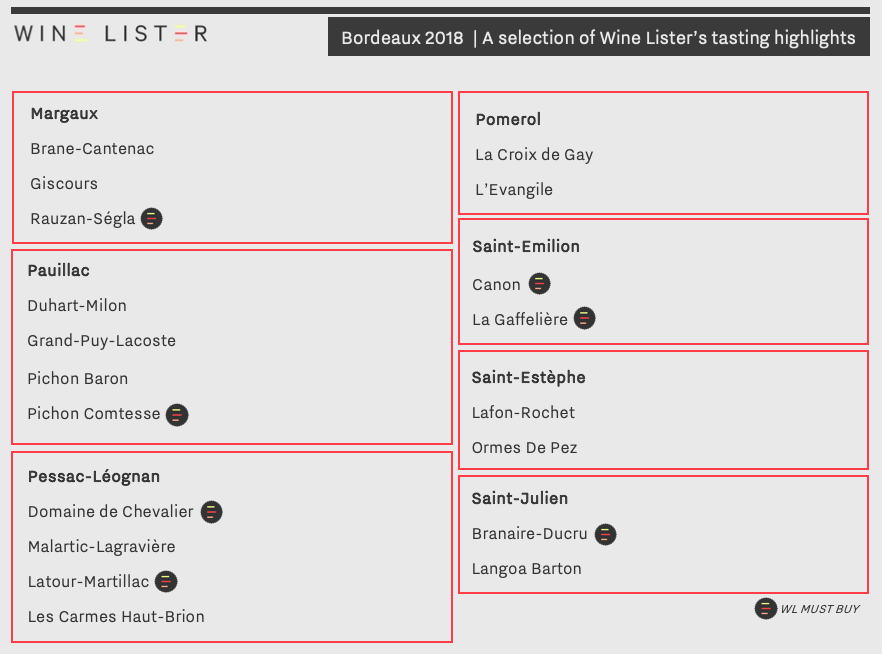 Both Saint-Estèphe highlights offered complex profiles, sharing a comparable first note of "smoke and cured meats". Lafon-Rochet prevailed in savoury finesse, opening up into "sandalwood and black pepper" on the nose, while Ormes De Pez developed into a "sweet and plummy" bouquet, providing "crunchy red apple and bramble" on the palate.
In Saint-Julien, MUST BUY Branaire-Ducru 2018 showed at the same time a "welcoming warmth" and a plethora of pure and precise fruit notes; "blackcurrant, blackberry, red plum" and a long, floral finish.
On the right bank, Saint-Emilion was well-represented by Canon 2018, which the Wine Lister team noted as "multi-dimensional", encompassing an opening minerality that swiftly released into a refreshing bouquet of "luscious cherry, raspberry, and crushed strawberries". Its palate was "utterly moreish", with "delicate cherry notes" lingering on the finish – "this just goes on and on", we noted.
In Pomerol, La Croix de Gay stood out with a distinct, potpourri character on the nose, and an "elegant palate of ripe berries". L'Evangile, displayed a wealth of "black fruit flavours, overlaying its rich but balanced mouthfeel".
Other wines included in Wine Lister's 2018 tastings highlights are: Duhart-Milon, Grand-Puy-Lacoste, La Gaffelière, Langoa Barton, Latour-Martillac, and Les Carmes Haut-Brion.