Bordeaux 2018 – early impressions: top dogs and underdogs
Last week, members of the Wine Lister team were in Bordeaux tasting hundreds of Bordeaux 2018s en primeur. Our full report of the 2018 vintage (similar to last year's article on 2017) will be out soon, and in the meantime we examine below some 2018 tasting highlights.
Quality across the wines we tasted is extremely high. We have selected 42 highlights, including 10 underdogs – those wines we felt surpassed our quality expectations.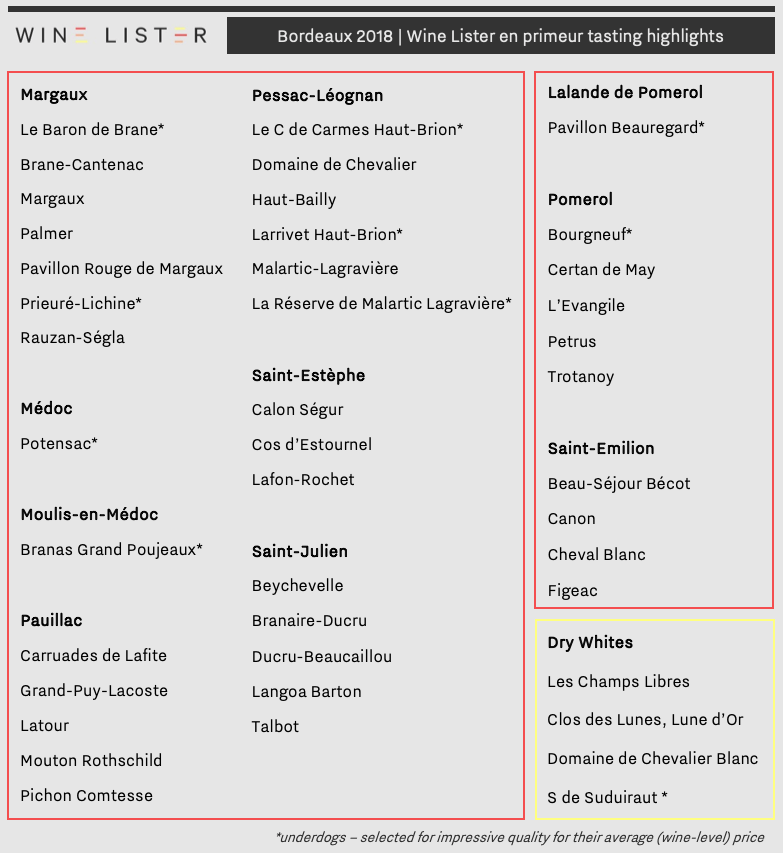 The Wine Lister team found beautiful wines in all the left bank appellations. Margaux and Pessac-Léognan appeared the most consistent for high quality, earning seven and six highlights respectively. These two appellations are home to five of Wine Lister's 10 underdogs of 2018 en primeur tastings.
The former includes its first-growth namesake, Château Margaux, which was precise, addictive, and harmonious. Pavillon Rouge de Margaux also made the cut thanks to its intriguing and soft fruit character. Brane-Cantenac is becoming a Wine Lister staple after appearing in both 2016 and 2009 tasting highlights. Its 2018 was pure, fresh, and a perfect balance between power and finesse.
In Pessac-Léognan, Domaine de Chevalier had piercing intensity balanced with a floral softness, while Haut-Bailly impressed with a playful fruit character and velvet texture.
Elsewhere on the left bank, Branas Grand Poujeaux surprised with its classy, energetic, dark fruit. Pauillac produced examples of intense fruit handled with a delicate touch (Grand-Puy-Lacoste and Pichon Comtesse). Saint-Estèphe presented beguiling wines with great freshness and elegance (Cos d'Estournel). Saint-Julien showed depth of flavour and complexity in equal measure (Langoa Barton, Ducru-Beaucaillou).
The right bank was just as impressive, with an equal proportion of highlights for Wine Lister as the left (in each case, 19% of wines tasted made the cut). These include one underdog (and new discovery for Wine Lister) from Lalande de Pomerol, five stand-outs from Pomerol, and four from Saint-Émilion.
In Pomerol, Petrus was alluring, generous, and floral, while Trotanoy had delicate strength and never-ending energy. Saint-Émilion produced favourites of varying styles, including Cheval Blanc – a magical, mesmerising boudoir-style wine, and Canon – dancing, racy, and fresh.
Readers should note that these 42 wines are some of the team's favourites from last week's tastings, but that we will be releasing official Wine Lister Buys throughout the campaign as prices become known. WL Buys take into account a wine's quality (based on our partner critics' scores, which we look forward to adding as soon as they are released), and value within the vintage and appellation, as well as Wine Lister's personal opinion based on our own tastings and market insights.
Trade members wishing to gain full access to Wine Lister's en primeur campaign coverage will need to subscribe to Wine Lister Pro. Register your interest here.