Bordeaux 2018 en primeur part I : the vintage
In June 2018, the idea that Bordeaux had a very good vintage on its hands was laughable. The first half of the year had seen incessant rain in the region. Mildew was rife and vignerons were fighting it all day long, including at weekends (if they could afford to). At Château Corbin, owner Anabelle Cruse cancelled her trip to Vinexpo Hong Kong to be on site to manage treatments. "We couldn't afford any mistakes after losing nearly all of the 2017 vintage [to frost]," she said.
But then on 18th June, the weather turned, and barely another drop of rain fell until September. 2018 was a year of extremes for Bordeaux. "It started hellish, and finished in ecstasy," said Sara Lecompte Cuvelier, Managing Director at Léoville-Poyferré. "It started a nightmare and finished a dream," echoed Guillaume Pouthier, Director at Carmes Haut-Brion.
Against all odds, some truly extraordinary wines were made. "Technically, it's the most accomplished wine we have made since I joined," said Nicolas Glumineau, Managing Director of Pichon Comtesse since 2012. Adrien Bernard declared, "the 2018 [red] is the greatest wine my dad has made" – the Bernard family bought Domaine de Chevalier in 1983. But 2018 was not a great vintage across the board like 1982, 1989, or 2010. It wasn't a vintage where you could make a great wine with your eyes closed. On the contrary, 2018 is a vintage where human choices really mattered, and at the top level, happily, these choices were usually the right ones.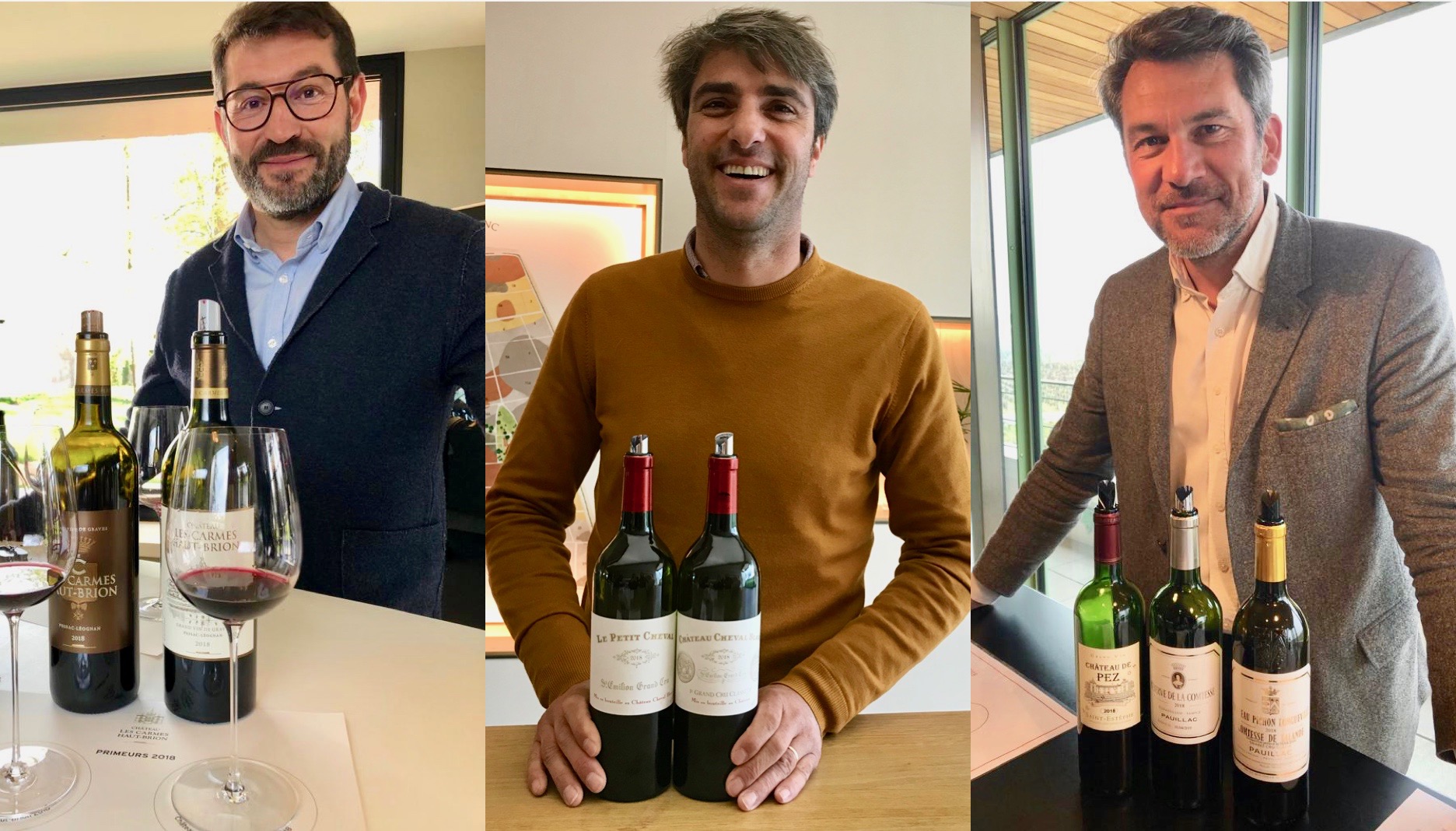 Happy with their 2018s: Guillaume Pouthier, Pierre-Olivier Clouet, and Nicolas Glumineau
Concentration in the 2018s is at unprecedented levels: grapes were lost to mildew in the spring, and then the summer drought left remaining berries very small, without much juice. Picking dates were key: the temptation to leave the grapes hanging in the Indian summer was strong, but success in 2018 was all about retaining freshness to counter the high levels of alcohol and tannin.
Even those who picked early were still facing unknown territory. Many producers recounted the topsy turvy ratio of marc to juice in the vats (more skins and pips than liquid). As a result, tannin levels were off the scale, with IPTs (Indice de Polyphénols Totaux) at their highest ever recorded for many producers. At Lynch-Bages, Technical Director Nicolas Labenne explained that, "a normal IPT would be 70, a good year is 80, and we're at 95 in 2018."
"But it's the quality of the tannins that's important," Pouthier reminded us. This colossal potential needed taming by the winemakers if they were to make gentle giants, and not monsters in 2018. "This was a year where you couldn't go into the cellar and say, 'well every year I do it like this so I'll do the same'," said Lillian Barton. "You had to be careful with the extraction," she explained.
During our tastings last week, producers of the best wines explained their use of more gentle, less frequent extraction, and vinification at lower temperatures than normal. At Petrus, winemaker Olivier Berrouet explained that, "In a hot vintage it's tempting to go further, but we wanted to keep delicacy; we let the wine infuse like tea." He was not the only one to talk about "infusion", some châteaux foregoing altogether the use of extraction techniques such as pumping over and punching down. This allowed subtler winemakers to achieve silky, creamy tannins that melt in the mouth, while retaining all the generous flavours from the uniquely concentrated grapes.
The 2018 vintage really is one of a kind. "It's impossible to compare it to another vintage other than to say 2016 plus plus," offered Pierre Graffeuille, Managing Director at Léoville Las Cases, because it has "more of everything." More alcohol, more tannin, more flavour, but also in the best examples (and there are many), more freshness and more silkiness (some of which have been highlighted in Wine Lister's 2018 tasting favourites). So if you believe that more is more, this is a vintage for you. Just beware that some wines have all the beast and none of the beauty.
In part II of this en primeur round-up we will look at production volumes before considering the upcoming campaign – its context, as well as likely timing and pricing. Watch this space.
Part I of our annual Bordeaux study is available here, and part II will be released to subscribers in May. Follow us on Twitter for the 2018 Bordeaux en primeur release updates, or for real-time analysis enquire here about subscription to Wine Lister Pro.