The Bordeaux 2018 harvest: another 2010?
As ripe, healthy grapes are being picked across Bordeaux, winemakers are anything but shy about the potential of the 2018 vintage. "2015 and 2016 are five-star vintages, but 2009 and 2010 are five-star plus," said Olivier Bernard, president of the Union des Grands Crus Classés de Bordeaux. At his own property in Pessac-Léognan, Domaine de Chevalier, "2018 has 2009-2010 potential," he declared on Wednesday morning, just as the red harvest was beginning.
Bernard is not the only Bordeaux producer daring to hope that the region has another great vintage on its way into the cellars. Part of the Wine Lister team is just back from four days in Bordeaux, where we visited châteaux on right bank and left, from Saint-Estèphe in the very north to Pessac-Léognan south of the city. We tasted lots of berries, spoke to oenologists, and even picked some grapes.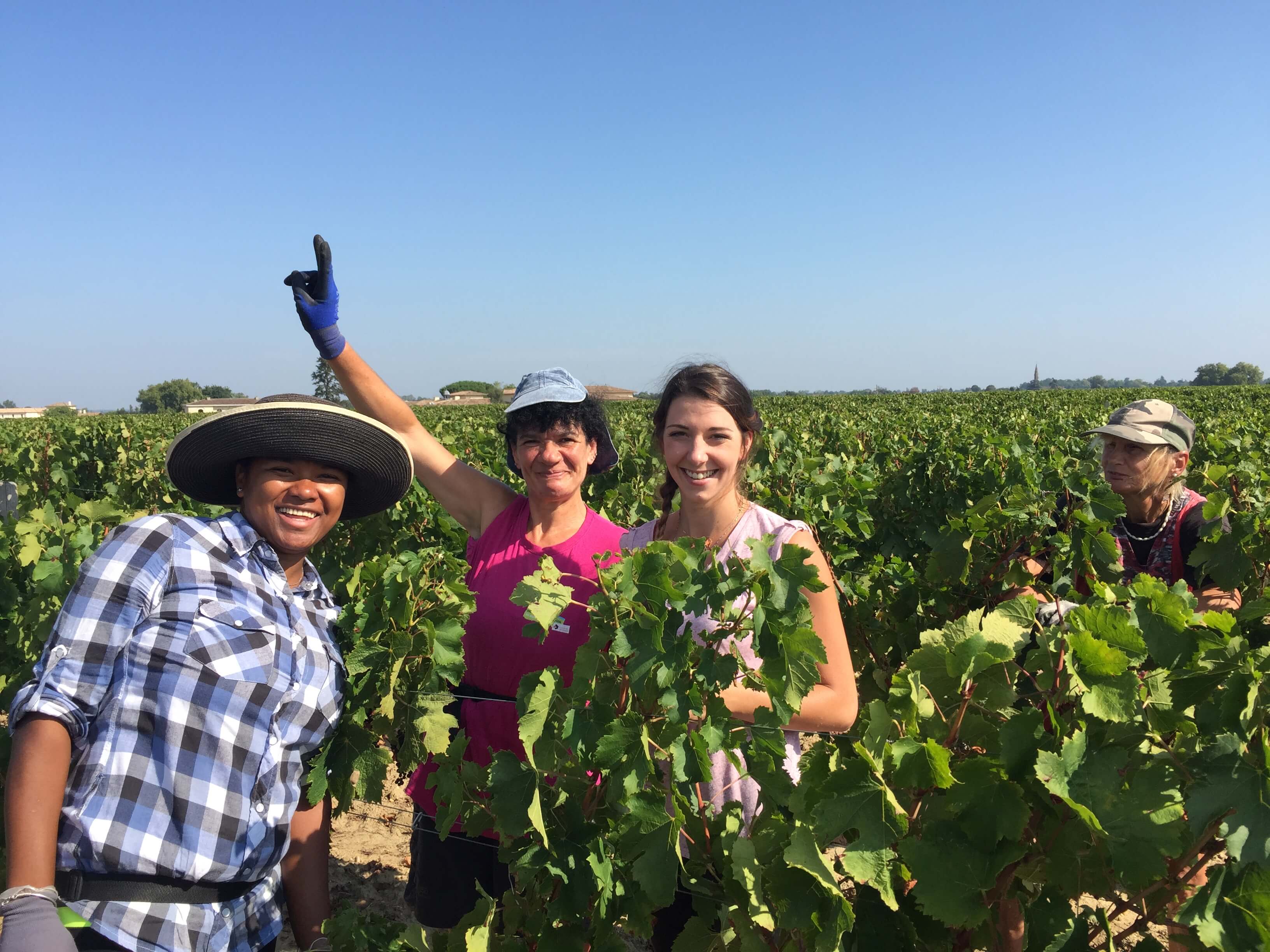 Members of the picking team at Petrus during the 2018 harvest
Producers' smiles were big, and all the signs were promising, but after such a rollercoaster growing season, can 2018 really match up to the historic pair of 2009 and 2010? I asked straight-talking winemaking consultant Stéphane Derenoncourt if this comparison was justified. "More 2010," he confirmed, adding, "There are going to be some delicious wines."
Spring in Bordeaux was interminably wet, and mildew a serious threat throughout the region. "We thought there might not be a harvest at all," recalls Nicolas Audebert, Managing Director of Châteaux Canon and Rauzan-Ségla. "It rained non-stop, and with high humidity and the high temperatures in June, it was almost tropical," he said. Some members of Audebert's team had never seen mildew so rife in 40 years of working the vines in Bordeaux.
Many top producers were affected, especially those practising organic or biodynamic viticulture and therefore unable to treat the vines systematically to protect from the fungus. In Saint-Estèphe, at the top of the Gironde Estuary nearest the Atlantic Ocean, Lafon-Rochet, organic since 2010 (though uncertified), abandoned the practice this year, and for good, in order to fight the rain.
However, mildew "is primarily a problem for quantity, rather than quality," explained Axel Marchal, consultant and researcher at Bordeaux University, because the affected grapes are easily removed and discarded. "Badly hit vines can see a slight quality impact too, if the stress caused to the plant is enough to delay maturity," he clarified.
At Canon in Saint-Emilion, quantity lost to mildew was recouped by less green harvesting later in the season. Its larger Margaux sister property, Rauzan-Ségla, was not so lucky, and yields will be lower than average. The two properties are organic (again not certified), allowing them to treat the vines when "really necessary". However, many strictly organic or biodynamic estates will produce much smaller quantities of wine this year, meaning yields will be very varied from château to château, ranging from around 15 hl/ha to 50 hl/ha or more.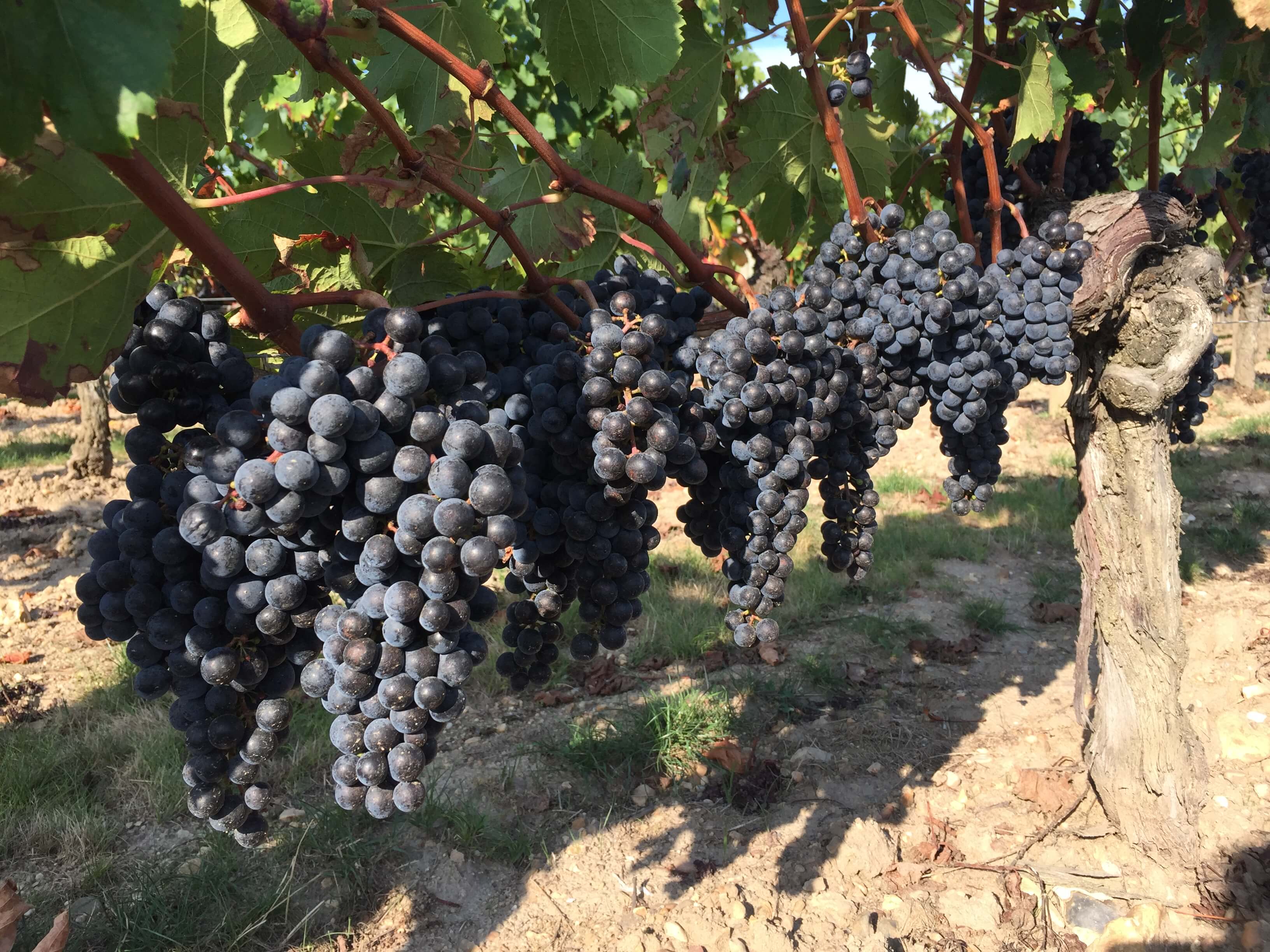 Grapes ripe for picking at Petrus
Potential quantity started off high, with the rain acting as "a signal for the plant to produce lots of fruit," explained Bernard. The incessant spring downpours had another positive effect: they left the ground full of water, helping the vines to withstand the hot, dry summer that unfolded from 20th June onwards. "Looking at our vines, it's hard to believe it's been one of the driest summers in 50 years," marvelled Bernard.
Audebert thinks the 2018 Canon will be soft and rounded, but livelier than 2005 or 2009, with phenolic potential above that of the 2010 (which of course is renowned for its intense colour and high levels of ripe tannin). When I asked if it could be as good as 2010, my question was met with silence and a roguish smile.