The best for your buck: Bordeaux 2019 at five different price points
Thanks to solid discounts on existing market prices from many châteaux, the Bordeaux 2019 en primeur campaign can be considered a success, and may prove in the long-term to have helped the en primeur system find its feet once again, in terms of the cost benefit it offers to buyers.
Part II of Wine Lister's Bordeaux Study, In sickness, in health discusses this in more detail. In the meantime, below we have selected top MUST BUYs at different price points, to help those still on the hunt for Bordeaux 2019.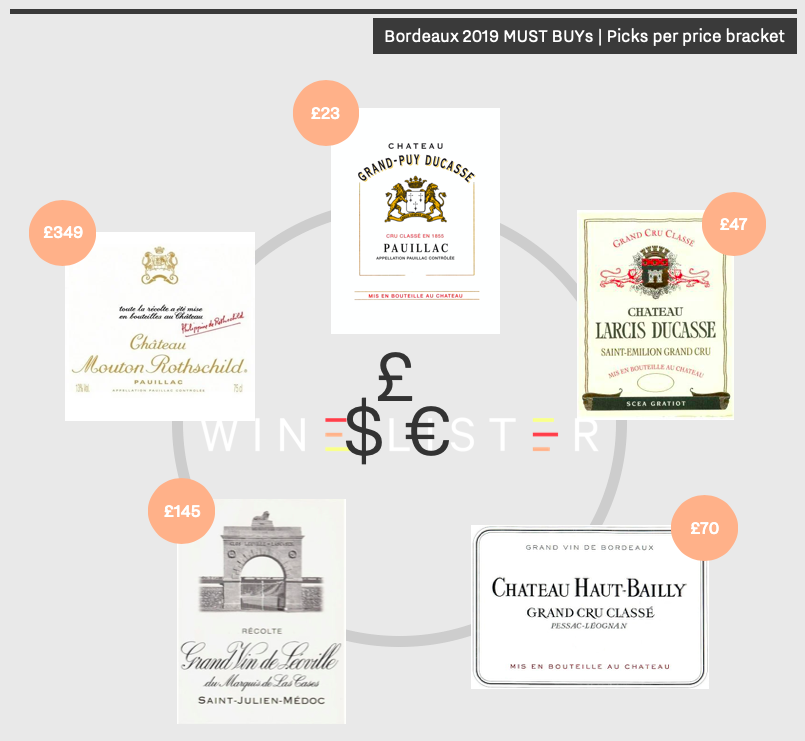 Under £25 – Grand-Puy-Ducasse
Grand-Puy-Ducasse 2019 is both a MUST BUY and a Value Pick, achieving its best ever WL score of 93 in 2019, available at £23 per bottle (in-bond) when buying by the case. The latest release illustrates the contrasting climatic conditions of 2019, with critics noting its complexity and nuance. Wine Lister partner critic, Neal Martin, notes, "crisp tannins, a fine bead of acidity, cohesive and harmonious with a lovely saline/briny note", adding "this is one of the best Grand Puy Ducasse wines that I have encountered from barrel. Excellent". Grand-Puy-Ducasse 2019 is available to purchase by the case from Justerini & Brooks.
More Bordeaux 2019 MUSY BUYs under £25: Capbern, Gloria, Laroque, Meyney, Potensac, and Siran.
Under £50 – Larcis-Ducasse
At £47 per bottle (in-bond), Larcis-Ducasse 2019 is priced notably well within the wider context of Saint-Émilion Grand Cru Classé "B" releases. As examined in a recent en primeur blog, it earns a WL score of 95 – just one point less than the likes of Cheval Blanc and Pavie (costing on average six times less than its Classés "A" neighbours). Winemaker, David Suire, observes that the vintage reflects clearly its limestone terroir, showing floral notes and an overriding minerality. Wine Lister partner critic, Antonio Galloni, concurs, noting "graphite, menthol, licorice, tobacco and cedar notes" in the bouquet, coining it "one of Bordeaux's most under the radar gems". While demand for this wine has likely been strong, Larcis-Ducasse 2019 is still available through Millésima's UK and Hong Kong branches.
More Bordeaux 2019 MUST BUYs under £50: Brane-Cantenac, Giscours, Grand-Puy-Lacoste, La Gaffelière, Malescot Saint-Exupéry, and Pavie-Macquin.
Under £100 – Haut-Bailly
At £70 per bottle (in-bond), Haut-Bailly 2019 shares the château's top WL score (95) with recent vintages 2018, 2016, 2015, and 2014. Managing Director, Veronique Sanders, told the Wine Lister team of their need to light fires five times to prevent frost in the spring of 2019, escaping unscathed. In the end, challenges throughout the growing season concluded in perfect harvest conditions, and a wine of impressive balance and energy. Indeed, the 2019 has received unanimous confidence from critics – Neal Martin states that the 2019 is a "more terroir expressive Haut-Bailly that has an effortless allure and a sense of sophistication", concluding that it is "wonderful". Haut-Bailly 2019 can be acquired by the case through Goedhuis & co.
More Bordeaux 2019 MUST BUYs under £100: Calon Ségur, Canon-la-Gaffelière, Canon, Clinet, Léoville Poyferré, Pontet-Canet,  Lynch-Bages, Montrose, and Troplong-Mondot.
Under £200 – Léoville Las Cases
Léoville Las Cases 2019 achieves a WL score of 97, at £145 per bottle (in-bond). While volumes of the 2019 released onto the market were down 35% on last year, there is still some availability of this Saint-Julien super second, and we highly recommend getting your hands on some. Wine Lister's CEO, Ella, describes it as "luminous and lyrical", noting a bouquet of "English garden – raspberry blossom, cow parsley, fraises de bois, and then a deeper note of ripe cherries". James Lawther for JancisRobinson.com is similarly impressed, awarding it 19 points and noting it as "one of the greats from this estate". The latest vintage can be purchased through Fine+Rare.
More Bordeaux 2019 MUST BUYs under £200: Figeac, Haut-Brion, La Conseillante, La Mondotte, Le Petit Mouton, La Mission Haut-Brion, Palmer, Pichon Comtesse, and Vieux Château Certan.
Over £300 – Mouton
While the release price of this Pauillac Premier Cru, let alone the quality of its 2019, likely makes it one of the most popular buys of the campaign, there may still be opportunities to secure some en primeur. Released at £299 per bottle (in-bond), Mouton 2019 achieves a WL score of 97 – the second-highest score achieved by the château in recent years, following the 2016's 98. Wine Lister's CEO, Ella Lister, describes Mouton 2019 thus: "velveteen tannins, long and caressing", recounting "complex, savoury flavours of graphite and slate intermingled with the generous fruit". Farr Vintners still appears to have some availability of Mouton 2019 (albeit at a slightly higher price than its release).
More Bordeaux 2019 MUST BUYs over £300: Cheval Blanc, Lafite, and Lafleur.
French readers can find this blog in French translation on Le Figaro Vin's website. 
Wine Lister Pro members can read Part II of the Bordeaux study here. All free users can purchase the report for £125 from Wine Lister's Analysis page (available in both English and French).