En primeur latest – packed with potential
As we approach the tail end of this busy campaign, the last two working days have seen some promising releases from both banks. Below we examine some of the highlights.
Friday 19th June
Haut-Bailly 2019 was released at £70 per bottle (in-bond), 20% below the 2018 release price. Wine Lister partner critics collectively award the 2019 its highest WL score ever (96), with laudable comments to boot – Antonio Galloni states, "it is easily one of the highlights of the vintage", while Wine Lister's CEO, Ella Lister, finds the wine "dark fruited and brooding", on the nose, and "bewitching, languorous, and layered" on the palate. Haut-Bailly 2019 places second of all Pessac-Léognan reds, after a joint-first WL score of 97 for La Mission Haut-Brion 2019 and Haut-Brion 2019). With a record-high quality, and as a brand on the up, this is a release not to be missed.
Also released on Friday were wines from the Las Cases stable. The flagship wine, Léoville Las Cases, came onto the market at £145.50 per bottle (in-bond) – also a 20% discount from 2018's opening price. Tasting in Bordeaux two weeks ago, Lister notes the 2019 is "magisterial" with "building power on the finish". Wine Lister partner critic, Neal Martin, awards Léoville Las Cases 2019 96-98 points, and adds, "there is a clarity to this Grand Vin that places it amongst Jean-Hubert Delon's finest releases in recent years".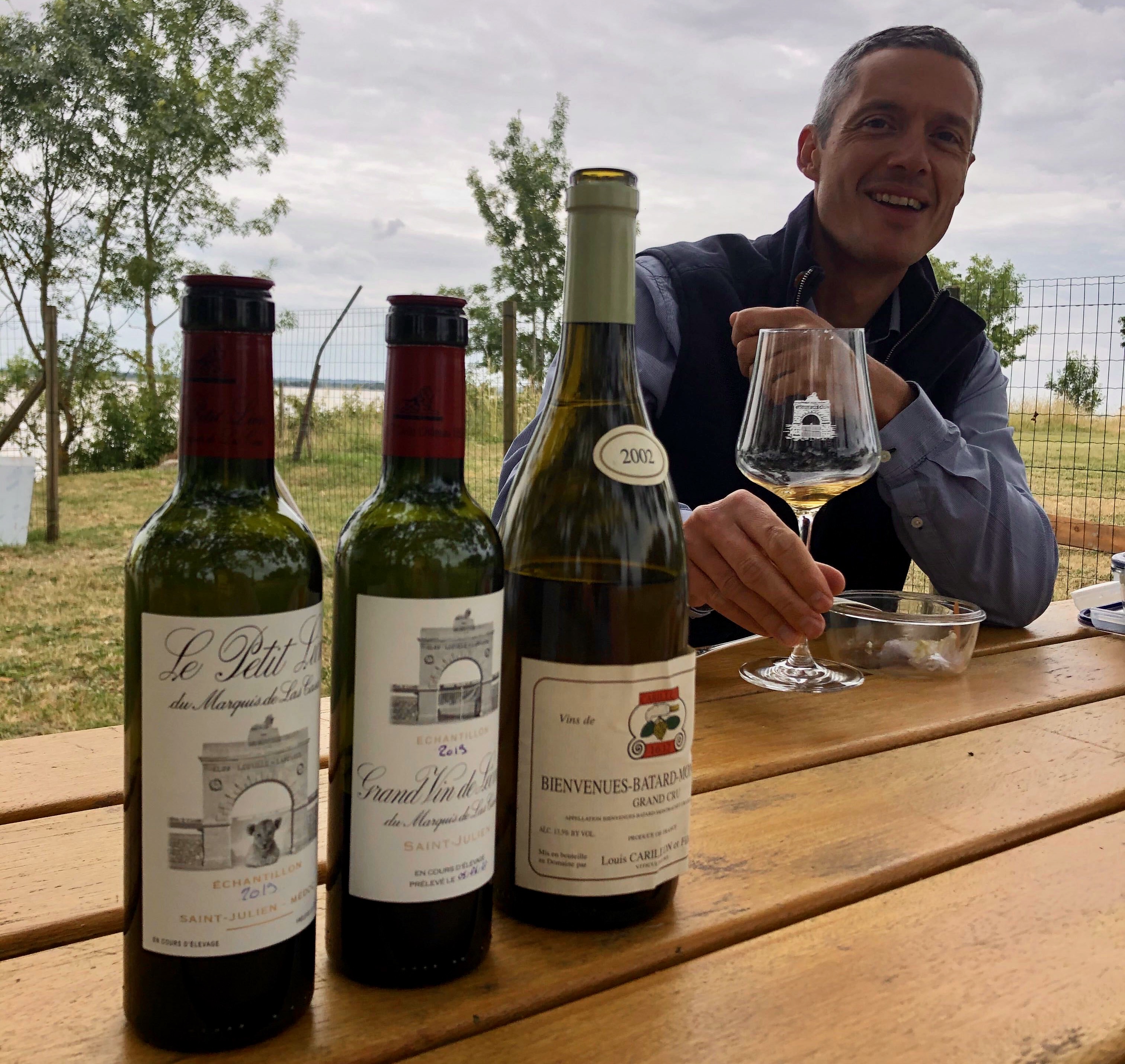 Picnic with Director Pierre Graffeuille – Wine Lister's CEO, Ella Lister, tasted the Las Cases 2019s in Bordeaux two weeks ago, and describes the Grand Vin as "Luminous, transparent, and lyrical".
Clos du Marquis and Nénin were also released, each offering good value in the context of similar quality wines produced in their respective appellations – Saint-Julien and Pomerol. Léoville Las Cases' little brother, Petit Lion, is also exceptionally good value.
Perhaps the most notable release of a very busy Friday was l'Église Clinet 2019. Coming onto the market around the same price as the 2018 at £214 per bottle (in-bond), this is a sure exception to the trade's "-30%" rule, given its circumstances – the last vintage of owner, the late Denis Durantou, who sadly passed away one month ago. Critics' scores suggest that this final vintage was his best yet – Neal Martin awards it 97-99 points, and notes, "the perfect way to remember and raise a toast to one of Pomerol's finest vignerons". For Thierry Desseauve, l'Église Clinet is one of the wines of the vintage.
Pavie Macquin and Larcis Ducasse also released their 2019s on Friday. The former was one of Lister's stand-out wines in 2019. She describes it as "bright and self-assured" on the nose, and "juicy and unctuous" on the palate. The latter shows particularly well against the wider Saint-Émilion backdrop. Saint-Émilion Grand Cru Classé "B" Larcis Ducasse 2019 earns a WL score of 95 – one point less than the likes of Cheval Blanc and Pavie, and is priced at just £47 per bottle (in-bond), or an average six times less than its Classés "A" comrades.
Monday 22nd June
Pichon Comtesse made for a powerful kick-off to the Bordeaux 2019 en primeur campaign's fourth (and possibly final) week. Releasing at £111 per bottle, the latest vintage comes onto the market c.15% below the 2018 and 2016 vintages, if at a c.10% premium to the highly-scored 2015. Wine collectors will nonetheless likely be desperate to get their hands on this, given its resounding praise from critics, not to mention the impressive popularity of the estate. A perennial Wine Lister favourite, CEO, Ella Lister notes the wine has "perfectly poised fruit, interwoven with savoury complexity". Neal Martin awards Pichon Comtesse 2019 98-100 points, and says, "Whisper it…it reminds me of their First Growth next door neighbour". Dare we say it – this is Latour-level quality for roughly a quarter of the price.
Also released today is Saint-Émilion superstar, Troplong-Mondot. Its 2019 comes onto the market comfortably below the preceding four vintages on the market, with a price of £63.50 per bottle. Continuing the impressive quality increase and style evolution lead by Aymeric de Gironde and his team, critics are impressed with Troplong-Mondot 2019. Antonio Galloni states, "this is a wine that simply can't be denied", and Neal Martin agrees, adding that it is "just a wine you are going to want to drink".
Further releases from Friday 19th June and Monday 22nd June are: Lascombes, Potensac, Réserve de la Comtesse, Smith Haut Lafitte, and Smith Haut Lafitte Blanc.