En primeur release rapids: week #2 so far
Now into its second full week, the Bordeaux 2019 en primeur campaign shifted up another gear today, with the release of first growth Mouton Rothschild, and its associated properties.
After the flurry of releases yesterday (Monday 8th June) met with very mixed reviews, Mouton reset the campaign tone, with a price 30% below the current market price of 2018, and under the price of all recent back vintages. Bordeaux buyers no doubt breathed a sigh of relief at the tidy figure – £299 per bottle in-bond – the most obvious buy of the campaign so far (other than Lafleur).
Not only is this release on the money in recognising today's difficult economic context, as well as Bordeaux's recent price performance struggles, it also provides a brilliant deal given the reported quality of 2019. Wine Lister's Founder and CEO, Ella Lister found Mouton 2019 to be floral, elegant, and stately. With a high proportion of Cabernet Sauvignon (90%, vs. an average 83%) it promises a long, prosperous life ahead.
Mouton's younger sibling, also released this morning, looks equally appealing, if for different reasons. Petit Mouton is one of Bordeaux's top wines for long-term price performance, and its 2019 release price thus manages to enter the market well under all recent back vintages.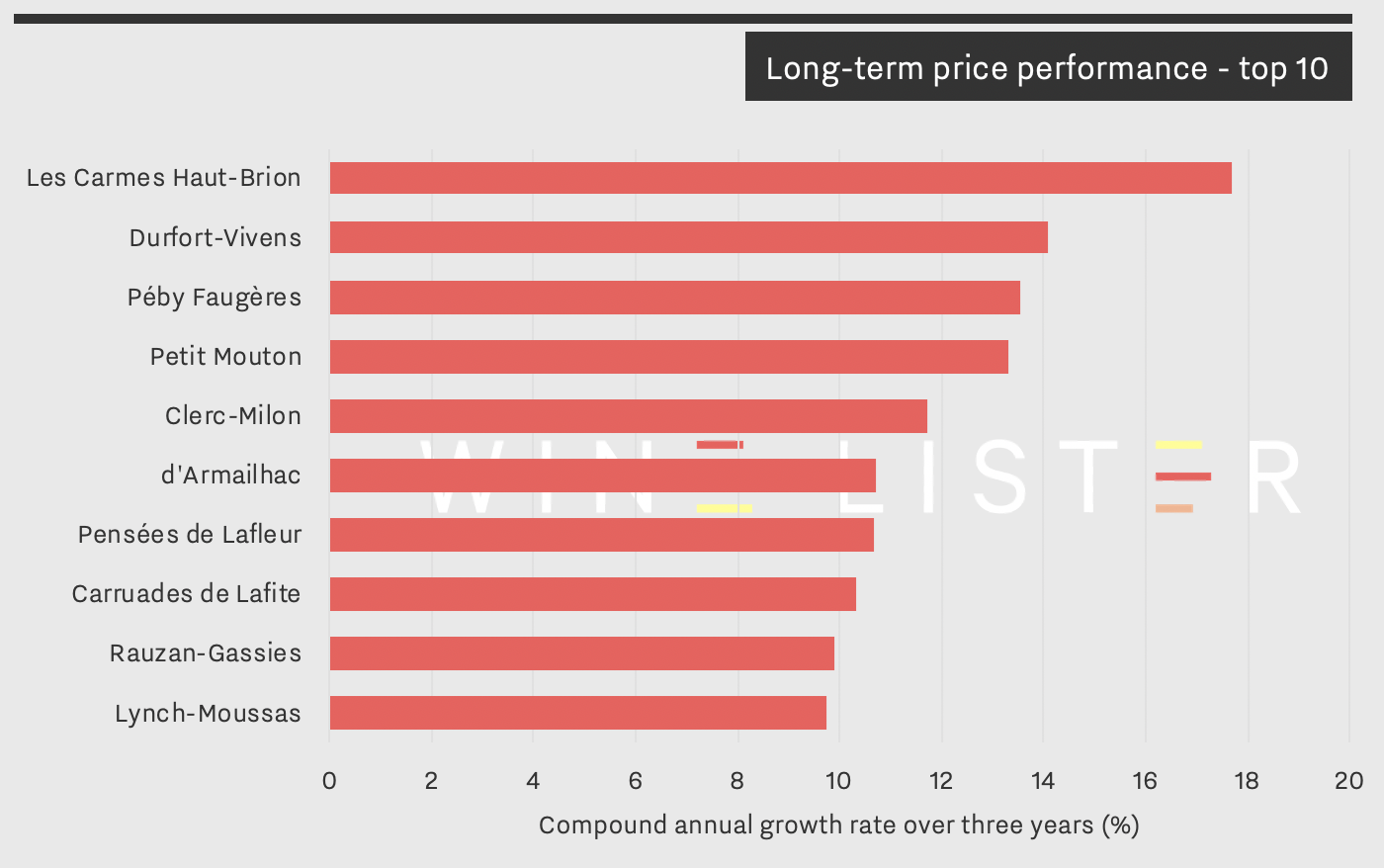 Of major Bordeaux brands, Petit Mouton achieves an average three-year CAGR (compound annual growth rate) of 13.3%, placing it in fourth place of the top 10 long-term price performers, as shown above.
The other 2019s in the Mouton stable, d'Armailhac, Clerc-Milon, and Aile d'Argent were also released today, at prices (per bottle, in-bond) of £31, £52, and £60 respectively.
Yesterday's hot ticket was right-bank royalty, Cheval Blanc, whose release at £375 also offered consumers a substantial discount on the 2018 release price (32%). Though not yet scored widely by critics, using 2018 as a proxy would mean Cheval Blanc 2019 achieves its joint-highest WL score since the 1961 (alongside the likes of recent greats – 2016, 2015, 2010, 2009, and 2005).
Fellow Saint-Émilion Grand Cru Classé A, Angélus, also released yesterday, though its release price in line with the physically available 2015 perhaps makes it look less attractive. There is nonetheless a real step-change in style and quality happening at Angélus, pioneered by the de Bouärd father-daughter team (Hubert and Stéphanie), which could mean this release is worth investing in for the future.
Two further releases of note from yesterday both hail from Saint-Julien. Branaire-Ducru, a Wine Lister favourite, released its 2019 at £29 per bottle in-bond, 25% down on the 2018 release price. Assuming Branaire's 2019 is on par with 2018 quality, this is an absolute buy, as the estate's joint best-ever grand vin at a price beneath all other recent vintages on the market. Léoville-Poyferré 2019 was also released, at £51.34 per bottle in-bond. Offering a 25% discount on last year's release price for the same quality level, the Saint-Julien second growth is worth considering – having tasted it last week, Lister notes that it is "super-fresh, scented, and luscious".
Also released so far this week are: Beychevelle, Carillon d'Angélus, Coutet, Gazin,  Haut-Bages Libéral, Ferrière, La Gurgue, La Tour Carnet, Larrivet Haut-Brion red and white, and Petit Cheval.