Bordeaux 2019 en primeur MUST BUYs
With the Bordeaux 2019 en primeur campaign now concluded, we bring you 38 new Wine Lister MUST BUYs. The tasting of Bordeaux 2019 has thus far confirmed the notable quality of the vintage, from which we have filtered some obvious campaign buys that can be expected to see increased prices, and decreased availability in the future.
Wine Lister's MUST BUY recommendation algorithm takes into account a wine's quality and value within its vintage and appellation, as well as the latest industry intelligence from key players in the global fine wine trade. These results are then filtered through an intelligence-based, human overlay, which identifies MUST BUY wines based on our tasting of Bordeaux 2019, and observation of the reception of each release in the market.
As illustrated below, there are 38 Bordeaux 2019s that are now recognised as MUST BUYs – suggesting that the benefit of buying en primeur is more obvious than last year (there were 24 Bordeaux 2018 en primeurs recognised as MUST BUYs following its campaign). They are all red: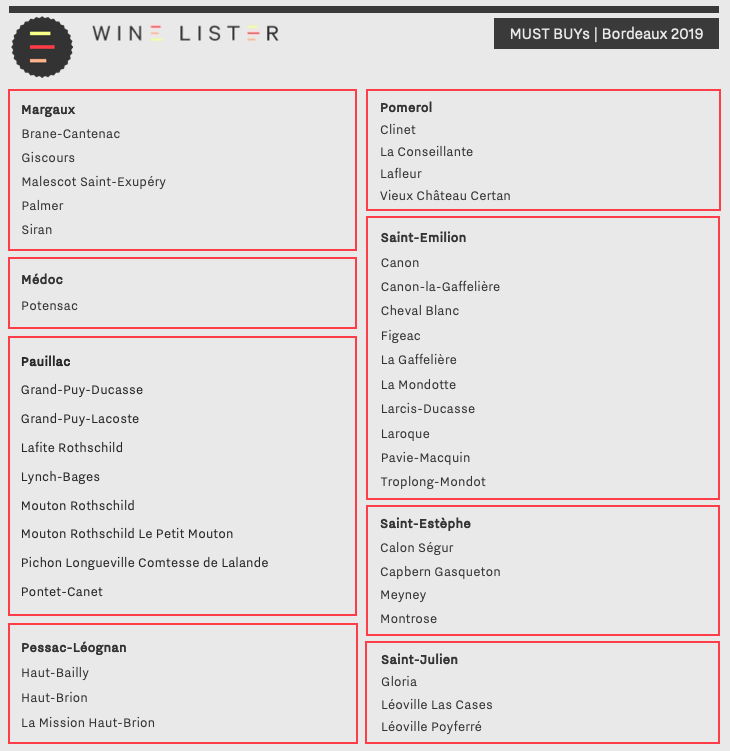 In keeping with last year's MUST BUY picks, Saint-Emilion once again ranks as the most recommended appellation – this year offering 10 MUST BUYs, including the top-scoring wine of the vintage: Figeac 2019. With a WL score of 98, Figeac's latest vintage has sustained the château's upward quality trajectory.
With a WL score of 93 at £18 per bottle (in-bond), Laroque 2019 exhibits excellent value relative to 2019 Saint-Emilions of comparable quality. Alongside its MUST BUY status, Laroque's latest vintage is also a Value Pick, making it an essential acquisition for the savvy Bordeaux buyer. Wine Lister partner critic, Antonio Galloni, notes, "raspberry jam, spice and red plum meld into the juicy finish", stating that "the 2019 is very nicely done".
Pauillac houses eight Bordeaux 2019 MUST BUYs, including first growths Lafite and Mouton, which both achieve WL scores of 97. Grand-Puy-Ducasse 2019 is both a MUST BUY and a Value Pick, having achieved a WL score of 93 at £23 per bottle (in-bond). Writing for Jancisrobinson.com, James Lawther muses whether the 2019 is the, "best of recent vintages?", suggesting that it "certainly has more structure and power with additional mid-palate flesh". As proposed in a previous Bordeaux 2019 en primeur blog, Pichon Comtesse is another notable Pauillac purchase for wine collectors, given the estate's impressive popularity, and its vast reduction in volume released this year.
Within its five MUST BUY picks (four at under £50 per bottle in-bond), Margaux contains two Value Picks, with Malescot Saint-Exupery and Siran priced at £31 and £20 per bottle (in-bond), respectively. At £167 per bottle (in-bond) Palmer 2019 shows good value within the context of its previous vintages (31% below the 2018 and 2016 release prices), which, alongside its limited quantity released en primeur, makes this a must for Margaux enthusiasts.
In Pomerol, La Conseillante, Lafleur, and Vieux Château Certan achieve WL scores of 96, while Clinet follows shortly behind with 95. At £54 per bottle (in-bond) the latter is notably cheaper than its Pomerol peers, and has made a major leap up in quality from previous vintages. Awarding it 97-99 points, Neal Martin writes that Clinet 2019 "is just so fragrant on the nose", stating that, "the purity that Ronan Laborde and his team have achieved should be applauded".
Calon Ségur and Montrose lead Saint-Estèphe's four MUST BUYs with a shared WL score of 95, while Meyney and Capbern provide testament to the value proposition available in the appellation, having been priced at £19 and £15 per bottle (in-bond), respectively.
Sharing three picks apiece are further left bank appellations Saint-Julien and Pessac-Léognan, which are both home to high-scoring 2019s. In Saint-Julien, Léoville Las Cases achieves a WL score of 97 – matched by Pessac-Léognan first growth Haut-Brion, and neighbour, La Mission.
Other wines featured in Wine Lister's Bordeaux 2019 MUST BUYs are: Brane-Cantenac, Canon, Canon-la-Gaffelière, Cheval Blanc, Giscours, Gloria, Grand-Puy-Lacoste, Haut-Bailly, Le Petit Mouton, La Gaffelière, La Mondotte, Larcis-Ducasse, Léoville Poyferré, Lynch-Bages, Pavie-Macquin, Pontet-Canet, Potensac, and Troplong-Mondot.
Wine Lister has now released Part II of its annual in-depth Bordeaux Study, examining the price and quality of Bordeaux 2019, relative to previous vintages. Purchase the full report here, or download using your Pro subscription (available in both English and French).