WL MUST BUYs – Bordeaux en primeur 2018
The Bordeaux 2018 en primeur campaign is over. While the quality of wines available is, for the most part, unquestionably good, release prices have been on the high side to say the least, making the benefit of buying en primeur less obvious than in previous years.
Wine Lister's brand-new website feature, WL MUST BUY, was launched this week*, especially for Bordeaux 2018 wines, to give valuable guidance as to which wines really are worth snapping up now.
Our ground-breaking MUST BUY recommendations are data-driven, with an intelligence-based, human overlay. The algorithm takes into account a wine's quality and value within its vintage and appellation, as well as the latest industry intelligence from key players in the global fine wine trade. The Wine Lister team have scoured these results to identify must-buy wines based on our own tastings of Bordeaux 2018s, and insider market knowledge.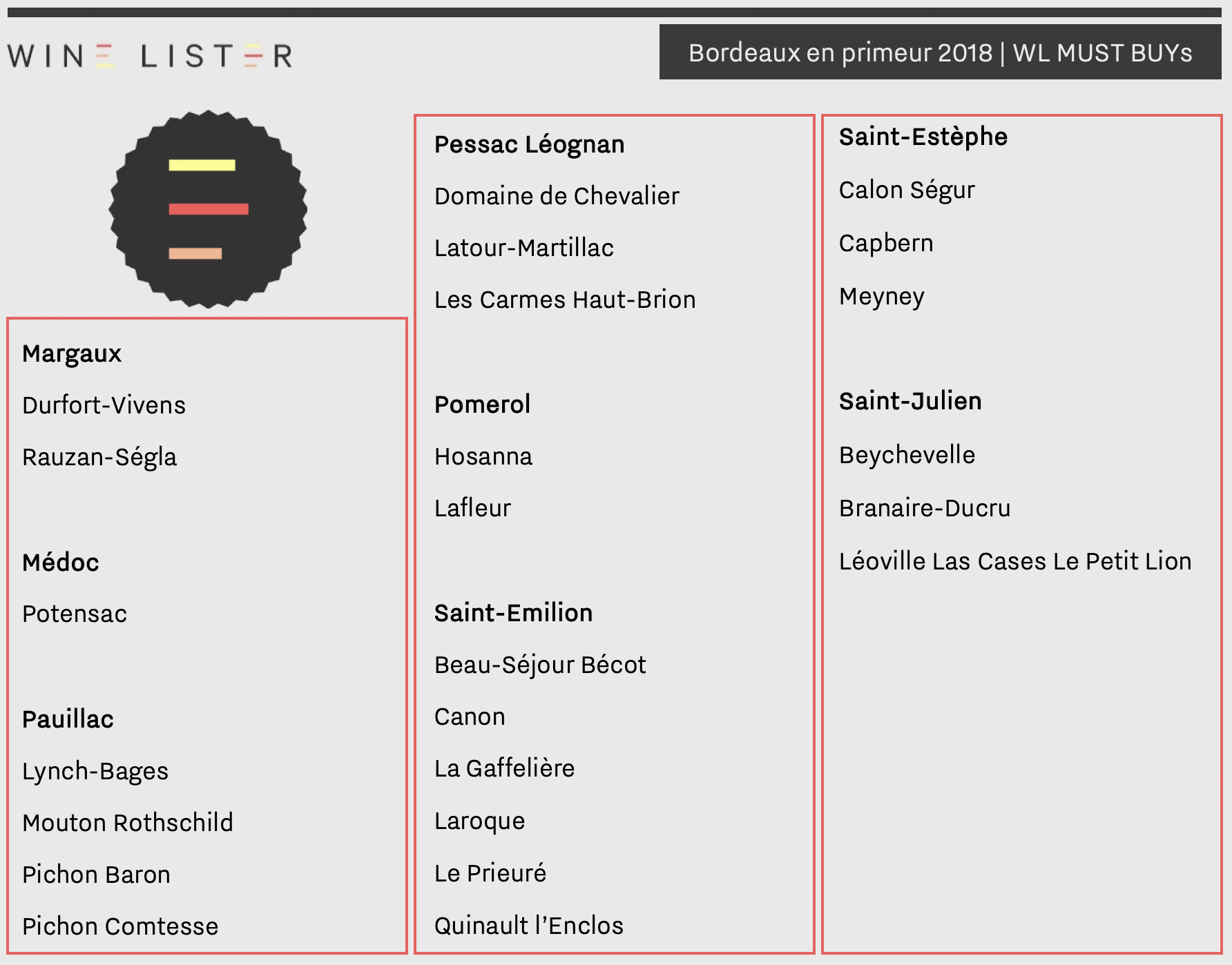 Given the dominance of reds in the top Bordeaux 2018 Quality scores, it is no surprise that all of these WL MUST BUYs are red.
Saint-Emilion ranks as our most recommended appellation, with six WL MUST BUYs, including the indomitable Canon, and value successes Le Prieuré, Quinault l'Enclos, and Laroque. These three achieve WL MUST BUY status by first passing the quality filter of Wine Lister's MUST BUY algorithm (they exceed their collective Quality score average by 192 points in 2018). Their respective prices relative to similar quality 2018s from Saint-Emilion push them through the algorithm's second step – the value filter. Finally, they have been identified by the fine wine trade and/or the Wine Lister team as wines to watch: Quinault l'Enclos is made by the elite winemaking team of Cheval Blanc, and their best yet, while Laroque has been taken to new heights by winemaker David Suire (who cut his teeth at Larcis-Ducasse).
Pauillac houses four of the "top end" Bordeaux 2018 MUST BUYs – Mouton (released at £426 per bottle in bond), both powerhouse super-seconds, Pichon Baron and Pichon Comtesse, and Buzz Brand Lynch Bages.
Sharing three picks apiece are further left bank appellations Saint-Julien, Saint-Estèphe, and Pessac-Léognan. Capbern, Meyney, and Latour-Martillac are testament to the value proposition available in Saint-Estèphe and Pessac-Léognan respectively. Saint-Julien MUST BUYs are represented by two fourth-growth staples, Branaire-Ducru and Beychevelle, and the second wine of Léoville Las Cases, Le Petit Lion.
Margaux earns two MUST BUYs – Rauzan-Ségla, and biodynamic Durfort Vivens (who made a huge step up in quality this year, and whose 2018 yield was less than a quarter of its usual volume). Pomerol equals this number with Lafleur and Hosanna.
Other wines featured in Wine Lister's Bordeaux 2018 MUST BUYs list are: Beau-Séjour Bécot, Calon Ségur, Domaine de Chevalier Rouge, La Gaffelière, Les Carmes Haut-Brion, and Potensac.
*Wine Lister launched its MUST BUY tool on Monday at a Telegraph event entitled "Wine for Pleasure or Profit?", where founder & CEO Ella Lister spoke about going "Back to Bordeaux" for both. You can see slides from the presentation relevant to Bordeaux 2018 MUST BUYs here: Telegraph Back to Bordeaux