Bordeaux en primeur part II : the campaign
We say it every year – the prices have to be "right". While the Bordeaux 2019 en primeur campaign may be exceptional operationally, the same message resounds from the trade as in many a previous en primeur campaign – the prices have to be right.
Chairman of Farr Vintners, Stephen Browett, defines the crux of the matter succinctly; "one thing that is absolutely crystal clear is that for this en primeur campaign to work, Bordeaux must return to the fundamental (and recently ignored) concept that en primeur wines need to reach the consumer at lower prices than physically available vintages". For at least the last three Bordeaux en primeur campaigns, release prices have generally been too high. The key difference this year is that the Bordelais have a unique opportunity – COVID-19 and the ensuing global economic crisis – to bring prices down significantly without losing face, or undermining the pricing of previous vintages.
Analysing a basket of 140 top Bordeaux wines, the chart below looks at price movements of the last three vintages on the fine wine market since their respective releases.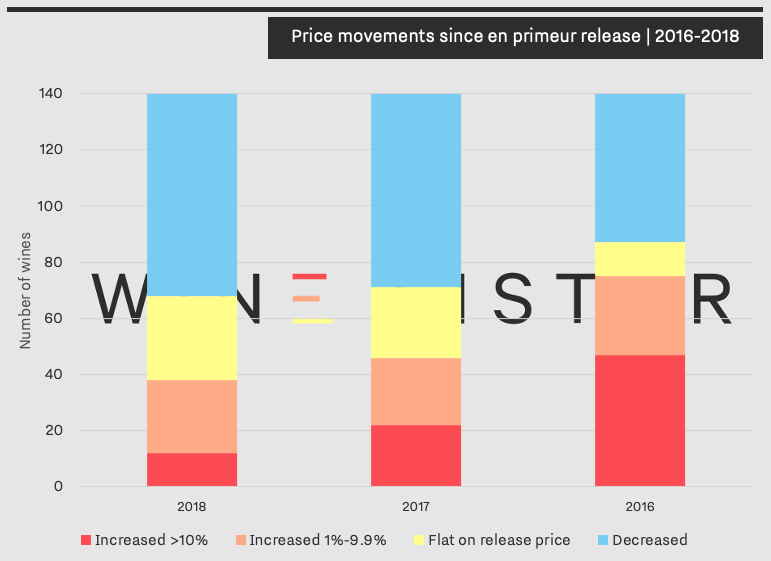 Bordeaux 2016s were released three years ago. As shown in the chart above, today just over half of them are worth more than they were en primeur – these 75 wines have increased by an average of 18% since the spring of 2017, although they include the likes of Les Carmes Haut-Brion, Lafleur, and Petrus, which have seen mammoth price increases of 111%, 109%, and 64% respectively. 65 of the top Bordeaux 2016s have either stayed flat or have decreased in price since en primeur release. Assuming an in-bond storage cost of £12 per case for the last year on these, the chances are that many buyers would have saved more money purchasing 2016s now.
The picture is worse for 2017 and 2018 releases, with approximately half of wines having decreased in value. Last year the high quality of the vintage coupled with small quantities available was cited repeatedly as a reason for price hikes. This year, however, there is no glass door to hide behind. The quality of the 2019 vintage is reportedly excellent, but volumes are also good. Add to this the unprecedented context of a campaign during a global pandemic, and the pressure is on more than ever for prices to drop significantly.
Buying Director of BBR, Max Lalondrelle, tells me, "in order for the consumer to put their faith in the product without knowing too much about the quality or style, the wineries will have to offer some relatively good prices to entice consumers to take the risk". Members of the trade have elsewhere qualified what "good prices" might mean – a price reduction of 30-35% on 2018s. Flying blind and relying on the historical quality of solid brands to make choices in 2019 (in the absence of all the usual critics scores) is one thing – doing so in the face of such an uncertain future for many is another entirely. For releases to work this year, sacrifices will need to be made by the châteaux – quality of the wine must be put aside, as context, and getting the market to bite during such difficult times, will be everything.
The first major release so far has listened to the market – Pontet-Canet's 2019 is priced 30% lower than 2018s release. Feedback on the release has been good – Chief Executive of Goedhuis, Tom Stopford Sackville, tells us it was "a very encouraging start to the campaign", and a "positive signal regarding 2019 pricing in general". If other châteaux follow suit, the campaign could be a memorable one, that, as Browett puts it, inspires "a new confidence" in en primeur "after recent disappointing campaigns".
The fine wine trade (Wine Lister included) is rooting for Bordeaux, willing its unique selling system to deliver. The equation for pricing this year could in some ways not be simpler – it is hoped that a sufficient number of properties will take this into account, and present prices the market can embrace.
Releases are set to begin in earnest from tomorrow – 2nd June. Follow them through Wine Lister's Twitter, or through our dedicated en primeur page.