Guinaudeau family 2019 wines released
This week has seen a flurry of further 2019 en primeur releases, including the likes of Palmer, Cos d'Estournel, and Domaine de Chevalier's red and white.
Released this morning (Thursday 4th June) are wines from the Guinaudeau family, including one of the most in-demand wines from Bordeaux, Château Lafleur. Lafleur 2019 is available (for the lucky few who can get their hands on it) for c.£1,550 per 3 pack case in-bond – the same release price as in 2018. While this goes against the 30%-35% discount on last year's prices that the trade believe may just make the 2019 campaign a success across the board, Lafleur is one of the few exceptions to this rule.
Aside from its impressive and consistent quality, Lafleur boasts one of the smallest-sized estates (4.5ha) for any top Bordeaux property. With rarity on its side, the grand vin is the number one performer for price appreciation after en primeur release.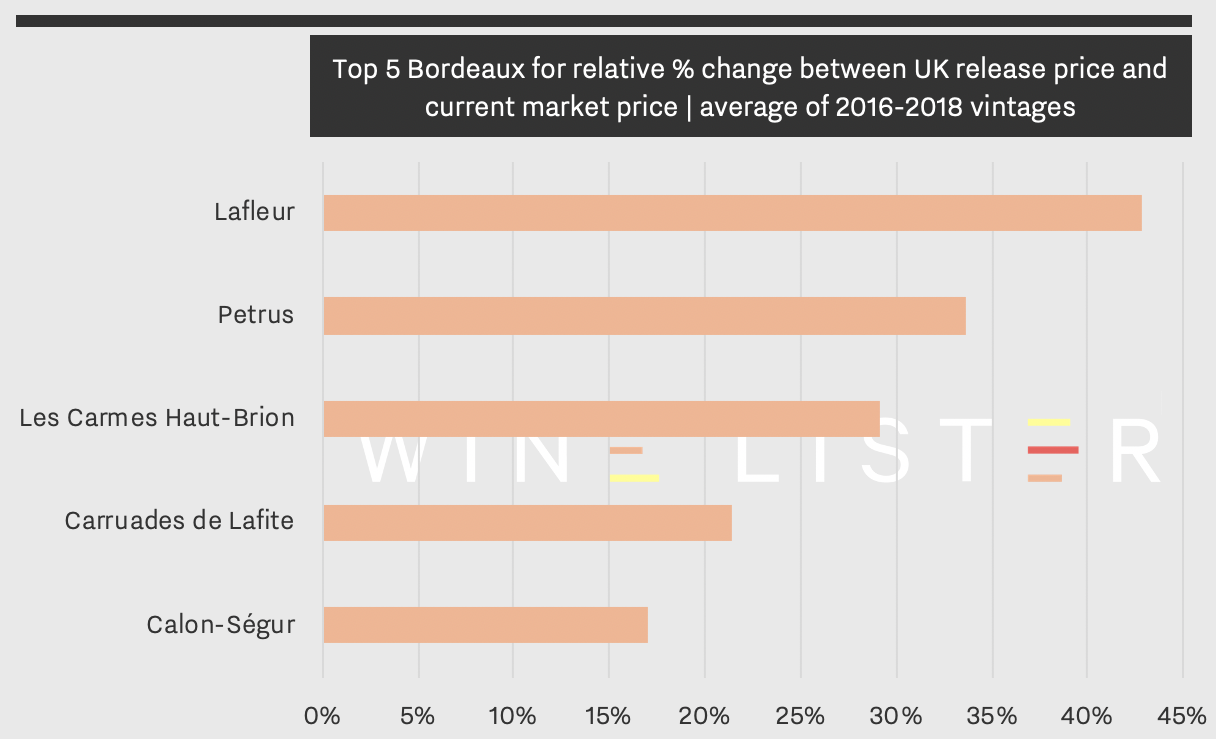 The chart above shows the top five Bordeaux wines for average percentage increase of the last three vintages – 2018, 2017, and 2016, since their respective releases. The last three releases of Lafleur have seen an average market price increase to date of 43% – 9% more than Petrus.
Perhaps also contributing to the popularity of the Guinaudeau family's wines is their more "Burgundian" approach to winemaking, with vineyards planted on three separate plots of very different soil types, and the final products aiming to reflect these differences.
For those unable to achieve the dizzy heights of an allocation of the grand vin, the estate's Perrières de Lafleur (available for £256 per 6-pack in-bond for the just-released 2019 vintage) does exactly this, typically showing mineral, chalky notes from its limestone terroir. Perrières de Lafleur was officially "born" last year, after 15 years of research and testing under the wine's beta pseudonym, "Acte".
Finally, at the opposite end of the price spectrum to the flagship wine is Grand Village – the family's Bordeaux Supérieur, whose quality has come on leaps and bounds over the last few vintages. Grand Village is a Value Pick in every single vintage listed on Wine Lister (2018-2013). If the 2019 is anywhere near the quality of last year, it will surely offer the same impressive quality-to-price ratio.
Follow Bordeaux 2019 en primeur releases through Wine Lister's twitter, or through our dedicated en primeur page.