Wine Lister MUST BUYs – the top wines any fine wine lover should have in their collection
Wine Lister has a new toy.
From our user research over the three years since Wine Lister's inception, it is clear that, even in the purchase of ultra high-end wines, wine buyers enjoy getting "maximum value". Whether a bottle of wine costs £50, or £5,000, there is satisfaction in knowing that you have purchased "a good buy" – that the quality of your bottle relative to where (or when) it is from, and how much it costs, is worth every penny you spent.
Enter WL MUST BUY, Wine Lister's new buy recommendation tool – a data-driven algorithm overlaid with human intelligence, and the answer(s) to this very question.
Wine Lister's proprietary MUST BUY algorithm picks out wines of a predefined, minimum quality level presenting value within their respective vintages and appellations, and overlays the latest industry intelligence from key players in the global fine wine trade. The Wine Lister team then scours the results to identify must-buy wines based on our own tasting experience and market knowledge. This final list is dynamic, constantly changing as new data comes in and when the team reports back from our frequent travels and tastings.
There are currently just over 1,800 MUST BUYs out of the 30,000 + wine-vintages on Wine Lister. See the chart below for a breakdown of MUST BUYs by region.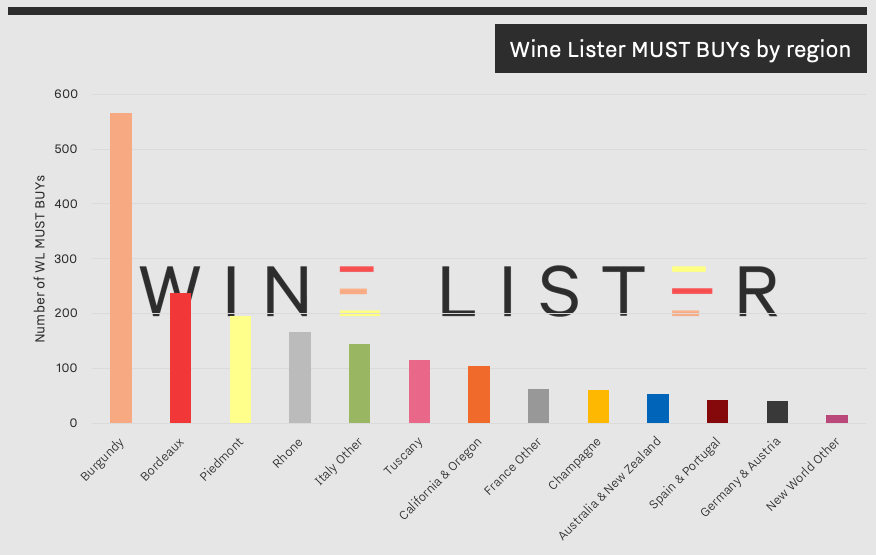 Perhaps unsurprisingly, Burgundy dominates the MUST BUY list, with more than double the number of MUST BUYs of any other region, taking up 31% of the complete list. Burgundian MUST BUYs range from the well-known, such as Comte Liger-Belair's La Romanée (2007, 2012, 2013, 2014), or Marquis d'Angerville's Clos des Ducs (2012, 2015, 2016), through to Hidden Gems such as Stéphane Magnien's Clos Saint-Denis (2010, 2016), or David Duband's Clos de la Roche (2013, 2014).
Bordeaux follows, encompassing a wide range from five vintages of Petrus down to two vintages of Château Marsau.
Piedmont, the Rhône and other Italian wines (from the likes of Campania, or Veneto for example) come closely behind in third, fourth, and fifth places. New world MUST BUYs are led by the USA, with 99 wines from California, and six from Oregon, while sparkling wines are represented exclusively by the 60 Champagnes to make the cut.
As well as a wide variety of regions covered, the MUST BUY list spans a huge range of prices – see MUST BUYs by price bracket in the chart below.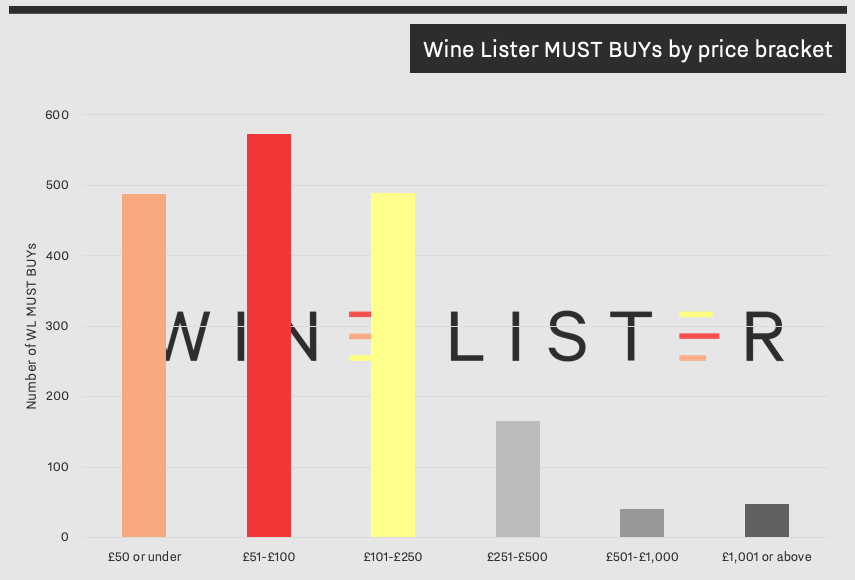 Though pricing is taken into account within the algorithm, the element of relativity means that high-priced wines are not necessarily disqualified. The most expensive MUST BUY wine is 2006 Romanée Conti, from the wine's namesake Domaine, at £14,853 per bottle in-bond. The least expensive, is 2011 Condado de Haza, at £9 per bottle in-bond.
At the end of this year's Bordeaux en primeur campaign we released our 24 Bordeaux 2018 MUST BUYs – revisit the blog on these here.
Over the coming weeks we will be releasing commentary on top MUST BUYs by segment (region, appellation, colour, price). In the meantime the full list is available for exploration and discovery here. Play to your heart's content (MUST BUYs are accessible to all on Wine Lister's new, free site).