Wine Lister: available to all
Wine Lister is excited to announce the arrival of its new consumer site, aimed at supporting fine wine lovers as they navigate the fine wine seas. All users now have unlimited, free access to the world's most comprehensive fine wine data hub. Start learning how to buy wine like a pro now, or read on to find out more.
WL MUST BUYs
Wine Lister has created its own buy recommendation tool, which combines Wine Lister data with human intelligence (such as the opinion of key members of the global fine wine trade, plus insight from the Wine Lister team's trips and tastings), to provide a dynamic list of wines any fine wine buyer should consider for their cellar. All MUST BUYs represent high quality, and value within their respective appellations and vintages.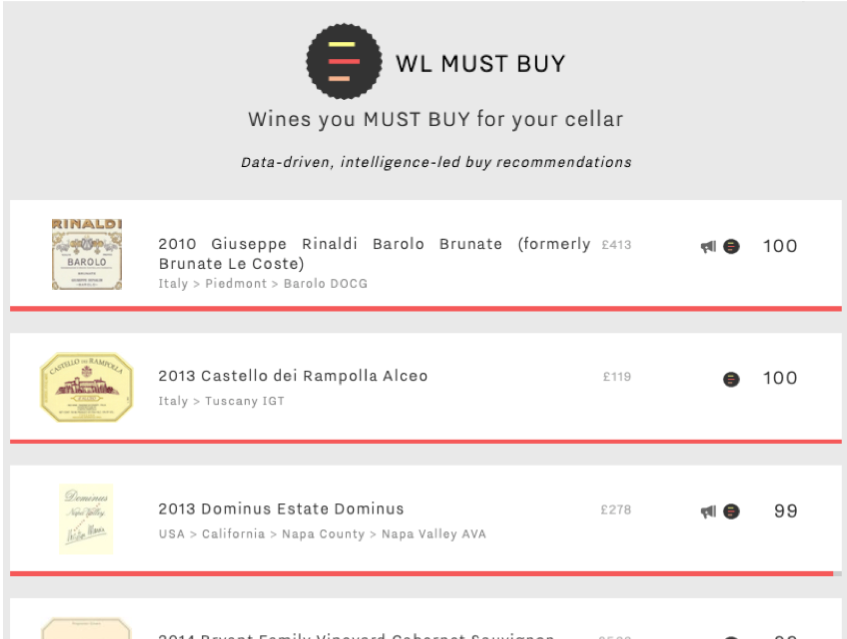 Browse the full MUST BUY list here.
Aggregated, 100-point score
With a focus on quality, the new 100-point Wine Lister Score combines the ratings of five of the world's most respected wine critics – Jancis Robinson, Antonio Galloni and Neal Martin (Vinous), Bettane+Desseauve, and Jeannie Cho Lee, together with a smaller weighting for the wine's ageing potential. The score is as objective an indication of wine quality as possible, allowing users to make site-wide comparisons across the 30,000+ wine-vintages on Wine Lister.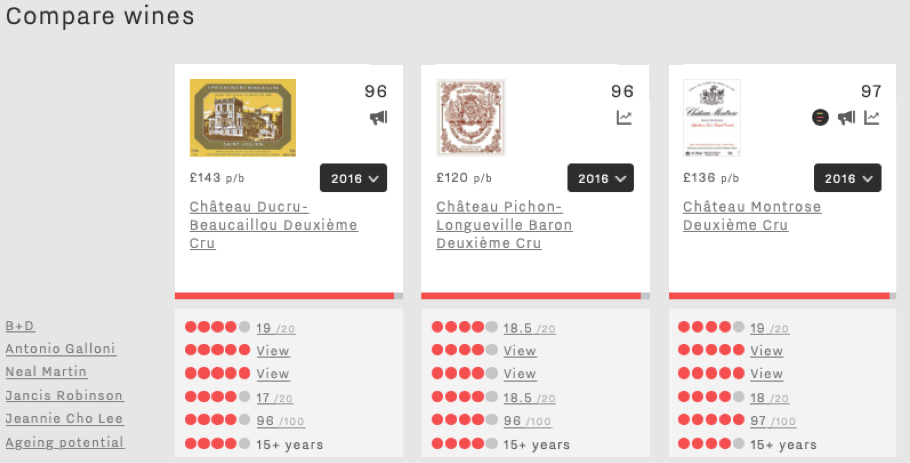 See this comparison, or create your own here.
Further analysis tools
Dynamic charts give users the chance to explore wines they might consider buying or selling in more detail.
The Vintage Value Identifier gives users a clear visual of price to quality ratios across vintages of a given wine, applying a score to this measure of relative value. See the example below for Mouton Rothschild: while the 2016 vintage is higher quality than 2014, its accompanying high price means that both the 2016 and 2014 vintages present the same level of value (the joint-highest of all recent back vintages shown)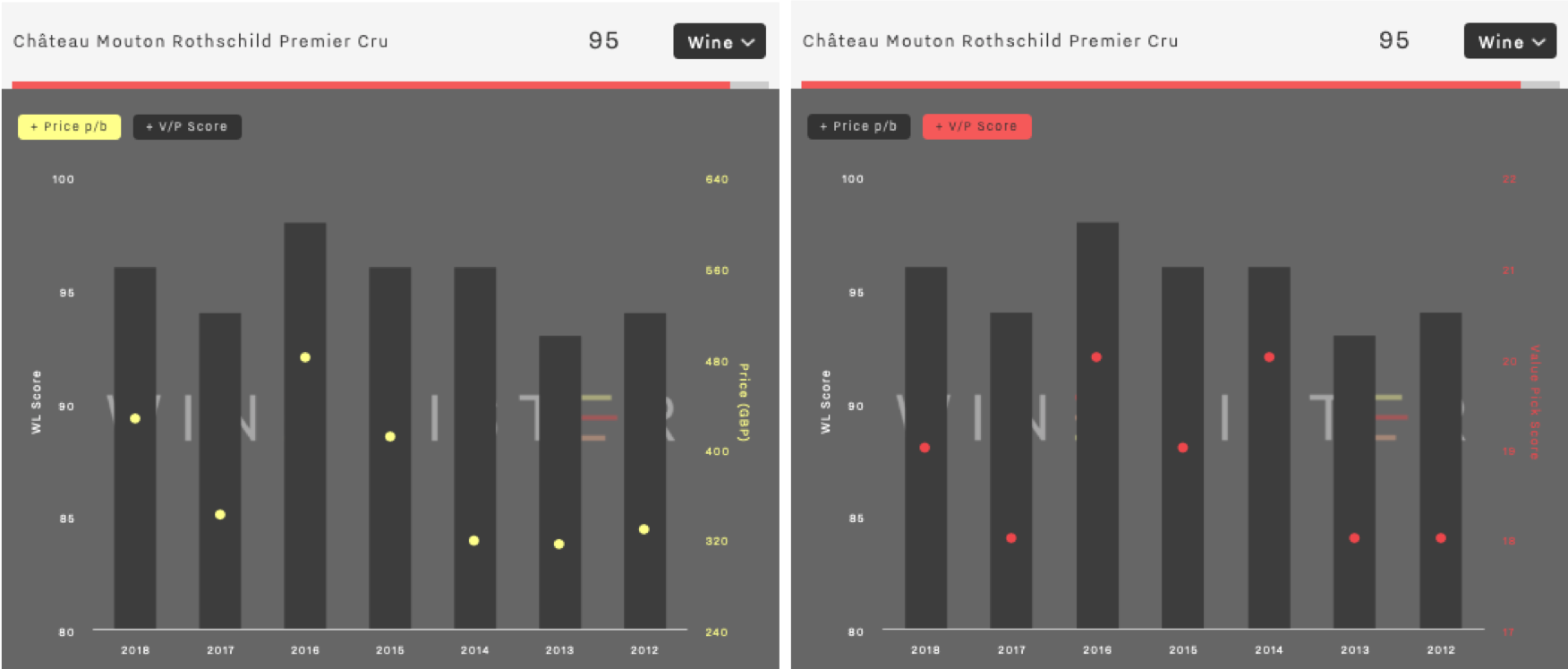 Wine Lister's dynamic Vintage Value Identifier chart, showing price vs. quality (left) and Value Pick score (right).
See the chart for Mouton Rothschild, or search for another wine here.
The Price History chart tracks a wine's price performance over time, relative to its peer group. This can be done at vintage level, helping collectors to see performance history of a specific wine they might own. See below the example of Domaine Hubert Lignier's Clos de La Roche 2016, whose price growth over the last year is one of the most impressive of all wines on Wine Lister (57.8%).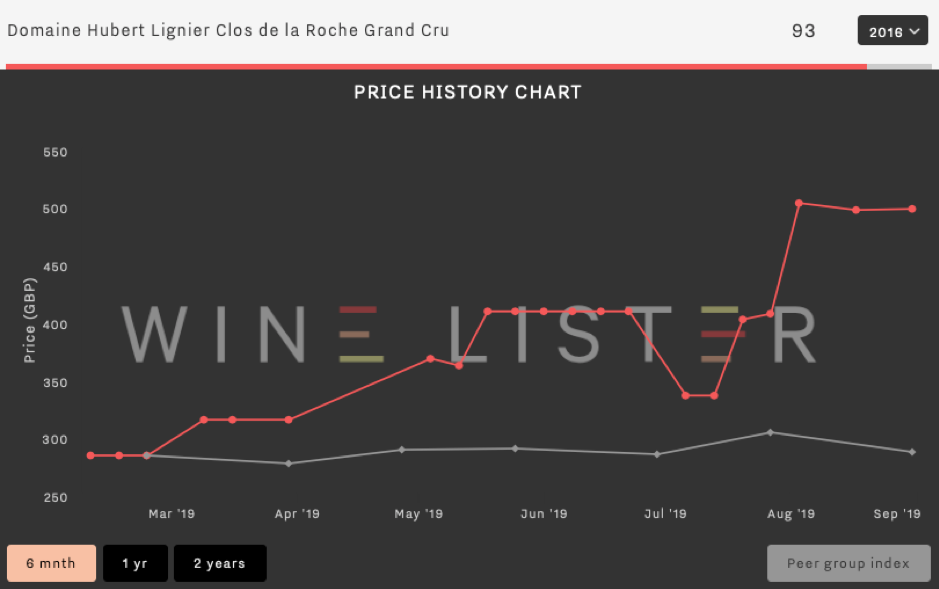 Hubert Lignier Clos de la Roche 2016's six-month price performance compared to performance of other Clos de la Roche Grand Cru 2016s
The same dynamic chart can be used at wine level (an average across vintages, with a stronger weighting for more recent vintages), to give a general indication of a wine's price trajectory, and therefore whether or not the wine in question could be an investment buy. See below an example for Armand Rousseau's Chambertin, which on average sees steady price growth, and a CAGR (compound annual growth rate) of 31.8% (though the price has flattened out this year).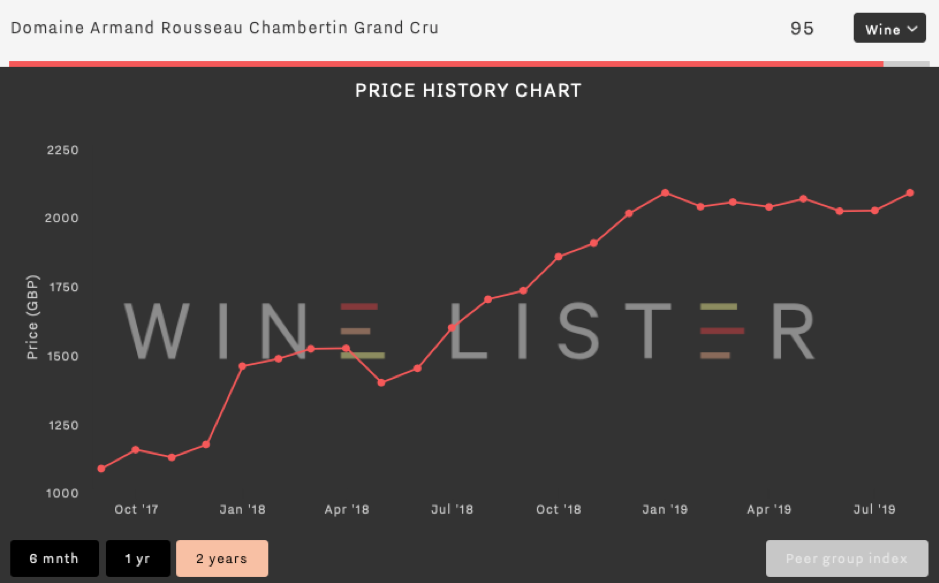 Armand Rousseau's average price performance over two years
On top of these tools, each wine page gives users further information about the wine in question, including whether the wine qualifies for one of Wine Lister's four Indicators. Haut Brion, as shown in the example below, is a Buzz Brand. See more information on other segments – Hidden Gems, Value Picks, and Investment Staples, or start browsing here.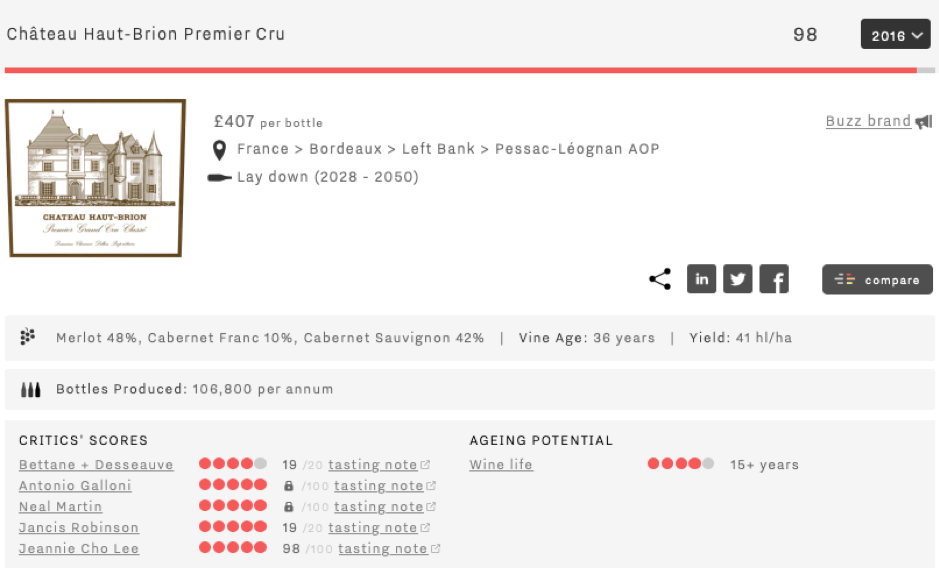 We hope that you find the new site informative and useful for developing your fine wine collection. Feedback from our users is always welcome – please don't hesitate to contact us with any questions or comments here.