Bordeaux 2009 vintage tasting highlights
Wine Lister is experiencing a touch of Bordeaux fever. Having re-tasted Bordeaux 2016s in January, Wine Lister's founder, Ella, attended BI Wines' "10 years on" tasting last week, revisiting the iconic 2009 vintage.
As expected, the vintage yielded some truly exceptional wines, thanks to excellent weather conditions, especially around harvest time. However, some producers fell into the trap of waiting too long to pick, and high quality in 2009 is not a given. Ella has picked out 26 of the most successful examples of a unique and pleasure-giving vintage, hailing from across all of the best-known red wine Bordeaux appellations (N.B. no white wines were tasted).
The most heterogenous appellation was Saint-Emilion, with some wines rendered hot and hard by high alcohol, while those at the very top level were some of the best 2009s out there. Cheval Blanc, for example, achieved a "mystical, beguiling bouquet…like a magic potion".
Pomerol did not seem to suffer from the heat in the same way, and made beautiful wines in 2009. Perhaps unsurprisingly, Le Pin garnered some exceptional comments, including "the richest, most decadent, abundant nose of the whole tasting". Other Pomerol picks displayed an unusually dark-fruited character. Petrus ("not worn on the sleeve like the Le Pin"), had a "refined dark fruit character", Hosanna "piercing damson fruit", and La Conseillante boasted a "carnal, purple-fruit sweetness".
On the left bank, Pessac-Léognan and Saint-Julien achieve joint-first place, earning five highlights each. Arguably the most impressive of these were La Mission Haut-Brion and Haut-Brion with the former described as "sensual, ethereal, and breath-taking". Pape Clément showed almost "Rhône-esque animality", while Malartic-Lagravière was "opulent" and "left you wanting more".
Saint-Julien presented expected names – second growths Gruaud-Larose and Léoville Barton (described as "ultra-classical" and "thoroughbred" respectively), as well as a surprise in the form of Château Gloria, the only Cru Bourgeois to make it into this list of Bordeaux 2009 tasting highlights.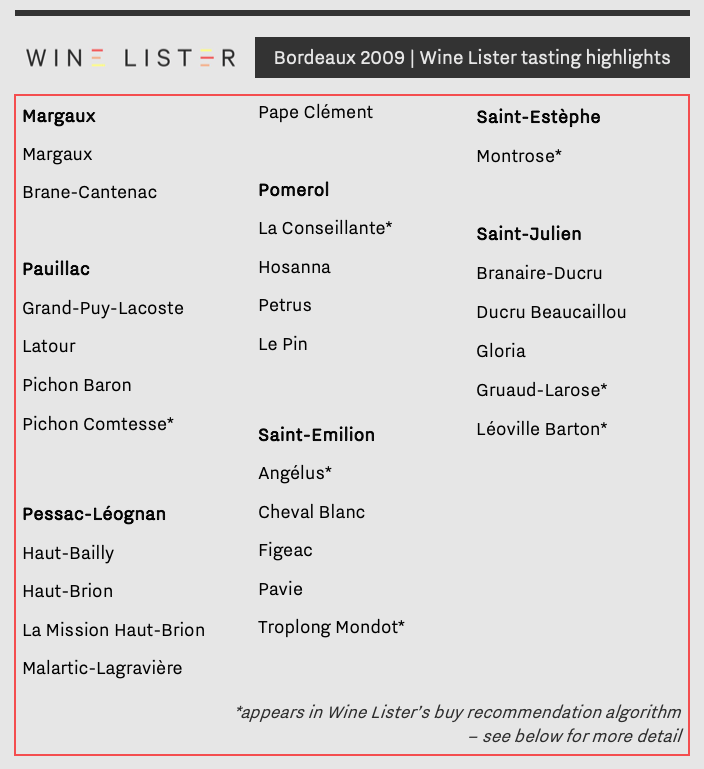 The remaining left bank appellations did not go wanting of favourites. Latour earned the comment, "impeccably turned-out, this wine demands attention". Elsewhere in Pauillac Pichon Comtesse was "beguiling" and "gradually confident".
In Margaux the appellation's first growth namesake was hailed "quite the showstopper", while Brane-Cantenac was "lifted, lovely, and luminous". While Saint-Estèphe earned only one mention, its representative, Montrose surpassed expectation, appearing "supremely poised".
All those wines marked "*" above currently qualify as Wine Lister "buy recommendations". The Wine Lister team has been working hard to create a data-driven list of the ultimate best wines to buy – watch this space while we fine-tune the algorithm!
Other wines featuring in the Bordeaux 2009 highlights are: Grand-Puy-Lacoste, Pichon Baron, Haut-Bailly, Angélus, Figeac, Pavie, Troplong Mondot, Branaire-Ducru, and Ducru Beaucaillou.