Champagne trends
Our latest Listed blog focused on the top Grand Cru Champagnes by Wine Lister score. As the holiday season approaches, we look at a different kind of 'top five' on a sparkling theme – five of the major trends for the Champagne region, determined by a recent survey of Wine Lister's Founding members.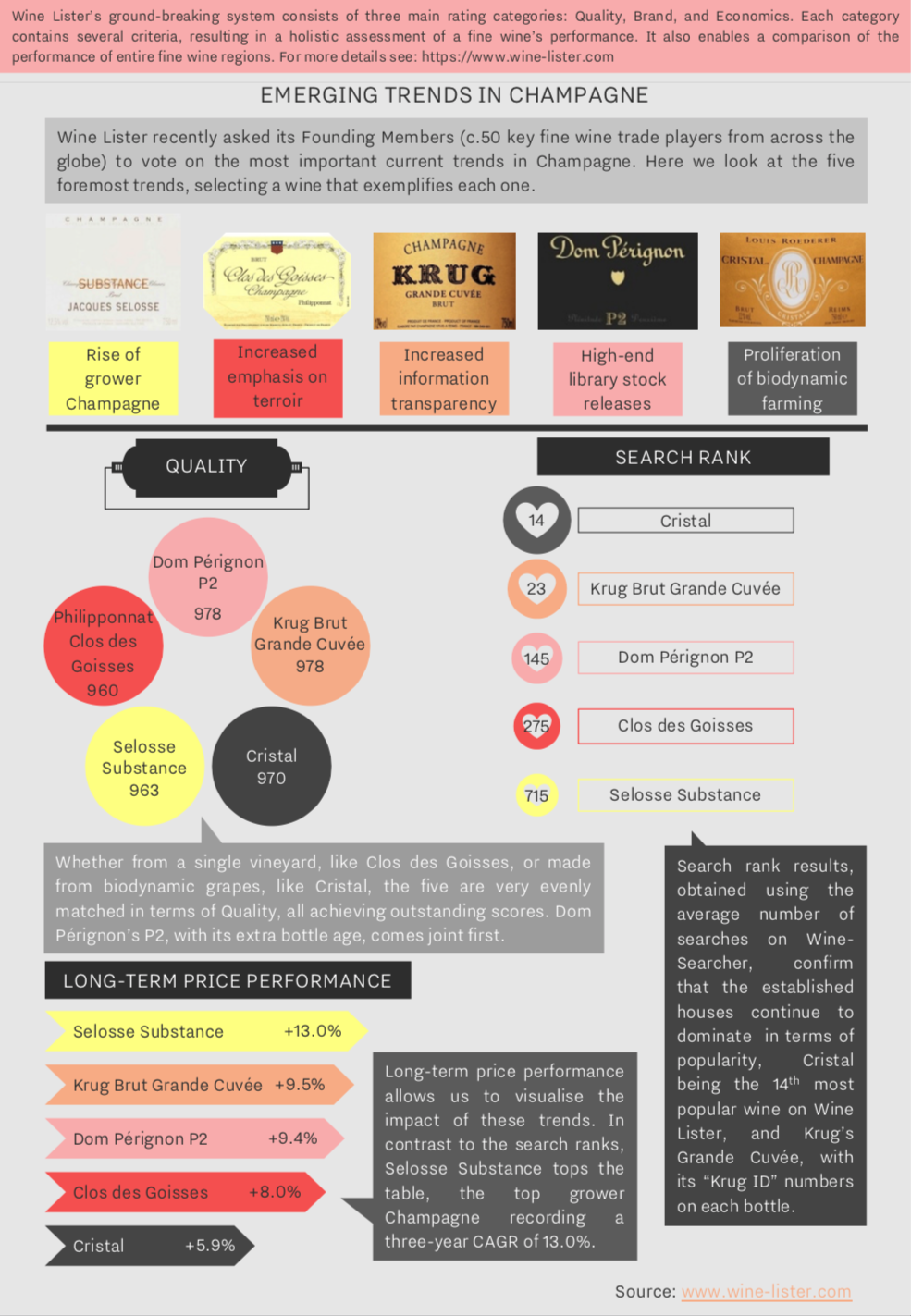 Key members of the global fine wine trade identified the rise of grower Champagnes as an emerging trend. Jacques Selosse reigns supreme, with its Blanc de Noirs La Côte Faron achieving the best Quality score of any grower Champagne on Wine Lister (975). Only an average of 1,250 bottles are produced of this each year – half of the production volume of its Substance Brut.
Founding Members also identified an increased emphasis on terroir as something to look out for. Single vineyard expressions of Champagne are well-known and already extremely sought-after, particularly Krug's Clos du Mesnil and Clos d'Ambonnay. The latter achieves a Quality score of 970, just 10 points above Philipponnat's Clos des Goisses, but is over 12 times the price (£1,867 vs. £147).
The phenomenon of increased information transparency is perhaps a sign that buyers are becoming more interested in Champagnes as wines, as opposed to just celebratory bubbles. Krug's Grande Cuvée has used "Krug ID" numbers since 2011, allowing drinkers to see the vintages, vineyard plots, and grapes included in each bottle. Library releases also cater to more "wine-focused" buyers – Champagne Brand King Dom Perignon's P2, or Bollinger R.D. are the obvious choices for this.
Finally, interest in biodynamically farmed Champagnes is on the rise, such as Louis Roederer's Cristal, or any cuvée from Jacques Selosse.
Download a PDF of the slide above here.
First published in French in En Magnum.