Listed: top 5 Grand Cru Champagnes by Wine Lister score
Wine Lister recently looked at red Christmas drinking options with the best Bordeaux under £50, and now that the official 'sparkling season' is almost upon us, it is high time to consider options for holiday bubbles. Below we examine the all-round best of the best – the top five Grand Cru Champagnes by Wine Lister score.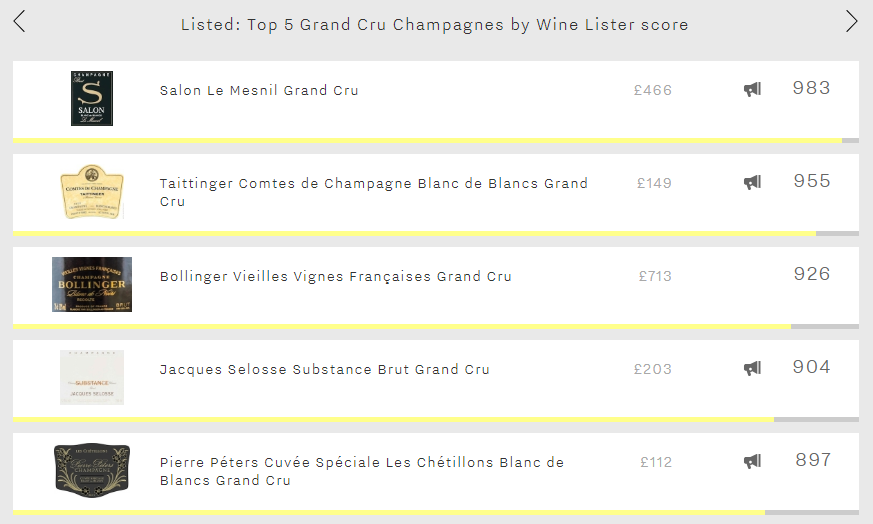 The number one Grand Cru Champagne is the indomitable Salon Le Mesnil (983). It fires on all Wine Lister cylinders, with impressive Quality, Brand, and Economics scores of 980, 989, and 981 respectively, meaning that it leads this week's top five across each category. Moreover, it is the number one white wine on Wine Lister – still, sparkling, dry, or sweet. If you're after a memorable bottle to kickstart the holiday season, then look no further than Salon 1996, its best ever vintage. As proof of the extraordinary longevity of top Champagne, the 1996 will be drinking well until at least 2025. Though expensive (£550 per bottle in-bond), you would be well-rewarded for paying the high price, Antonio Galloni calling the 1996 "the ultimate expression of Champagne as a wine".
Next comes Taittinger's Comtes de Champagne, whose main strength is its Brand score (976). This is helped by a production volume of c.170,000 bottles per annum – almost twice that of the other four Champagnes of this week's group combined. It consequently also achieves the highest auction-trading volumes of the group, having traded 789 bottles over the past four quarters, according to our data partner, The Wine Market Journal.
In third place is Bollinger Vieilles Vignes Françaises. The term "vielles vignes" tends to get banded around quite frequently without much meaning, but in this case it carries rare significance. These old vines are planted on French rootstock, predating the spread of phylloxera which lead to the introduction of louse-resistant American rootstock onto the vast majority of France's vines. As might be expected given the wine's unique heritage, it comes with a hefty price tag (£713 per bottle in-bond). However, this rarity backs up its high price with an outstanding Quality score (963) – the joint-second best of this week's top five.
In fourth place is Jacques Selosse's Substance Brut (904). The only non-vintage wine of the five, it matches the Bollinger Vieilles Vignes Françaises' excellent Quality score (963). Its outstanding quality, coupled with its tiny production volume of 2,700 bottles per annum, start to explain the £203 price-tag of this NV grower Champagne.
Finally, in fifth place, is Pierre Péters' Cuvée Spéciale Les Chétillons Blanc (897). Though in fifth place, its impressive Quality (923) and Economics (922) scores suggest it could be a prime choice for cellaring. It achieves the best short and long-term price growth of this week's top five, having added 16.7% to its price over the past six months, and recording a three-year compound annual growth rate (CAGR) of 36.5%. Any recent vintage would perhaps therefore be better placed under the Christmas tree (for an extremely lucky recipient), rather than on the Christmas table.