Bordeaux 2017 en primeur part II: the campaign
"I can't see it being a big campaign." That is the view of Serena Sutcliffe, Honorary Chairman of Sotheby's Wine, echoed by some on the Place de Bordeaux. The usually upbeat Mathieu Chadronnier, Managing Director of négociant CVBG, asserts that 2017 Bordeaux en primeur "will be a weak campaign compared to last year".
This sentiment is also recognised in the semi-official line, from Emmanuel Cruse, Grand Maître of the Commanderie du Bontemps, Médoc, Graves, Sauternes, and Barsac. "We all know that over the weeks to come the distribution of this vintage could be slightly more difficult on the commercial side than previous ones," he accepted, adding reasonably, "We need to recognise that each vintage has its fair price."
The general (if not unchallenged) consensus is that prices will come down on 2016. "Of course they will," said Chadronnier, "but not enough." "We always wait for decreases and they're never considered enough," he continued, then asking, rhetorically, exasperated, "what is enough?"
What is enough indeed? Perhaps more than ever before, there is no one size fits all formula. Just as quality and style vary from château to château in 2017 (see part I of our en primeur round-up), so will pricing. Each property has its own brand trajectory, 2017 vintage quality, volume considerations, and price positioning history. This has been epitomised by the wildly different approaches of the first two major releases of the campaign, Palmer and Haut-Batailley.
Only a small group of wines can get away with staying around 2015 prices (15-25 according to one Bordeaux courtier). Even fewer, if any, can maintain their 2016 release price. Contenders are arguably the big success stories of the 2016 en primeur campaign. According to Wine Lister's Founding Members (c.50 key members of the international fine wine trade), first growths aside, these were Châteaux Lynch-Bages, Canon, Calon Ségur, Figeac, Pichon Comtesse, and Montrose.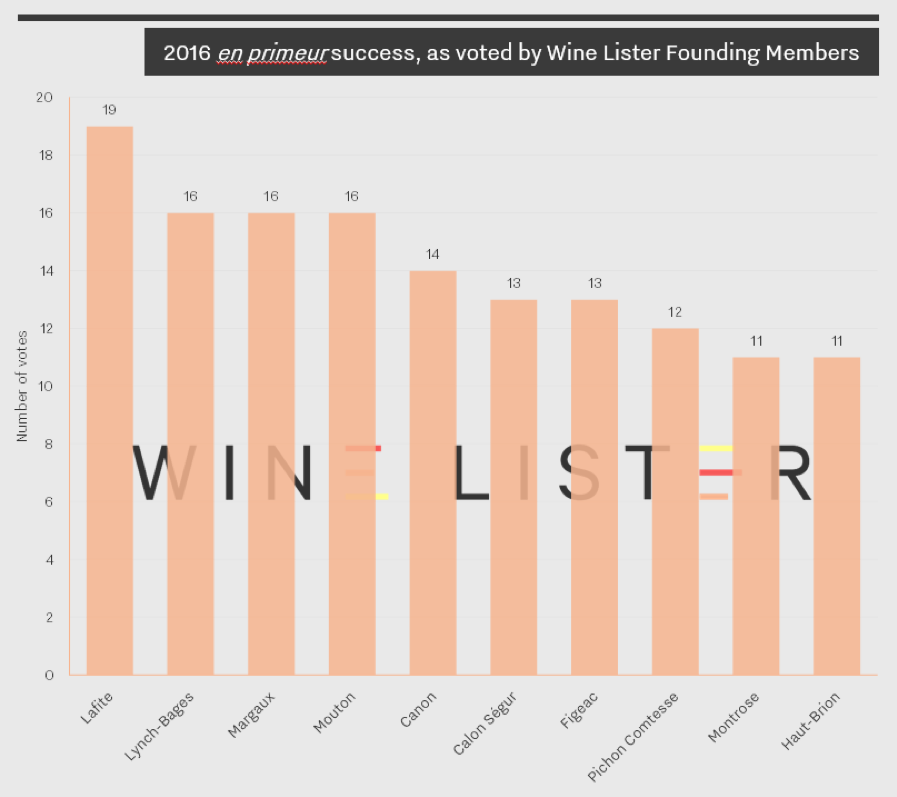 However, when we put it to some of these producers that they were among a happy few potentially in a position to maintain 2016 prices, most dismissed the idea. "I could even go up and people would buy it," mused Laurent Dufau, Managing Director of Calon Ségur. "But I won't", he concluded, adding "I would rather maintain the trade's goodwill". Nicolas Glumineau, Managing Director of Pichon Longueville Comtesse de Lalande, replied firmly, "If the question is will the price be like 2016, the response is evidently not". He continued, "I'm really very happy with the wine we've made, but it's not the 2016".
In fact, almost every château we spoke to in Bordeaux said it would reduce the price. "It would not be right to release the 2017 at the same price as the 2016," said Jean-Valmy Nicolas, Co-Managing Director of Château La Conseillante. "In my opinion our pricing strategy should be based on relative quality, not relative volume," he said, referring to the impact of the frost on production volumes (down 15% on 2016).
As much as anything else, most Bordelais won't risk the reputation of the 2016s. For most, following significant price increases for the 2016 vintage, a decrease for 2017 is manageable. This was precisely Edouard Moueix's point (Managing Director of négociant Jean-Pierre Moueix) when he lamented, "People always compare to the year before, so even if there's a 10-15% decrease on 2016 it's still too high."
For a handful of properties whose 2015s and 2016s were relative bargains, bringing the price down too much in this vintage is going to be a harder pill to swallow. Problematically for them, the market does still think in terms of increase or decrease on the previous vintage, even if this is an overly simplistic approach.
"I don't believe for a second that prices will go down," declared Nicolas Audebert, Managing Director of Châteaux Canon and Rauzan-Ségla, two of Bordeaux's rising stars. Canon was voted the fifth most successful release of last year's en primeur campaign. This is thanks to the combination of its rising popularity and its reasonable 2016 release price – it sold like hotcakes. Its 2016 price has risen by 23% since release, so arguably it is one of the very few wines that could conceive of not decreasing its price this year.
The only other château to suggest that a price decrease was by no means a given was Cos d'Estournel. Faced with the generalisation of 2017 as below the level of the last two vintages, owner, Michel Reybier, told us that "for us, compared to 2016, the 2017 vintage might even be better."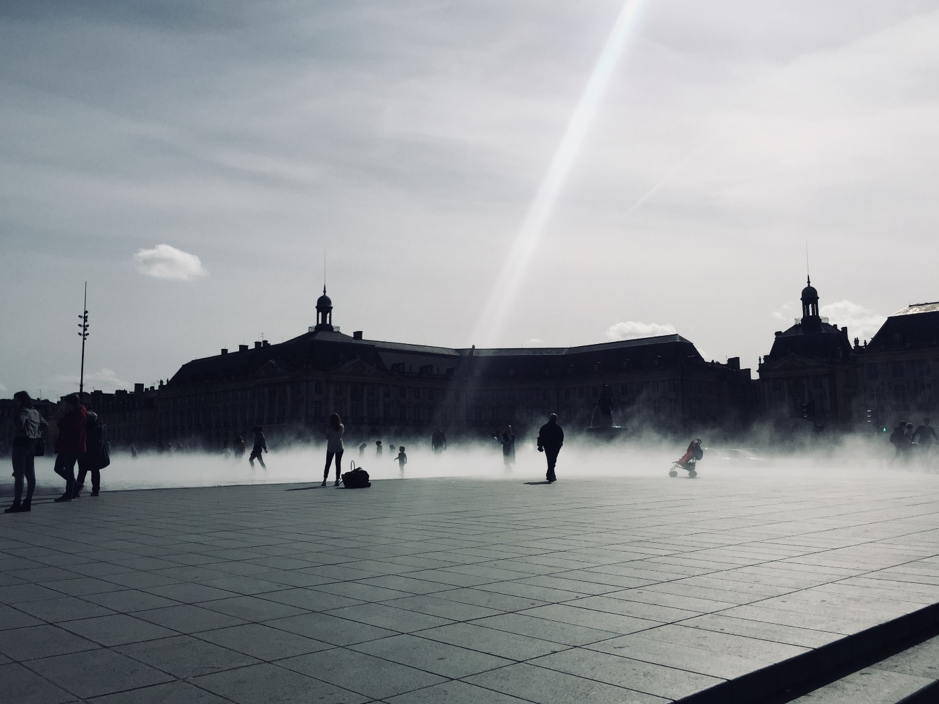 Smoke and mirrors: Bordeaux's Miroir d'eau (water mirror) on the only sunny day of Wine Lister's en primeur tasting trip. Photo © Ella Lister
Farr Vintners summed up their thoughts on pricing succinctly, saying "if prices are at around the current market for [2014, 2013, 2012 and 2011], 2017 starts to look very interesting," cautioning, "at close to current 2016 or 2015 prices the wines will not be worth buying." Will the threat of not selling be enough to moderate producers' pricing ambitions?
"They couldn't care less whether they sell," said the car hire attendant who rented me my car at Bordeaux airport. If the news has spread that far out of the wine industry, maybe it's true. Certainly, for a gilded group of crus classés the idea of keeping back stock and selling it for more down the line is appealing. And for what they do release, they can be pretty certain their négociants will back them up and carry the stock (and the risk), even if there are few end buyers.
This was confirmed by one large négociant, who told us off the record, "We'll buy but we won't sell as much as we want to." He is "worried about prices," citing "the usual Bordeaux spiral." He was referring to the transition period required after a string of good vintages, during which prices are not recalibrated sufficiently. "Châteaux sold the wine last year, everyone's happy, so they won't come down enough," he concluded.
As for timing, we've already seen important releases this week, earlier than expected, with Palmer coming out a day earlier than Cos d'Estournel's surprise release last year, in spite of the tastings taking place a week later. Nonetheless, a long campaign is expected, in part due to an inordinate number of bank holidays in May (in France and the UK). Philippe Dhalluin, Managing Director at Mouton Rothschild, seemed to predict this when he told us "it is not a speculative campaign so it should start off quite quickly." He added, "We'd like to have an early campaign but May is complicated," specifying, "I'd like to release before Vinexpo – it's possible." Anything is possible in love and en primeur.
Follow us on Twitter and on the blog for real-time coverage of the Bordeaux 2017 en primeur campaign. Check www.wine-lister.com next week for a new dedicated en primeur page where you can find out everything you need to know during the campaign.