Thoughts on Palmer's precocious 2017 en primeur release
Margaux's Château Palmer made a surprise move on Monday morning, releasing its 2017 vintage en primeur before anybody expected. At €192 ex-négociant, its price decrease of 20% on the 2016 (€240) is symbolically significant.
For several years the château has only released 50% of its Grand Vin en primeur each year, which has allowed it to develop an aggressive pricing policy, positioning itself well above other third growths and even second growths. The wine's price had risen 14% for the 2016 vintage, giving it some margin to come down again this year. This neatly places the 2017 between the 2014 and 2015, both in terms of original release prices and current market prices: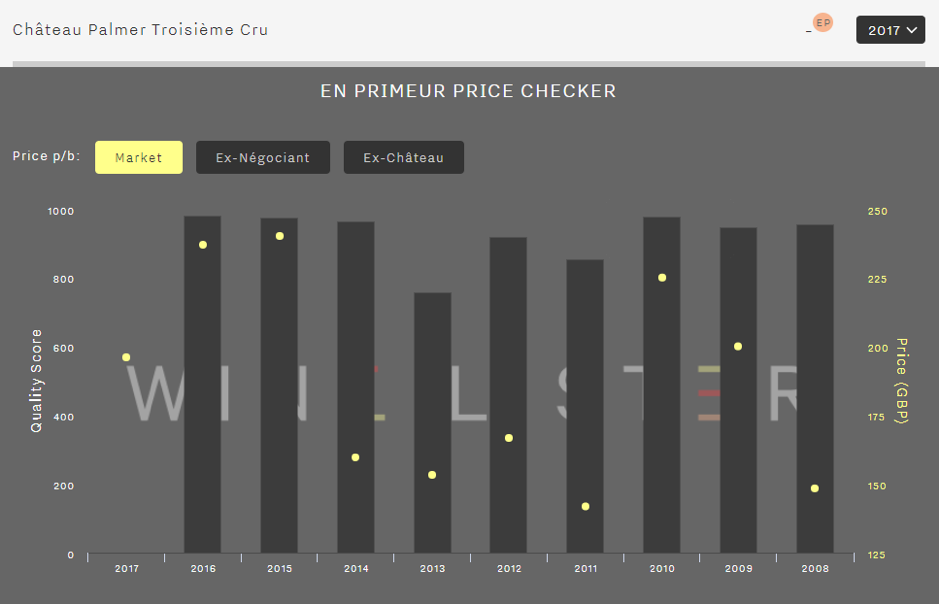 This was a smart and strategic move by Managing Director, Thomas Duroux. When we tasted at the château in the second week of April, he shared his thoughts on the campaign, and it was clear he had considered the dynamics of 2017 Bordeaux en primeur very carefully.
Duroux was cautious about the campaign, saying "It's going to be complicated as there are lots of discouraging factors." He believes it's difficult to achieve three good campaigns in a row, and that there is not a huge amount of demand from consumers. He spoke of a confusion around price and volumes, explaining that "just because there's less wine doesn't mean consumers are ready to pay more – they don't care." As it happens, the Grand Vin was spared frost damage in April 2017, while 15ha of the second wine was hit. Alter Ego was released at just a 2% discount on the 2016.
"We risk having a campaign where prices go down but not enough to be judged attractive by the consumer," warned Duroux. It remains to be seen whether Palmer 2017's 20% decrease is enough. With the trade unprepared, and scores not out yet for many important wine critics (including Wine Lister's partner critics), it is now a waiting game. Négociants have bought their allocations, and for now they are holding a fair amount of stock of Palmer 2017 in Bordeaux.
Sales by UK merchants are modest for the time being. Depending on scores that will be released over the coming 10 days, Palmer might start to seem like a good deal, particularly when (not if) the discounts start to shrink over the course of the campaign. Or indeed when the discounts become premiums, as we saw this morning with the release of Haut-Batailley 2017 – read the blog post here).