The shape of 2018 for wine searches
Wine Lister uses search frequency data from our partner, Wine-Searcher, to examine wines with increasing online popularity on a monthly basis. Wines with the highest search frequency numbers tend to be consistent, with the Bordeaux left bank premiers crus classés generally taking the top spots.
This month's biggest search frequency gainers also rank as some of the most searched-for wines on Wine-Searcher. Dom Pérignon Vintage Brut is the third most popular wine with over 84,000 searches after Lafite and Mouton, closely followed by Petrus in fourth place. Armand Rousseau's Chambertin and Moët & Chandon Grand Vintage appear in the top 50, while Azienda Agricola Falletto's Barolo Rocche Falletto Riserva comes lower down at number 148 out of the circa 5,000 wines on Wine Lister, but its search frequency has recently increased by 15%.
Our last post on online search frequency revealed Wine Lister's first ever perfect Brand score. Moving on from the Christmas period, Champagne brands still show marked increases in search frequency, but this time they do not stand alone at the top.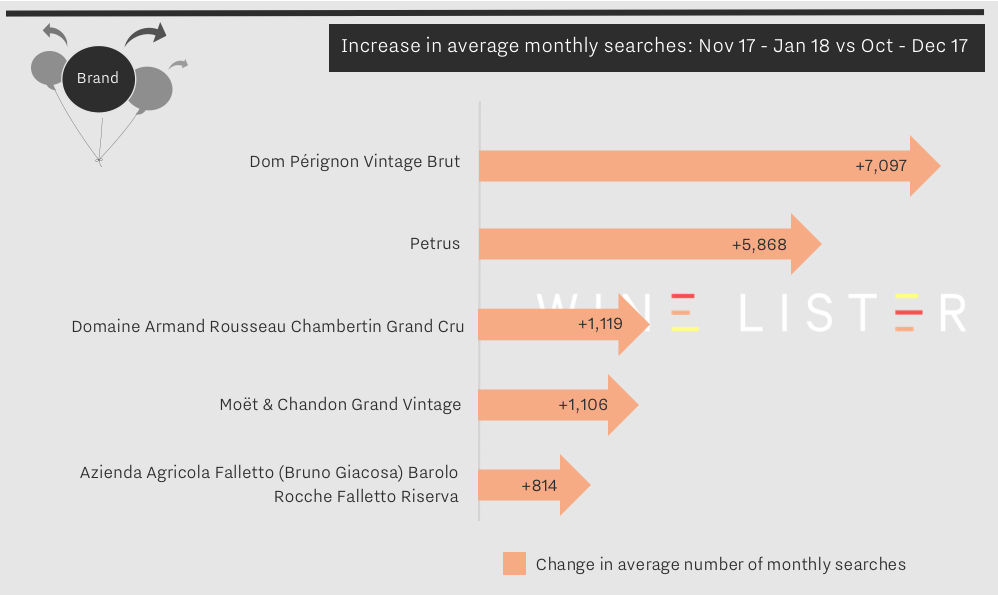 Dom Pérignon Vintage Brut is the largest gainer in popularity for the second time running. Increasing at a slower rate than in December, its popularity nonetheless grew by 7,097 searches into January, maintaining its 1000-point Brand score. Dom Pérignon remains the only wine to achieve a perfect score from any of the Wine Lister score categories. The other Champagne still riding high on searches is Moët & Chandon Grand Vintage, which increased by 6%.
Bordeaux creeps back onto the map for online searches at the beginning of 2018, with the first growths having featured heavily in searches up to December 2017. Petrus is in second place after Dom Pérignon, with an 8% increase in search frequency. It will be interesting to see if search increases for Bordeaux follow the same pattern as last year as we approach the 2017 en primeur campaign.
Armand Rousseau's Chambertin appears in third place. Armand Rousseau was only one of two producers to achieve a perfect confidence rating from our Founding Members in our recent Burgundy study.
In fifth place for increased popularity is a bittersweet entry. Searches for Barolo Rocche Falletto Riserva from Azienda Agricola Falletto increased as the wine world learned of the sad passing in January of Piedmont legend, Bruno Giacosa. You can read more on Bruno Giacosa's legacy in a recent blog on Barbaresco, here.