Listed: Barbaresco's best wines
For some, Piedmont is virtually synonymous with the DOCG appellation of Barolo. While wines from this famous appellation rank amongst the very best on Wine Lister, its understated sibling Barbaresco also holds its own, as we discover looking at the top five Barbarescos by Wine Lister score below.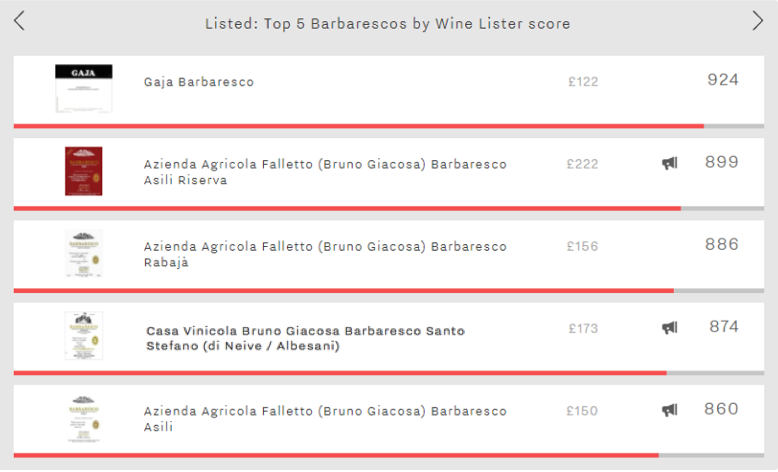 With an overall score of 924, Gaja's Barbaresco takes the top spot. It leads thanks to its excellent Brand score (977), over 120 points ahead of Barbaresco's second-strongest brand. As the only one of the group with brand as its strongest suit, Gaja's Barbaresco is present in 33% of the world's top restaurants, has the widest range of vintages and formats on each wine list, and receives over five times more searches each month on Wine-Searcher than the second-most popular wine of the group. Consequently, the wine has the joint-highest Brand score of all Piedmont wines – alongside Giacomo Conterno's Barolo Monfortino Riserva.
Numbers two to five on the list share the same legendary producer. The recently departed Bruno Giacosa has left behind him a formidable legacy, reflected in his four-fold appearance in this top five. The domaine Azienda Agricola Falleto's and Giacosa's negotiant arm expressions of Barbaresco excel across all three categories that make up their overall Wine Lister score.
Azienda Agricola Falletto's Asili Riserva has the best Economics score of all Barbarescos (967), with a compound annual growth rate (CAGR) of 18.5%. It is also the most expensive at £222 per bottle, and most traded of the five.
Giacosa's Barbaresco Rabajà takes third place, but holds the best Quality score (963) and best long-term price performance (27.0%). The former is reflected in the wine's impressive average ageing potential of 22 years, five years longer than the Asili Riserva. Indeed, Rabajà 2004, which achieves an outstanding Quality score of 993, has only recently entered its drinking window, and will be drinking well until 2034.
Fourth and fifth spots are taken by Giacosa's Barbaresco Santo Stefano (di Nieve / Albesani) and Barbaresco Asili. They display very similar profiles, each performing best in the Economics category, followed by Quality, and then Brand. Both wines still rank as "very strong" on the Wine Lister 1000-point scale, with overall scores of 874 and 860 respectively.
This is a poignant week for Azienda Agricola Falletto, with many of the great estate's wines being released for the first time since the passing of Bruno Giacosa.