The top Bordeaux 2020 dry white wines
As well as gaining top scores across its reds, Bordeaux 2020 was successful for dry whites, notably at the highest level. Helping you to discover some of the leading examples, we explore the top five Bordeaux 2020 dry white wines by WL score.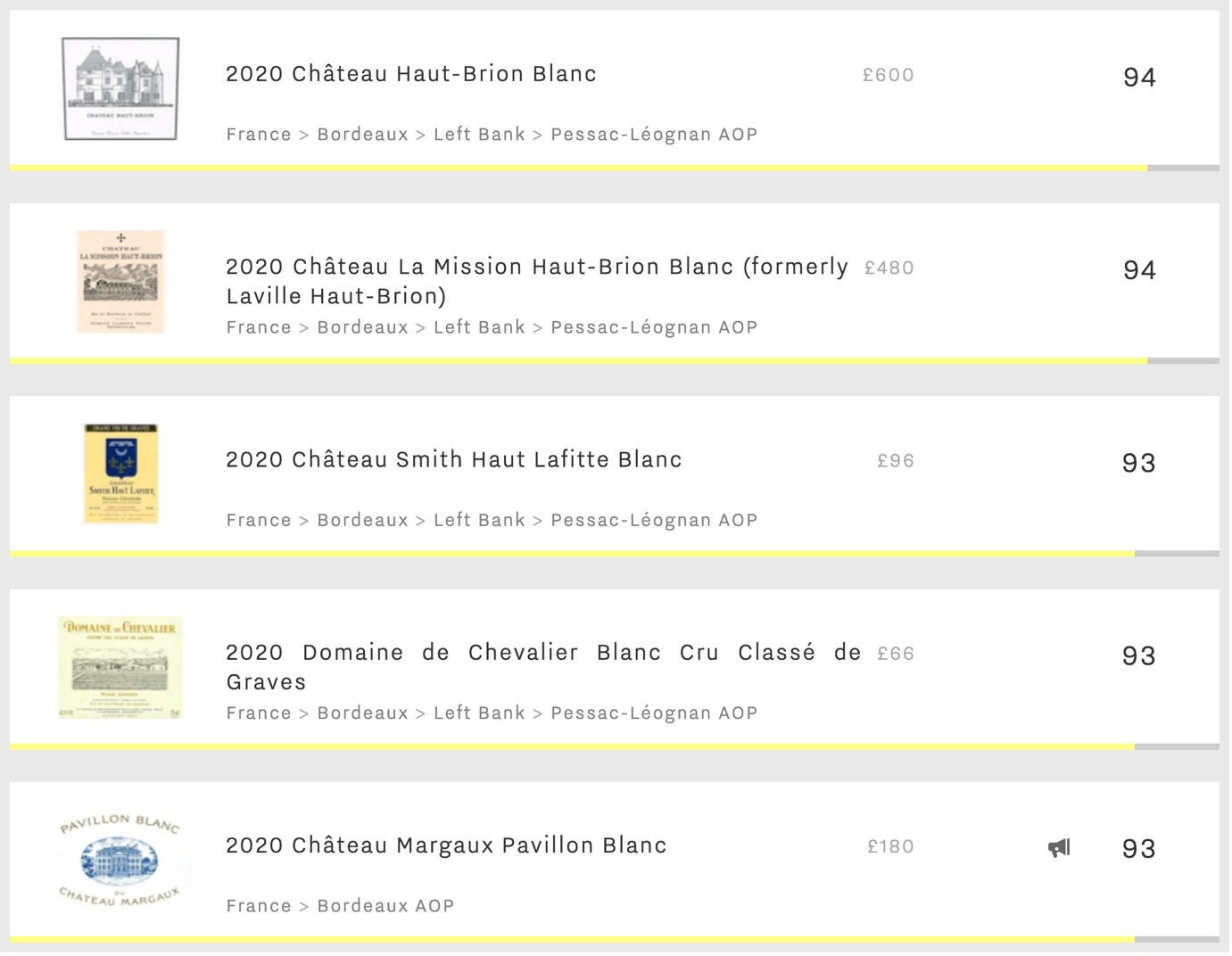 The top dry Bordeaux whites of the 2020 vintage, displayed in order of WL score
Will 2020 be a good vintage in Bordeaux for dry white wines?
Despite another exceedingly warm growing season in 2020, Bordeaux's earlier-ripening white grapes fared well across many of the region's top blanc producers. Having seen one of the earliest harvests on record, the first Sauvignon Blanc grapes were picked on the 14th of August, and all fruit destined for dry whites was harvested by early September. The white Bordeaux vintage therefore avoided high temperatures during the rest of the month, maintaining balance and freshness.
With a remarkably small production of just c.600 cases per annum, Haut-Brion Blanc remains one of the most sought-after Bordeaux dry whites. To combat the warm summer temperatures, the team conducted pre-dawn harvesting, picking grapes during the cooler night-time climate to ensure better levels of acidity and freshness. Wine Lister CEO, Ella Lister, found Haut-Brion Blanc to show "an almost Burgundian minerality accompanying its unmistakable Pessac green and yellow-fruit character". With a WL score of 94, it champions the leader board of Bordeaux dry whites for the last four vintages, and there is still some of the 2020 available to purchase en primeur at IG Wines for £600 per bottle (in-bond).
Haut-Brion's sibling estate, La Mission Haut-Brion's white is characterised by a Sémillon-dominated blend – a grape with naturally low acidity compared to Bordeaux's other white varietals. With soaring summer temperatures in 2020, the team therefore increased the percentage of Sauvignon Blanc in its blend to 54.7% (up from 30.1% in 2019) to ensure balance. Ella notes the impact of the increased Sauvignon on the wine's acidity, describing a "zippy acidity, zingy energy, [with a] peach stone finish." La Mission Haut-Brion's white gains a WL score of 94 for the 2020 vintage, and can be found at Justerini & Brooks for £480 per bottle (in-bond).
Smith Haut Lafitte Blanc's white vines are planted just behind the château to the north, where they benefit from a cooler microclimate that withstood high temperatures in 2020. Technical Director, Fabien Teitgen found a "nice balance and liveliness" in the grapes after harvest, while Ella characterises the 2020 as "subtle and flirtatious, building slowly into notes of white pepper and lime, as well as pure white fruit". Gaining a WL score of 93, Smith Haut Lafitte blanc 2020 is available at Honest Grapes for £96 per bottle (in-bond).
Located at the heart of the Landes pine forest, Domaine de Chevalier's vines are also subject to a cooler microclimate as a result of the surrounding woodland, which was certainly welcomed in 2020. When sampling the latest release at the estate, Ella enjoyed the richness of the vintage, noting "Aromas of tangerine, white flowers, custard, and acacia honey" and a palate that is "creamy and caressing […] with a lift of tension and a savoury bite." Receiving a WL score of 93, Domaine de Chevalier Blanc 2020 can be acquired from Berry Bros & Rudd for £68 per bottle (in-bond).
Though First Growth Margaux has been producing a dry white for over 300 years, Pavillon Blanc 2020 marks the 100th anniversary under its current name. The only non-Pessac pick to feature in the top-five ranking, the success of the latest release was not without its challenges. Tasting alongside Margaux's Managing Director, Philippe Bascaules, and Business Development Director, Alexis Leven-Mentzelopoulos, Ella was informed of the high mildew pressure as a result of a hot wet spring in 2020, which risked affecting the Sauvignon Blanc grapes of their single-varietal wine.  Nevertheless, their 2020 receives a WL score of 93, with Ella describing a "Really rich, mouthcoating texture on entering the mouth – almost a Chardonnay-esque opulence", and declaring the wine "Delicious." Pavillon Blanc 2020 can be purchased en primeur from Goedhuis & Co for £180 per bottle (in-bond).