Bordeaux 2020 en primeur – the best by appellation
As the Bordeaux en primeur campaign draws to a close, Wine Lister has published its latest Wine Leagues on the new vintage – exploring which Bordeaux 2020s rank best for WL score in each major appellation (as separated by decimals).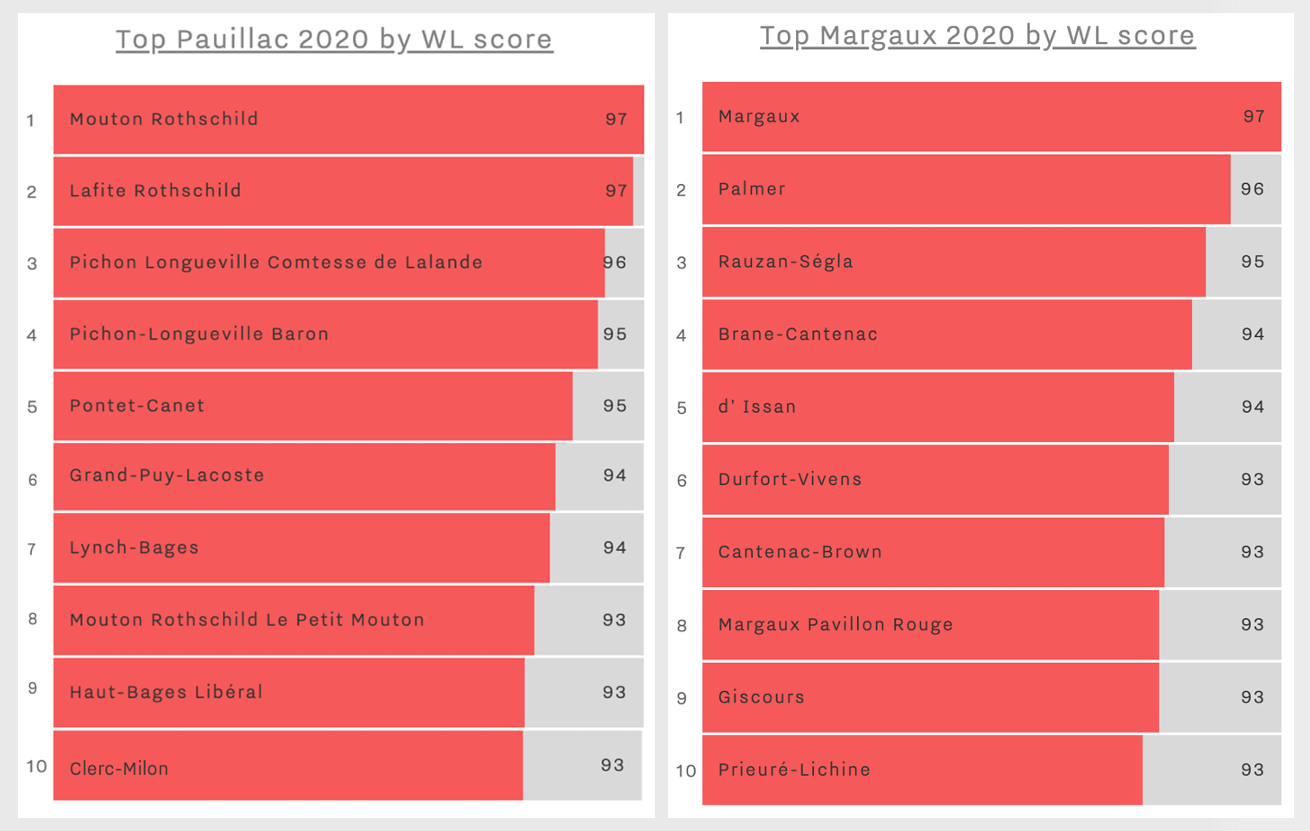 For the third year running, First Growths Mouton and Lafite dominate the Pauillac leader board with a joint WL score of 97. Super-seconds Pichon Comtesse and Pichon Baron follow suit with scores of 96 and 95, while Haut-Bages Libéral has climbed to joint-eighth place in 2020 (from ranking 18th in 2019). As explored in Part II of Wine Lister's Bordeaux study, the estate is one of the top-15 wines to have seen its quality improve the most in 2020, compared to its average Quality score (explore key findings from the study here).
The Margaux appellation possesses the top-scoring wine of the vintage, Margaux 2020. Wine Lister CEO, Ella Lister, tasted the vintage and is confident that "This will age into eternity. And yet the texture is already so soft now." For the second year in a row, Palmer secures the next-best place with a WL score of 96, while Rauzan-Ségla climbs eight places this year, into the third spot.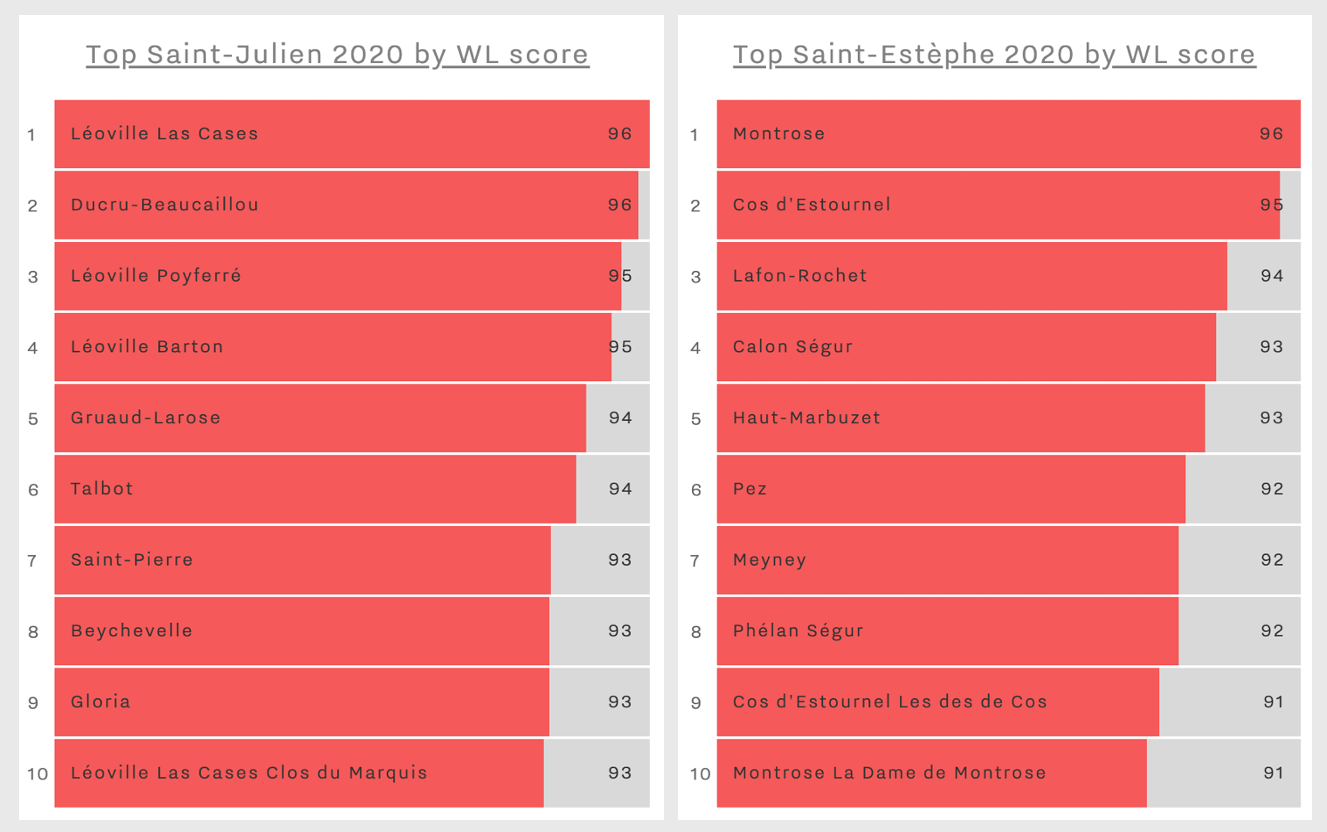 The top five Saint-Julien 2020s are in line with that of last year's league, with Léoville Las Cases and Ducru-Beaucaillou sharing the top WL score of 96. Neighbours Léoville Poyferré and Léoville Barton follow suit with 95, while Gruaud-Larose once again achieves fifth place. Also appearing on the list of top 15 wines whose perceived quality in 2020 most exceeded their average, (Part II of Wine Lister's Bordeaux Study) Talbot climbs four places since last year's league, securing a WL score of 94 for the first time since its 1986 vintage.
Wine Lister Buzz Brand, Montrose, has another successful vintage in 2020, overtaking last year's leader, Cos d'Estournel, to achieve the top place in the Saint-Estèphe league. Tasting in Bordeaux, Ella describes Montrose as having "silkiness in spades" and "beautifully integrated" wood on the palate. Lafon-Rochet climbs four spots to third place in 2020, having gained its highest WL score since 2016 (94). Entering the market last month (Thursday 20th May), the estate also features alongside Haut-Bages Libéral and Talbot as one of Wine Lister's Quality score outperformers for the vintage.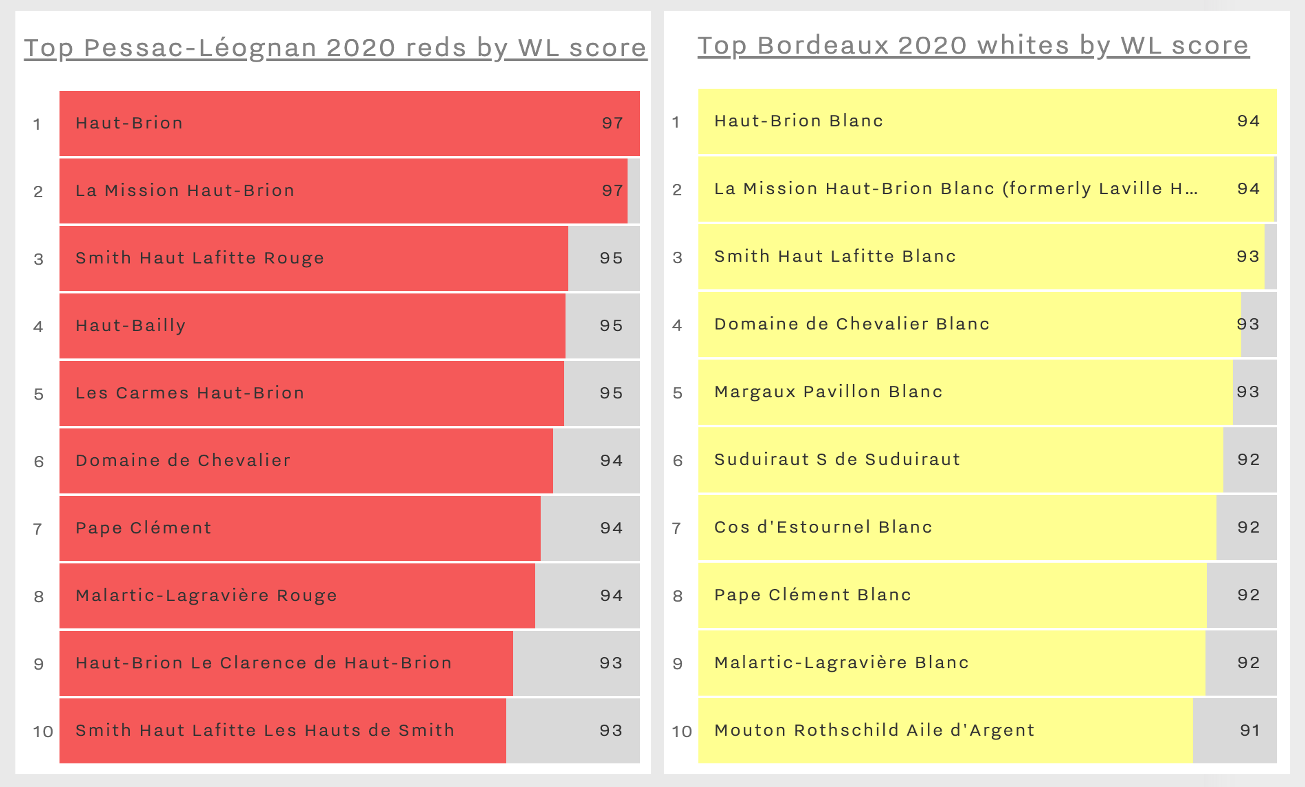 Haut-Brion and La Mission Haut-Brion perform notably well, once again achieving joint-first place in the league of top Pessac-Léognan 2020 reds. As in 2019, Smith Haut Lafitte and Haut-Bailly share third place, alongside the en primeur darling, Les Carmes Haut-Brion, whose WL score increases by one mark this year to 95. Second wines Les Hauts de Smith and Le Clarence de Haut-Brion enter the league with WL scores of 93, with the former gaining with its highest ever WL score in 2020.
Despite both scoring slightly down from 95 in 2019, Haut-Brion and La Mission Haut-Brion attain joint-first place for their whites as well as reds in 2020, achieving scores of 94 in the league of top Bordeaux whites by WL score. Tasting Haut-Brion Blanc, Ella notes it "Flexes its flinty muscles on the nose, with an almost Burgundian minerality accompanying its unmistakable Pessac green and yellow-fruit character."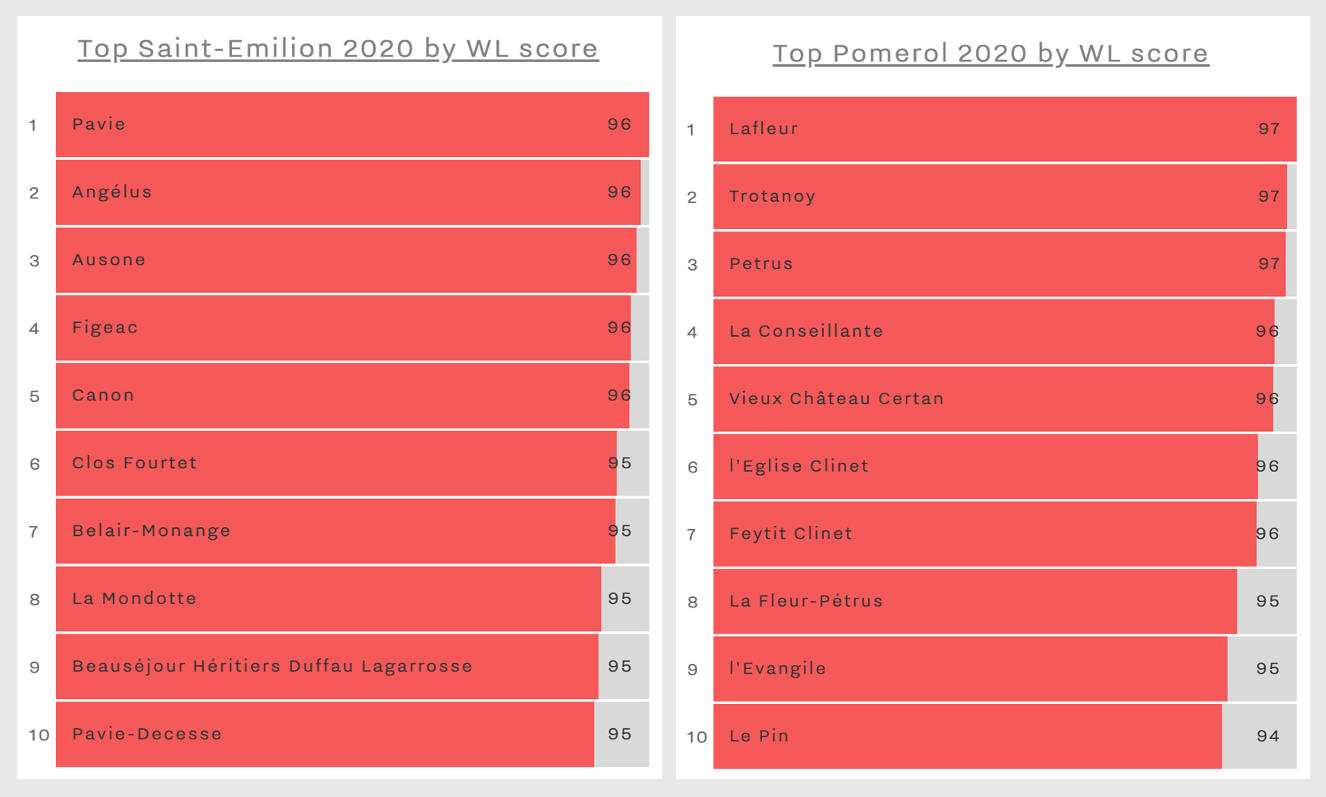 Pavie rises through the ranks from fourth place last year to lead Saint-Emilion's league for the 2020 vintage, alongside Angélus, Ausone, Figeac, and Canon, whose scores of 96 are separated by fractional differences. Having been awarded 97-99 by Wine Lister partner critic, Antonio Galloni (Vinous), he describes it as, "Very clearly one of the wines of the year." Clos Fourtet has climbed significantly this year, now standing in sixth position (up from the 17th spot in 2019).
As the only appellation to achieve a significantly higher average Quality score in 2020 than in 2019 (as explored in Part II of our Bordeaux Study), Pomerol takes the top spot for Quality score across all appellations in the latest vintage. Lafleur, Trotanoy, and Petrus share the leading WL score in its 2020 league (97), beating their score of 96 last year. Lafleur 2020 receives notable praise from the few critics who tasted in Bordeaux – Ella describes its mouthfeel simply as "out of this world".
Click here to view all Wine Leagues. Pro users have access to a more extensive set of Leagues and can log in to access here.