Bordeaux 2020 en primeur MUST BUYS
New additions from this year's offerings
With the Bordeaux 2020 en primeur campaign now concluded, Wine Lister's latest MUST BUY update includes 13 new picks from the latest vintage, covering a range of different appellations and price points.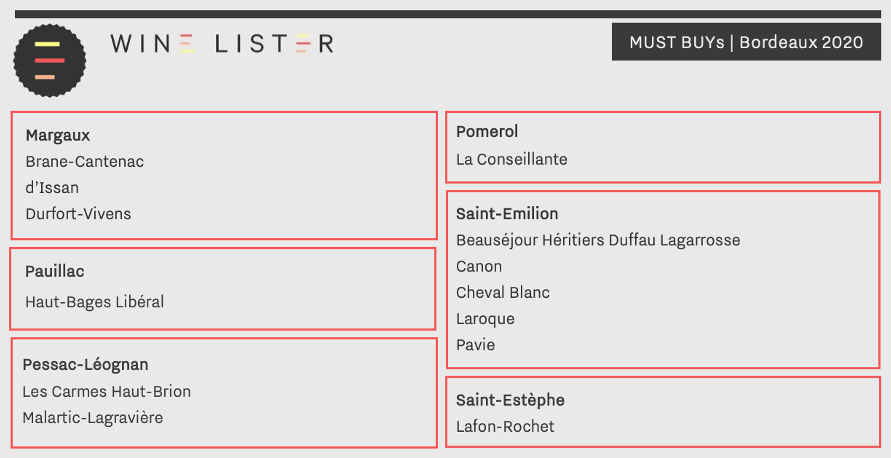 New 13 MUST BUY additions from Bordeaux 2020
What are the MUST BUYs from Bordeaux 2020?
Wine Lister's MUST BUY algorithm takes into account a wine's quality and value within its vintage and appellation to produce initial recommendations. These results are then filtered through an intelligence-based, human overlay, which identifies MUST BUY wines based on our tasting of Bordeaux 2020, and observation of the reception of each release in the market.
Right Bank insights
Highlighting the success of the Right Bank in 2020, Saint-Emilion houses five of our 13 Bordeaux 2020 MUST BUYs. Amongst the selection is one of Wine Lister partner critic, Antonio Galloni's (Vinous) "wines of the year", Pavie 2020, which he scores 97-99, noting "All the elements are well balanced." The first key release out of the gate this year, Cheval Blanc also gains MUST BUY status. With a score of 96-98 from Neal Martin (Vinous), who calls it "finely proportioned and multi-layered" with a  "mineral-driven finish",  the 2020 can be purchased en primeur from Petersham Cellars for £388 per bottle (in-bond).
Beauséjour Héritiers Duffau Lagarrosse, Laroque, and Canon also join the Saint-Emilion entries – the latter gaining praise from Wine Lister CEO, Ella Lister, who describes it as "Full-to-bursting with salivating fruit, just 'à point', with impeccable balance". Canon 2020 can be bought en primeur from £96 per bottle (in-bond) from Honest Grapes.
The Right Bank is represented further by prized Pomerol property, La Conseillante, which retains MUST BUY status for the second vintage in a row. Released at £156 per bottle (in-bond), the 2020 receives a score of 96-98 from Neal Martin, who calls it a "deeply impressive and quite profound La Conseillante", and is available to purchase en primeur from Goedhuis & Co.
Left Bank investments
Over on the Left Bank, the latest Margaux MUST BUYs comprise 2020s from Brane-Cantenac, d'Issan, and Durfort-Vivens – all of which are available on the market for £50 per bottle (in-bond) or less. d'Issan performs notably well, taking new shape with the introduction of Petit Verdot and Malbec in the latest blend, hailing from new plots purchased by the estate in March 2020. It earns a score of 93-95 from Antonio Galloni, who notes that "Issan is shaping up to be a jewel of a wine." Appearing in the rankings for most-improved Wine Lister Quality score for a third consecutive year (see our recent blog here), Durfort-Vivens also achieves MUST BUY status in 2020. The estate has seen impressive post-en primeur price performance in recent years, and shows future promise in its upward quality trajectory. Durfort-Vivens's latest release can be bought en primeur from Justerini & Brooks at £44 per bottle (in-bond).
Pauillac's Haut-Bages Libéral 2020 receives some of the highest scores ever achieved by the property, including a score of 17 from James Lawther for JancisRobinson.com, who calls it "pure and precise" with "silky and refined" tannins. In neighbouring Saint-Estèphe, Lafon-Rochet also features in the latest MUST BUY haul, with a vintage that marks the inaugural merging of two of the most revered minds in Bordeaux (see our recent blog here). Jean-Claude Berrouet and Eric Boissenot's joint efforts in 2020 were praised by critics, with Jancis Robinson calling it "a very successful 2020." Released from £27 per bottle (in-bond), Lafon-Rochet 2020 also gains Value Pick status, and can be purchased at Jeroboams.
Pessac-Léognan provides two MUST BUYs in 2020, with Malartic-Lagravière receiving a score of 93-95 from Antonio Galloni, who describes it as having "An extra kick of energy and vibrancy that is quite attractive". Les Carmes Haut-Brion 2020 earns 95-97+ from the critic, and can be acquired from Jeroboams for £79 per bottle (in-bond).
Explore all Wine Lister MUST BUYs here, or discover more Bordeaux 2020s here.