Bordeaux en primeur: a discussion of demand
With Bordeaux en primeur releases trickling through, the fine wine trade continues to speculate behind the scenes on which properties will provide the top picks from the 2020 vintage. To shine some light on the perennial châteaux to watch, we are looking back on the results of our latest in-depth trade survey, showing results of properties receiving the highest number of mentions in response to the following question:
Which Bordeaux properties do you think have the most potential in the near- to mid-term to see the highest increase in demand?
As answered by the 49 CEOs, MDs, and wine department heads from across the globe, wines from properties mentioned below are likely to see high demand again in this year's en primeur campaign, thanks to their astute marketing and storytelling, usually coupled with a real step-up in quality.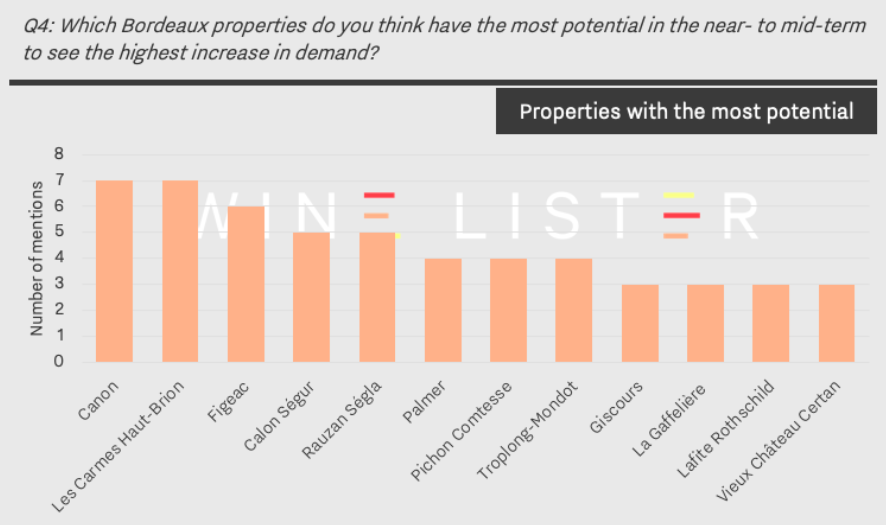 The survey results and graph above are extracted from Wine Lister's latest Bordeaux Study
But how have they gained the confidence of the trade? Storytelling, backed up by real quality, thanks to serious investment:
Canon and sister property, Rauzan-Ségla have benefitted from investment by their owner, Chanel, as well as painstaking and perfectly judged branding efforts, accompanied by impeccable winemaking – with Managing Director, Nicolas Audebert front and centre of both undertakings. Calon-Ségur has been on a similar trajectory, reviving a sleeping beauty of a property with irresistible branding, excellent communication with the trade, and grand events. Pichon Comtesse has likewise benefitted from a perfect combination of exceptional wines, management and investment by its owners, Group Roederer.
If any one château were to serve as a masterclass in storytelling around a single event – in this case the 2018 vintage – it is Palmer, who turned the loss of the majority of its crop due to mildew into a silver lining, and turned the remaining production into something of a myth.
Figeac has made incredible wines the last three years with Managing Director, Frédéric Faye at the helm, returning it to the great quality of the last century – and better – and showing the true potential of its terroir. Significant investment by the Manoncourt family has also played a crucial role.
A rising star in recent years, Les Carmes Haut-Brion ties for joint-first alongside Canon. Small production levels, rising demand, and attractive en primeur pricing for the last few years has made Les Carmes Haut-Brion a top buy.
Lafite is the sole first growth to make an appearance, with three respondents mentioning it in their list of top properties likely to see the highest increase in demand, no doubt thanks to a raft of initiatives and modernisation thanks to a new generation of management in the form of Saskia de Rothschild and Jean-Guillaume Prats.
Also featuring are cult Pomerol pick Vieux Château Certan, Margaux staple Giscours, and from Saint-Emilion, up and coming La Gaffelière and newly fresh Troplong-Mondot.
Results are extracted from Part I of Wine Lister's annual Bordeaux Study. You can download the study digest in English here: Wine Lister 2021 Bordeaux Study – Digest or French here: Wine Lister 2021 Bordeaux Résumé d'étude. The full report can be purchased on our Analysis page, while Pro subscribers can access their free copy here.