Back in business: Bordeaux 2020 en primeur
With the 2020 en primeur campaign now in full swing, the past two days have seen releases from the likes of Angélus, the Barton family, the Perse family, and more.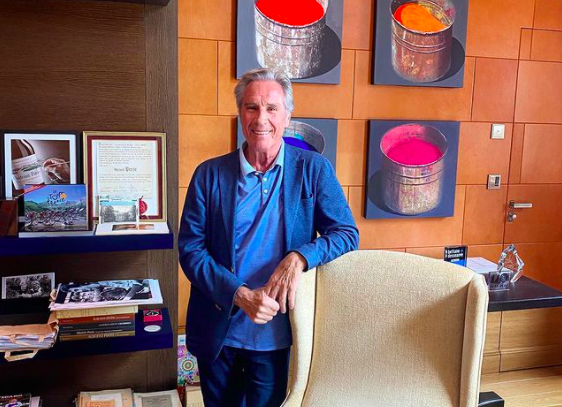 "Another big step in the right direction for this château in revealing its excellent terroir" – Wine Lister, CEO Ella Lister, who visited Pavie's owner, Gérard Perse (pictured) last year
Released yesterday morning (Tuesday 18th May), the latest vintage of the Barton family wines – Léoville Barton, Langoa Barton, and Mauvesin Barton – has reportedly seen a positive uptake in the UK market already. Wine Lister partner critic, Jancis Robinson, gives high praise to the flagship release, Léoville Barton, awarding it 18 points, and noting that it shows "very fine winemaking indeed", adding, "I have to admit I was tempted to swallow this, it was so majestic". Wine Lister's CEO, Ella Lister, also commends the latest vintage, describing a "sculptured structure which takes it into a different register". The 2020 was released at £60.80 per bottle in-bond – over 10% higher than last year's release, but potentially sporting the wine's best quality to date.
Two more Saint-Émilion Grand Crus Classés "A" have joined fellow comrade and early-bird release Cheval Blanc, with Angélus entering the market at £254 per bottle (in-bond), and Pavie following closely behind at c.£241 per bottle (in-bond).
The latter gained resounding praise this year: James Lawther (for JancisRobinson.com) notes "absolute precision" which he says "more than highlights the change in style," concluding, "one of the best yet". Ella echoes this sentiment, asserting that "delightful floral freshness and a feather-light texture mark another big step in the right direction for this château in revealing its excellent terroir," and calling the wine "complex and refined". The comments combined suggest that Pavie 2020 is the culmination of stylistic changes undertaken by the property over the last few years.
Perse family sibling, Pavie-Decesse 2020 was also released yesterday at £83 per bottle (in-bond). The latest vintage gains 17 points from James Lawther, who describes "Tension and minerality as well but plenty of charm this year". With virtually no stocks of last year's release remaining on the market, and the estate offering an element of rarity (at 3.5ha, it is a 10th of the size of Pavie), the latest release is likely to gain appeal beyond its volume released.
Also released so far this week are: Marquis d'Alesme, Labégorce, Coutet, Guiraud, Bellevue-Mondotte, and Monbousquet.