Bordeaux en primeur 2020: our view of the vintage
2020 is an unprecedented vintage both in terms of the pandemic context and its juxtaposition of tannic power and exquisite freshness. On both banks of Bordeaux, the wines are characterised by an early growing season that underwent a series of extremes: a warmer winter than usual, a rainier spring, and a record dry summer, without so much as a drop of rain from mid-June to mid-August, then finally exceedingly hot during the harvest (one should spare a thought for the masked pickers). In spite of such difficulties, Veronique Sanders of Château Haut-Bailly notes that "the easy vintages in Bordeaux used to be the best ones, but in recent years that's not the case".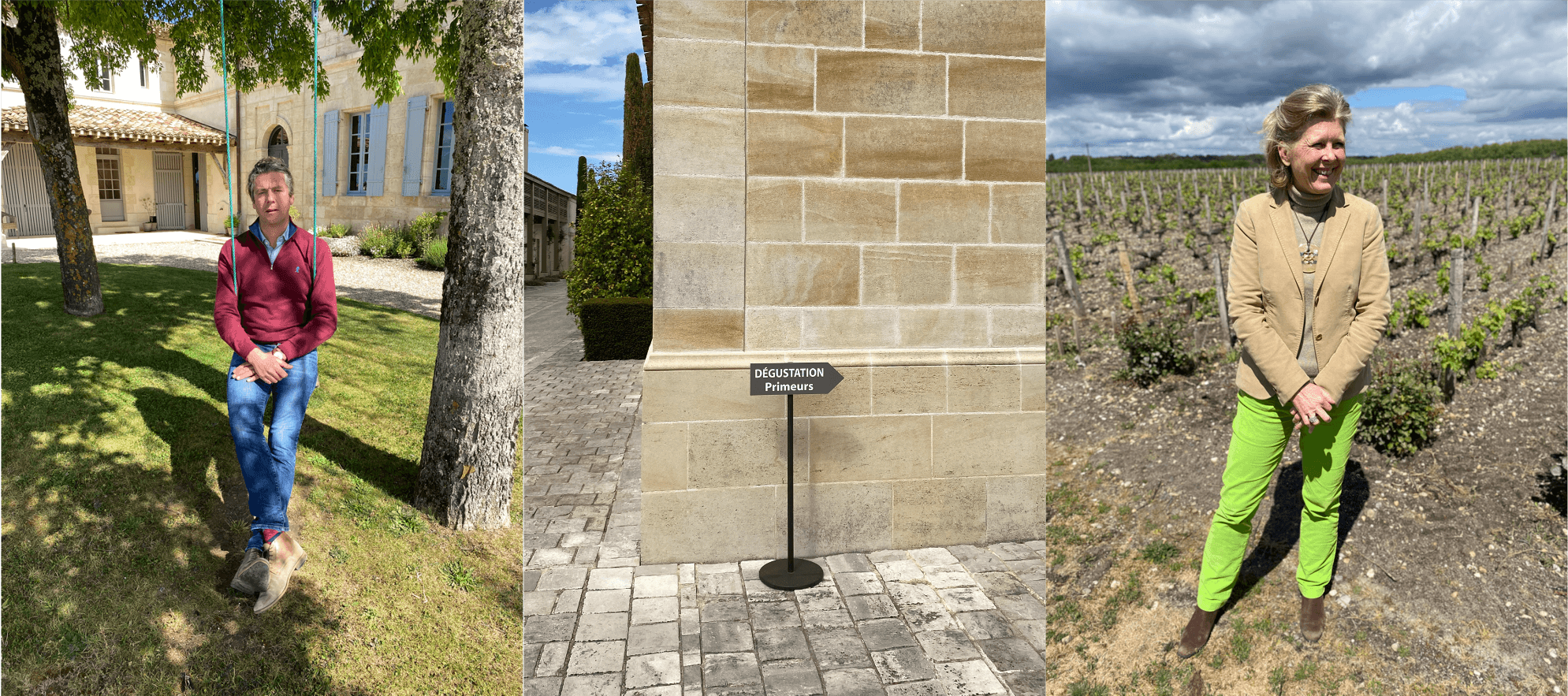 Left: Baptise Guinaudeau of Lafleur and Grand Village / Right: Véronique Sanders of Haut-Bailly and Le Pape
Henri Lurton, owner of Château Brane-Cantenac in Margaux, referred to 2020 as a "quite unique" vintage, both "hot and classic" at the same time. This observation is echoed by Baptiste Guinaudeau, co-owner of Château Lafleur in Pomerol, who recognises in 2016, 2018, and now 2020, a new type of growing season that didn't exist before, uniting a big, sunny vintage like 2009 with a more classical vintage like 2008. 2020 is "multiple vintages in a single wine", according to Lafleur's cellar master, Omri Ram.
While several wines in 2020 in have record tannic density, you wouldn't know it without the technical analyses. When you taste the wines, this power hidden by a delicate, diaphanous veil. Acidity remains decently high, and alcohol relatively low, allowing the wines to maintain the classicism that we recognise and love in Bordeaux.
In a year where the Bordelais couldn't go on their usual marketing trips to the US, China and beyond, they were closer to the vines and to nature. This often meant whole teams dedicated to the vine-growing and winemaking instead of sales and marketing. This often meant whole teams dedicated to the vine-growing and winemaking instead of sales and marketing. "Un vin d'équipe", says Marielle Cazaux, technical director of La Conseillante, referring to the unprecedented "team effort", as the office staff worked in the vineyards, helping the vines through extreme rain, then drought, then heat.
Completing a trilogy of excellent vintages, after 2018 et 2019, 2020 is nonetheless more heterogeneous, where the top terroirs were best able to cope with the extreme climatic conditions. Each appellation boasts some exceptional wines, be it Pauillac, Pessac-Léognan or Pomerol. And these wines have a floral freshness, often of peonies or iris (the latter a scent deriving from merlot when it undergoes hydric stress).
Finally, the whites deserve a special mention in 2020. A vintage for lovers of richer, creamier whites, we found the best almost Burgundian, without the varietal grassiness of Sauvignon Blanc.