Bordeaux en primeur – wines to watch for price potential post-release
In Wine Lister's latest Bordeaux Study, we examine a five-vintage retrospective analysis showing the greatest positive percentage change between wines at ex-négociant release price and current market prices.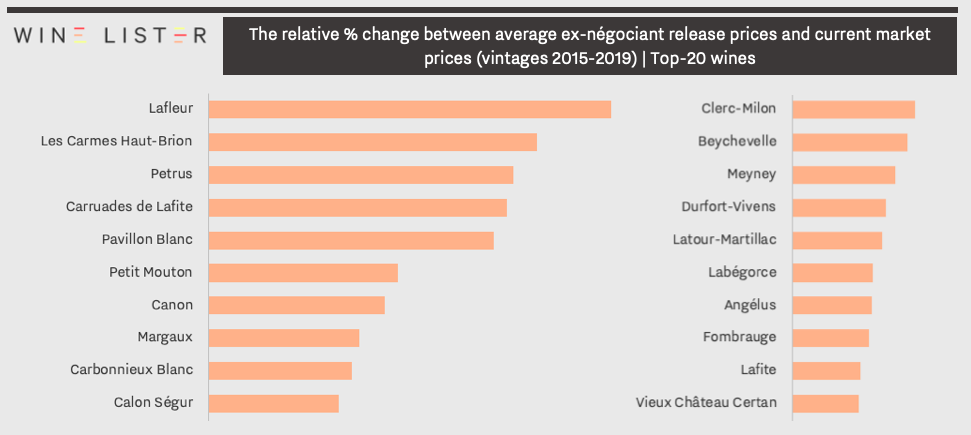 Top 20 by relative price change between average ex-négociant releases and current market
Which of the Bordeaux 2020 offerings show greatest price potential post-release?
One of the most significant periods of purchasing in a wine collector's calendar is once again upon us. Bordeaux en primeur provides the opportunity to secure wines before they are bottled, with the primary benefits being both to gain access to crus that sell out quickly, and to pick them up at attractive prices, which will likely be higher once the wine becomes physically available.
Taking a closer look at the top-20 wines in the list, these bottles often see significant demand post- release, and are worth keeping an eye out for during the impending en primeur campaign.
Small-volume sensations
Lafleur, Les Carmes Haut-Brion, and Petrus typically see the greatest percentage changes in price, with all three producing notably small volumes within the context of Bordeaux – c.1,000, 1,800, and 2,500 cases per annum, respectively. With rarity on its side, demand for Lafleur has encouraged its original release price to grow by 115% on average in the secondary market.
Family of four
Four of the wines featured are produced under the same roof, or by the same team, as the Bordeaux First Growths, with demand surely heightened through association. Carruades de Lafite, Pavillon Blanc, Petit Mouton, and Clerc-Milon all offer potential price increase post-release, at a lower initial price than their Premier Cru siblings. Appearing fourth on the list, Carruades de Lafite has seen market price increase by c.56% post-release across the past five vintages, while the current cost of Petit Mouton is up c.54% on its ex-négociant price.
Rising through the ranks
Offering relative value and potential for future returns, several "rising stars" are featured in the ranking, and are worth watching over the upcoming releases. Canon, Calon Ségur, and trade darling for good value, Meyney have exhibited strong increases in quality over recent years, which has resulted in higher demand, and thus strong price performance after en primeur campaigns. The three promising picks have seen their average price increase by c.33%, c.24%, and c.19% respectively.
The full report can be purchased on our Analysis page, while Pro subscribers can access their free copy here. Wine Lister provides Pro+ subscribers with  real-time en primeur release alerts during the campaign. Email us to enquire about signing up, or track releases prices on our dedicated en primeur page here.