Burgundy 2019s so far – finding value at the top
It is the ultimate question for Burgundy fans seeking wines for drinking – with prices of the region's best having risen so high, where can one find value?
Wine Lister's second Burgundy study published in collaboration with regional specialist, Jasper Morris, notes the proliferation of good value wines hailing from some of the lesser-known appellations, and even outside of the Côte d'Or (Saint-Aubin, Marsannay, Mercurey, and Pouilly-Fuissé were among those mentioned).
Below Wine Lister explores some of the wines worth snapping up from the 2019 campaign*, based on their relative value when compared with other wines in their sought-after appellations. 37 out of the 58 wines listed in charts below are white.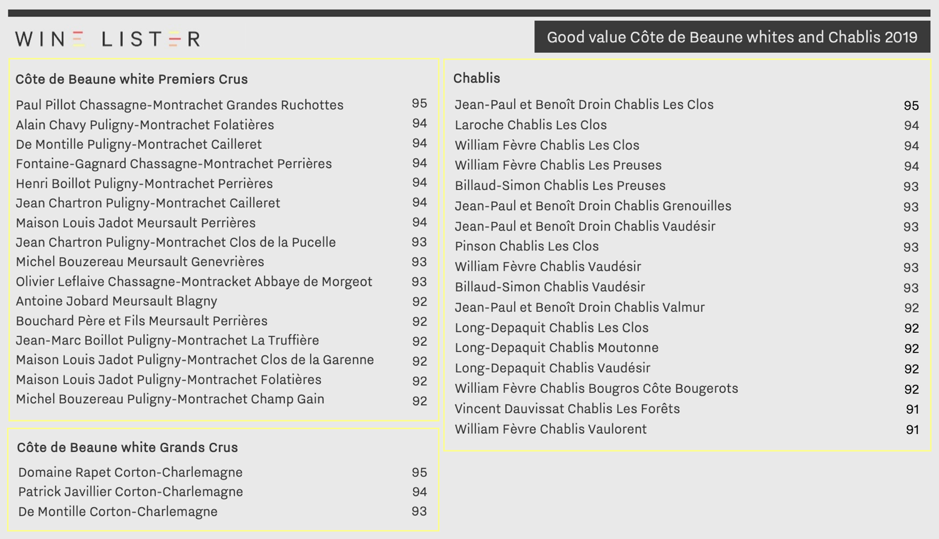 Chablis – a permanent alternative source for Burgundy drinking white outside of the Côte de Beaune – features heavily. Buzz brands William Fèvre and Billaud-Simon achieve multiple entries, as does the Chablis estate of Maison Albert Bichot – Long-Depaquit, and relative newcomer to the cream of the crop, Jean-Paul et Benoît Droin. This group of top Chablis achieves an average price of £52 in bond per bottle, while their Côte de Beaune counterparts cost more than 30% more for the same quality (since both groups achieve an average WL score of 93).
Among the Côte de Beaune whites, Alain Chavy's Puligny-Montrachet Folatières, and Fontainte-Gagnard's Chassagne-Montrachet Caillerets provide the best quality-to-price ratios, both achieving WL scores of 94, for £48 and £53 per bottle in-bond respectively. Domaine Rapet's Corton-Charlemagne provides excellent value for Grand Cru white (considering that the appellation's reference – Jean-François Coche-Dury – typically costs over £3,000 per bottle).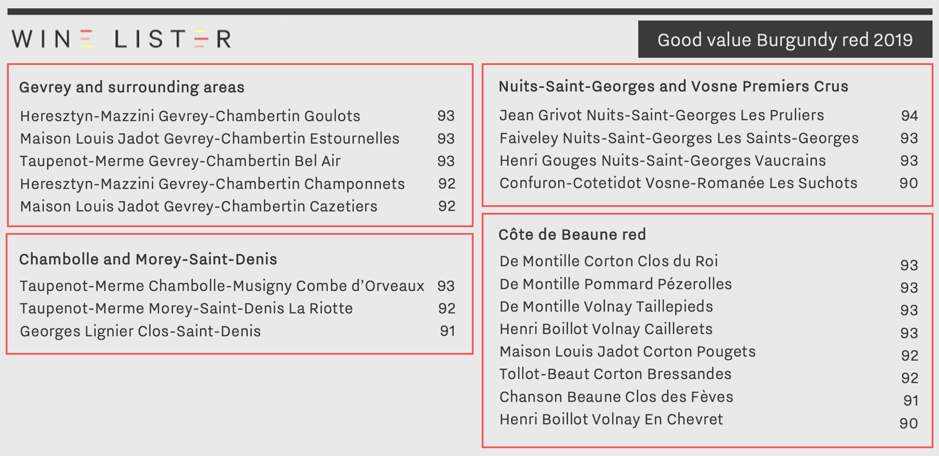 Only one Grand Cru red makes the cut in top-scorers under £100 per bottle – Georges Lignier's Clos Saint-Denis.
In the rest of the Côte de Nuits, strong value propositions hail from Taupenot-Merme throughout, particularly its Morey-Saint-Denis La Riotte. Maison Louis Jadot and Heresztyn-Mazzini achieve multiple entries in Gevrey, and the Nuits-Saint-Georges appellation makes an appearance across three producers – Grivot, Faiveley, and Henri Gouges.
The average price difference between the reds of both Côtes is not so dramatic as for Chablis and its Beaune counterparts. Côte de Beaune reds as shown the image above reach an average price of £72, just 10% lower than the Côte de Nuits group (for the same average WL score of 92). Domaine de Montille takes three of the eight places for its Corton Clos du Roi, Volnay Taillepieds, and Pommard Pézerolles.
*N.B. prices are based on those aggregated through Wine Lister's pricing partner, Wine Owners. Not all Burgundy 2019s have recorded prices as yet, so the above lists may well evolve over the coming weeks and months.