The final word on Burgundy 2019 – Jasper Morris' top scores
The last lot of Burgundy 2019 scores are in, from Wine Lister's regional specialist critic, Jasper Morris (Inside Burgundy).
Below we explore Jasper's top scores by Burgundy "subset", as defined in Wine Lister's recent study on the region (recap its key findings here).
While no wines earned perfect scores this year, Jasper's highest score was in fact awarded to a Premier Cru performing beyond its classification – Arnoux-Lachaux's Vosne-Romanée Aux Reignots. He notes that the wine is "completely heartbreakingly suave and sensational", offering "crisply ripe cherries, alpine strawberry, the lightest raspberry touch, then a generous pure clear long finish".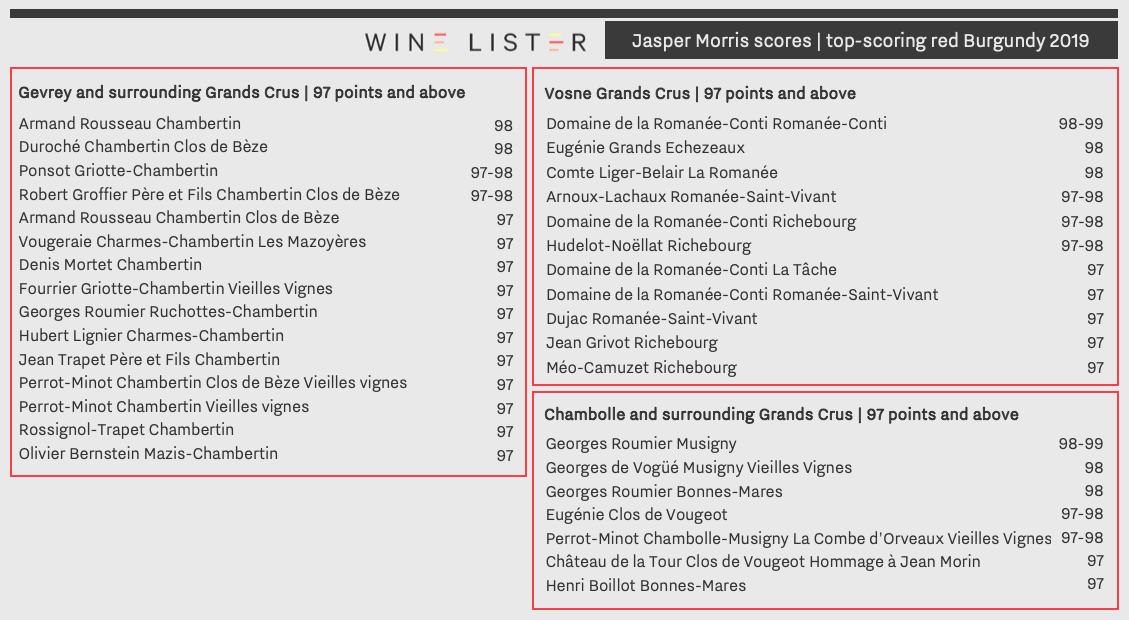 In Gevrey and its surrounding Grands Crus areas, Armand Rousseau fares well, its Chambertin and Chambertin Clos de Bèze earning scores of 98 and 97 respectively. Up-and-comer Domaine Duroché ties for first place within the subset with its Chambertin Clos de Bèze. Jasper describes it as having "a little lick of oak, which is entirely in place, a light, but fresh acidity, a sense of harmony throughout and a deepening of the fruit on the second half of the palate", creating a "glorious conclusion".
Georges Roumier proves king of Chambolle and its surrounding Grands Crus, earning two places among the top scorers for the domaine's Musigny and Bonnes-Mares. Adding testament to the improving quality of maisons de négoce (as mentioned in Wine Lister's Burgundy study), Maison Henri Boillot makes an appearance among the top ranks for its own Bonnes-Mares.
Domaine de la Romanée-Conti understandably dominates the Vosne Grands Crus category, though star producer Arnoux-Lachaux features among the top 11, in addition to its high-scoring Vosne-Romanée Premiers Crus. Speaking to Wine Lister following the completion of his Burgundy 2019 reports, Jasper notes that Arnoux-Lachaux has "unequivocally joined the greats with a faultless array of stunning wines in 2019, hitting heights of ethereal elegance without sacrificing power".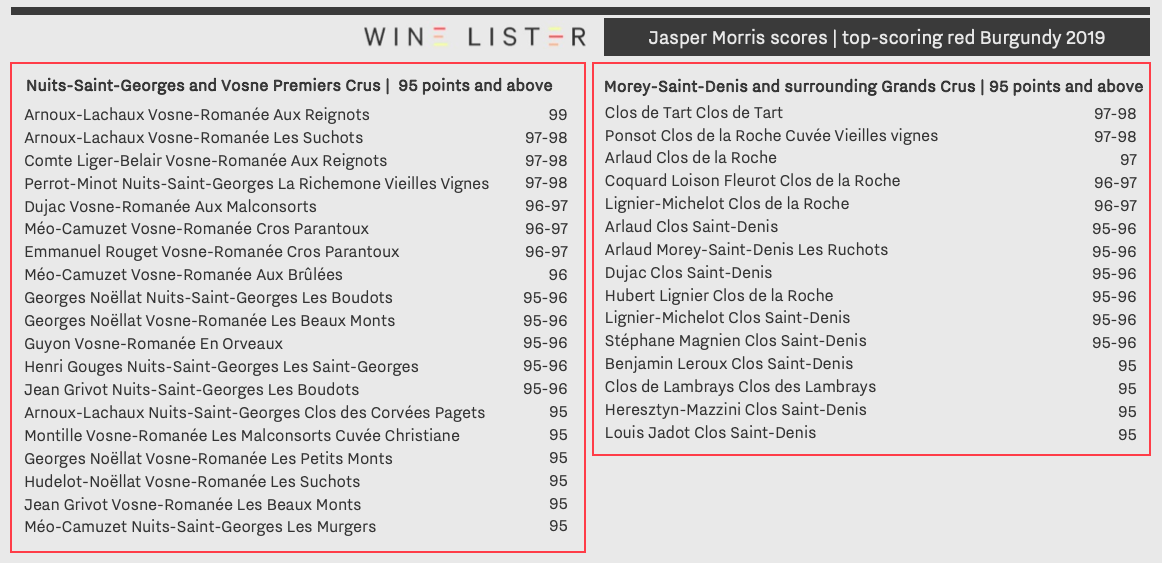 Jasper reports that Morey-Saint-Denis has done well in 2019, as "the village which had the benefit of the best rainfall figures in August". He adds, "not only are Clos des Lambrays and Clos de Tart progressing well under their new ownerships and winemakers, but class acts such as Domaine Dujac and Christophe Perrot-Minot have filled their boots, while Domaine Arlaud have produced their best set of wines ever".
Interestingly, no Côte de Beaune red scores above 96 from Jasper in 2019 (though the top scorer at 95-96 points is Méo-Camuzet's Corton Rognet). See all top scores for Côte de Beaune reds in 2019 here.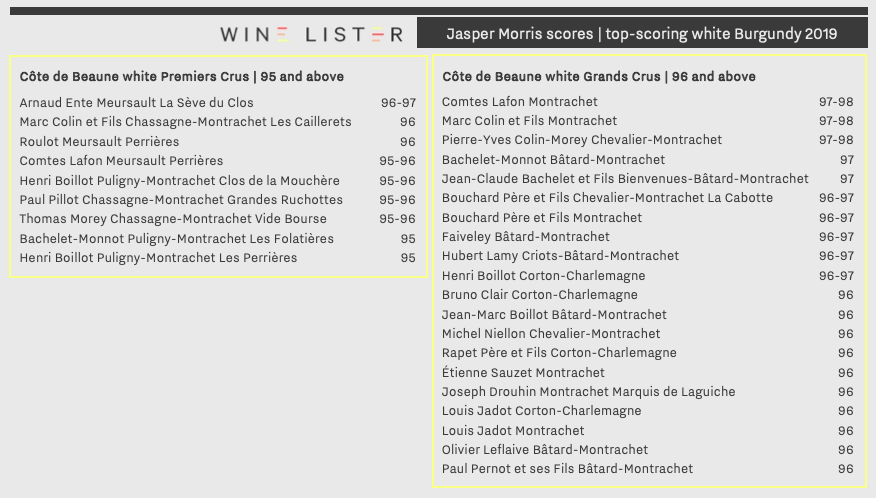 Whites in 2019 do not reach the dizzy score heights of their red counterparts. The above chart therefore takes into account Côte de Beaune white Premiers Crus with scores above 95, and Côte de Beaune Grands Crus achieving 96 points or above.
In the latter subset, maisons de négoce Bouchard Père et Fils and Maison Jadot achieve two entries apiece, for their Chevalier-Montrachet La Cabotte and Montrachet, and Corton-Charlemagne and Montrachet respectively.
Producers Bachelet-Monnot, Comtes Lafon, Domaine Henri Boillot, and Marc Colin also all appear twice in the top Côte de Beaune white rankings for 2019.
View more Burgundy 2019 scores here. Wine Lister Pro users can search and filter by critic scores, and can view all of Jasper Morris' top Burgundy 2019 scores here. Click here to find out more about the Pro subscription.