Rising through the ranks: Bordeaux 2019
This week, Wine Lister published Part II of its annual in-depth Bordeaux Study, In sickness, in health, which, among other inquiries, examines the 40 top-quality crus in 2019. As illustrated in the study, tastings have so far indicated high quality levels across the board in 2019, while numerous wines have made significant advancements, shaking up this year's rankings.
Following this line of investigation, below we examine the top 25 Bordeaux 2019s by WL score (as separated by mere decimals), and consider the biggest movers since last year. These scores are informed by the recently-released ratings of Wine Lister partner critics, Bettane+Desseauve, Antonio Galloni and Neal Martin for Vinous.com, and James Lawther for JancisRobinson.com.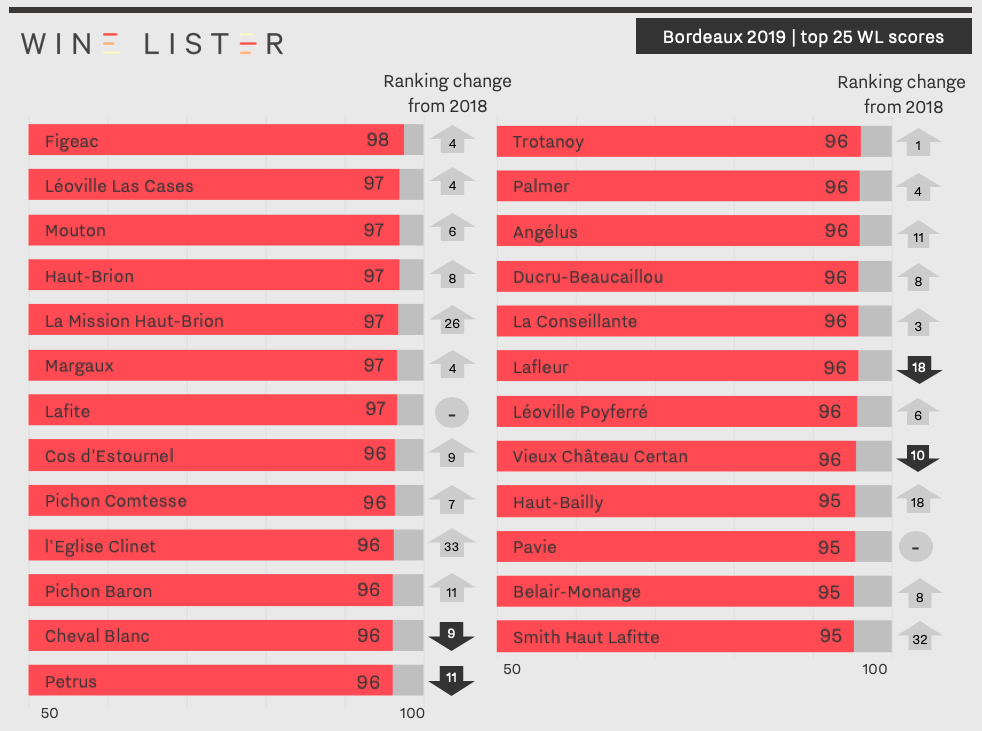 Consistent with last year's ranking of Bordeaux 2018s by Quality score (conducted before the introduction of Wine Lister's free site, featuring WL scores out of 100), Pomerol earns the highest number of places (six) in the top 25 2019s by WL score. Neighbouring Saint-Emilion follows closely behind with five spots in this year's ranking, including the top-scoring wine of the vintage, Figeac 2019, which achieves a WL score of 98.
The four first growths to release their 2019s en primeur appear in third through seventh places, intersected by La Mission Haut-Brion's entry at fifth place. This promising Pessac-Léognan climbs an impressive 26 spots in 2019, and, as mentioned in our previous blog, has been recently assigned MUST BUY status. Neal Martin scores La Mission Haut-Brion 2019 98-100 points, declaring: "I wager that ultimately this will become one of the wines of the vintage", concluding that the wine is "breathtaking".
L'Eglise Clinet sees an impressive upwards shift of 33 places this year, entering the top 10 with a WL score of 96. A poignant tribute to its late winemaker, Denis Durantou, its 2019 has received significant praise, with Antonio Galloni noting that it is "very clearly one of the wines of the year. A Pomerol of soaring, majestic intensity, L'Eglise-Clinet dazzles from start to finish".
Pichon-Baron and Angélus both climb eleven places in this year's top-25 ranking, to 11th and 16th place, respectively, with the former receiving top scores from both Neal Martin and Antonio Galloni. Both critics allude to the depth of Pichon-Baron's 2019, with Galloni stating that "pomegranate, chocolate, licorice and spice are all lavishly expressed". This represents one of Pauillac's four entries on this year's top-25 ranking, which also comprises Mouton, Lafite, and Pichon Comtesse.
Haut-Bailly makes a sizeable leap of 18 places since last year, ranking in 21st place with a WL score of 95. At £70 per bottle (in-bond) Haut-Bailly 2019 is also a Wine Lister MUST BUY. Fellow Pessac-Léognan producer, Smith Haut Lafitte, climbs an impressive 32 places with its 2019 vintage, rounding out the top 25 list. Having tasted twice, Neal Martin describes its "intense, very pure bouquet with blackberry, briary and cherry compote and a hint of black olive tapenade in the background".
Also featured in the top 25 Bordeaux 2019s by WL score are: Belair-Monange, Cheval Blanc, Cos d'Estournel, Ducru-Beaucaillou, Haut-Brion, La Conseillante, Lafleur, Léoville Las Cases, Léoville Poyferré, Margaux, Palmer, Pavie, Petrus, Trotanoy, and Vieux Château Certan.
Wine Lister Pro members can read Part II of the Bordeaux study here. All free users can purchase the report for £125 from Wine Lister's Analysis page (available in both English and French).