Bordeaux 2019 en primeur – who's in the lead?
Despite wide speculation over whether an en primeur campaign could proceed at all in 2020, this year's campaign is now more or less complete, and Wine Lister's scores are in. Bordeaux 2019s exhibit high quality across the board, receiving frequent comparison with recent great vintages – 2016, 2015, 2010, and 2009.
Wine Lister has now published its latest Wine Leagues on the new vintage – examining which Bordeaux 2019s rank best for WL score in each major appellation.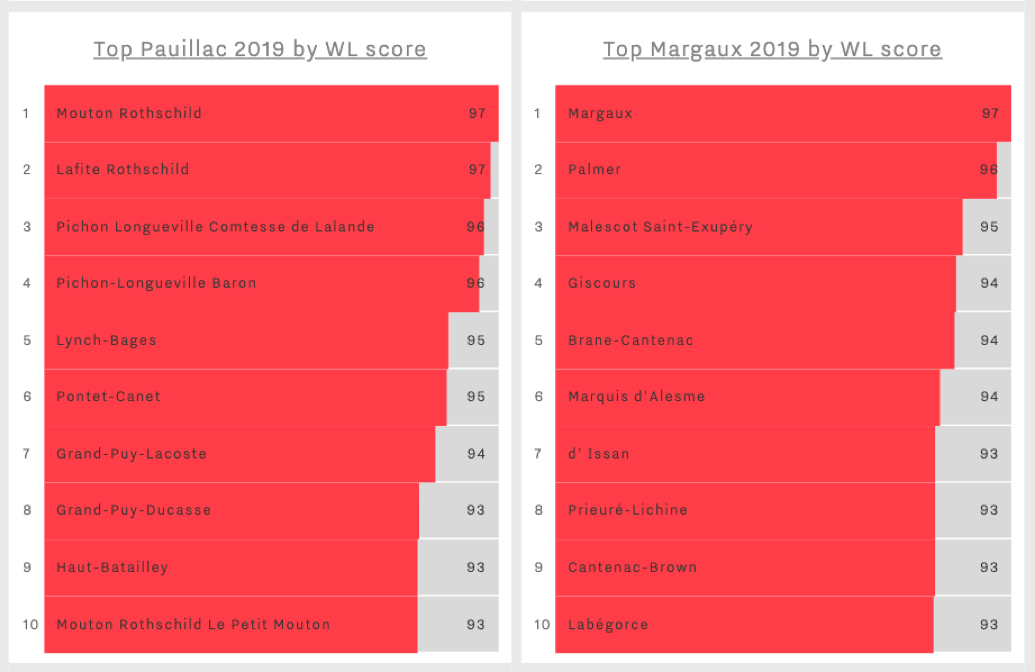 Pauillac First Growths, Lafite and Mouton, lead the appellation's league of top 2019s by WL score, with a joint score of 97. Pichon Comtesse and Pichon Baron follow suit with 96 – the latter achieving its highest WL score since its 2016 vintage. Wine Lister partner critic Neal Martin describes Pichon-Baron 2019 as having "a very refined bouquet" and a "silky smooth, creamy texture", stating it "retains all the classicism you could ask for".
The league of Margaux 2019s by WL score is topped by the appellation's namesake property, whose latest release joins fellow Pauillac Firsts with a score of 97. Following Palmer's entry with 96, Malescot Saint-Exupéry 2019 achieves the château's highest ever WL score (95). Wine Lister partner critic, Antonio Galloni notes that the 2019 is "a striking wine that is sure to find many admirers", recounting an "interplay of earthy and savoury notes with rich, dense fruit… utterly captivating".
There are four Value picks featured in the league of Margaux 2019s by WL score, with Labégorce, Malescot Saint-Exupéry, Marquis d'Alesme, and Prieuré-Lichine all achieving scores of 93 and above, at under £35 per bottle (in-bond).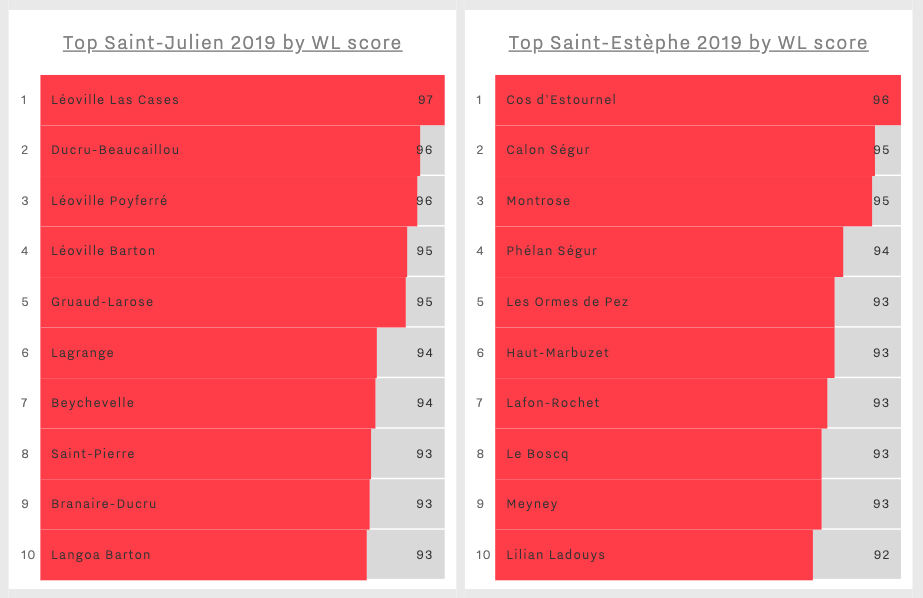 In Saint-Julien, Léoville Las Cases 2019 achieves a WL score of 97, matching that of its 2018 and 2016 vintages. Ducru-Beaucaillou and Léoville Poyferré appear in joint-second place with 96 – achieving their highest WL scores since 2016 and 2015, respectively. Ducru-Beaucaillou 2019 performed notably well at tastings, with Neal Martin, awarding it  96-98 points. He notes its "filigree tannins, pitch perfect acidity and a sensual, satin-like texture", concluding that the wine is "outstanding in terms of persistence".
With a score of 96, Cos d'Estournel 2019 tops the league for Saint-Estèphe 2019s by WL score, matching its successful 2018 and 2016 vintages. Writing for JancisRobinson.com,  James Lawther describes the vintage as "powerful but carefully constructed and precise", noting "a lovely mellow quality to such a muscular wine". While both falling one WL score below their previous vintage, Calon Ségur and Montrose appear second in the appellation's league, with a shared score of 95.
Branaire-Ducru 2019 and Meyney 2019 exhibit notable value within their appellations – both achieving WL scores of 93 at £29 and £19 per bottle (in-bond), respectively.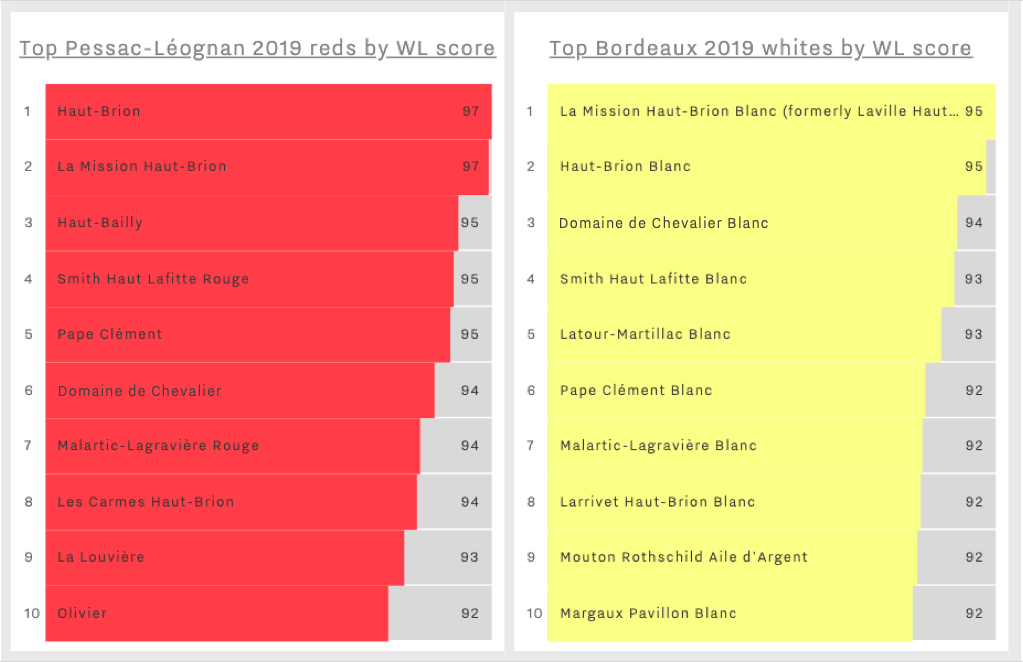 Haut-Brion and La Mission Haut-Brion perform notably well in 2019, achieving joint-first place in the league of top Pessac-Léognan 2019 reds by WL score. As examined in a previous Bordeaux 2019 en primeur blog, the en primeur darling, Les Carmes Haut-Brion, shows clear qualitative success in 2019, and its small production levels and smart en primeur pricing has once again made it a clear campaign buy. Another promising pick from Pessac-Léognan, Olivier 2019 achieves Value pick status at c.£20 per bottle (in-bond), and achieves the château's highest WL score (92). Antonio Galloni recounts "smoke, licorice, cured meat, graphite and savory herbs infuse the 2019 with striking aromatic intensity to play off its sumptuous fruit", concluding that the wine is "Very good".
Haut-Brion and La Mission Haut-Brion attain joint-first place for their whites as well as reds in 2019, achieving scores of 95 in the league of top Bordeaux 2019 whites by WL score. Latour-Martillac Blanc 2019 achieves the highest WL score seen across its vintages (93) – one WL score above Pape Clément Blanc's 92. At c.£21 per bottle (in bond) Latour-Martillac Blanc 2019 enters the market 10-30% below the current market prices of vintages 2016-2018, showing good value for its quality. Neal Martin notes on the latest vintage: "subtle tropical notes of pineapple and orange rind with hints of strawberry come through on the finish".
On the right bank, the league of top 10 Saint-Emilion 2019s is crowned by Figeac's high-scoring 2019. Up one point on its 2018, Figeac's latest release achieves the highest WL score of all Bordeaux 2019s (98). Figeac 2019 illustrates the château's impressive upward quality trajectory, which has seen its WL score slowly but surely increase from 91 in 2008. Neal Martin gives the latest vintage 97-99 points, describing it as "exquisitely defined… a deeply impressive, intellectual Figeac".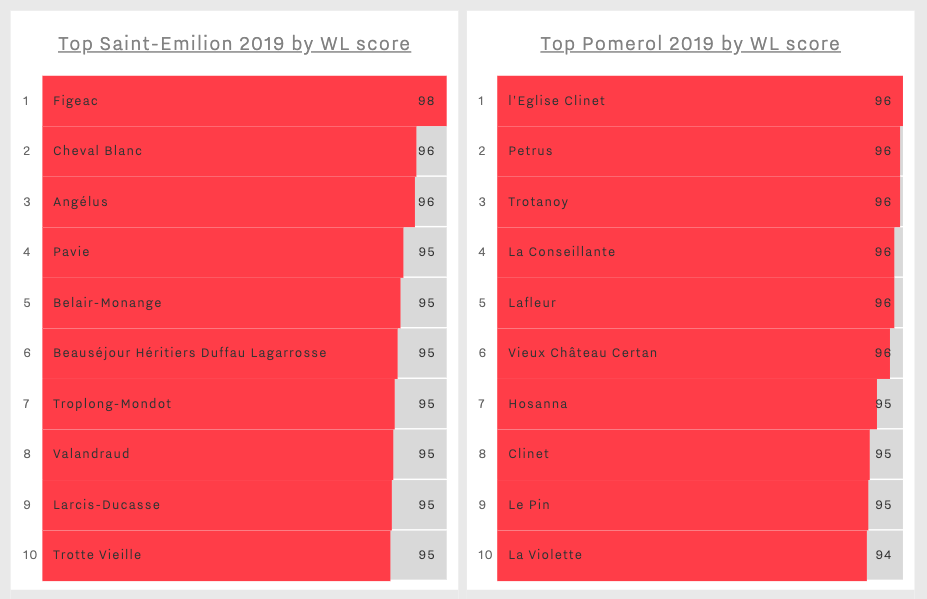 La Conseillante, Lafleur, l'Eglise Clinet, Petrus, Trotanoy, and Vieux Château Certan share the top WL score of Pomerol 2019s (96), separated by mere decimals. A release of note, l'Eglise Clinet 2019 is the last vintage of the late Denis Durantou, who sadly passed away in May. Neal Martin's impressive score of 97-99 suggests the last vintage was his best, adding, "the perfect way to remember and raise a toast to one of Pomerol's finest vignerons".
Click here to view all Wine Leagues. Pro users have access to a more extensive set of Leagues and can log in to access here.