En primeur presses on – frantic Friday, mega-Monday, and more
Since the last update, some 34 further Bordeaux 2019s have been released en primeur, covering a wide range of styles and price points. Given the saturation of releases, below we highlight a small selection of wines particularly worth backing.
Big hitters
La Conseillante opened the stage of en primeur week three – "mega Monday", releasing its 2019 at £126 per bottle. Wine Lister's CEO, Ella Lister, notes the wine is "vibrant, with a playful bouquet of spice, tobacco, and pure dark fruit". Wine Lister partner critic, Neal Martin agrees, awarding the 2019 its highest ever Vinous score (97-99), and noting, "Winemaker Marielle Cazaux and her team have conjured a magnificent Pomerol here". Coming onto the market 25% below 2018's release price, this is worth snapping up given its continuation of La Conseillante's style evolution – indeed, the wine still provides good value when compared to other Pomerols of similar quality.
Figeac followed closely behind, releasing its 2019 at an identical price. Also entering the market 25% below the 2018 (the most expensive recent Figeac vintage on the market), it too continues its upward quality trajectory in spectacular fashion. Awarding it the same score as La Conseillante, Martin names it "a deeply impressive, intellectual Figeac…amongst the canon of greats that stretch back to the 1940s". Figeac was a Wine Lister favourite in 2018, and has clearly done another spectacular job this year – this is an absolute buy to put away for the future.
Arriving with a clever digital temperature checker – Wine Lister CEO, Ella Lister, tastes La Conseillante and Figeac samples in London.
Montrose 2019 was released this morning (Tuesday 16th June), at just over £100 per bottle (in-bond). While the wine has not yet been widely rated, Ella Lister tasted at the property last week, and names the 2019 "very harmonious, calming, and hypnotic", with a "lovely, rounded, succulent, fresh-fruit palate", and "satin tannins". Continuing Montrose's legacy of quality excellence, the 2019 is once again a good punt for decadent Bordeaux drinkers.
Old Faithfuls
Giscours 2019 released at £35.20 per bottle (in-bond) on Friday 12th June. Entering the market below current prices of the last five vintages, this should be an obvious buy for fans of the Margaux château. Lister notes the 2019 as "confident and precise" on the nose, and "creamy, accomplished, and long" in the mouth, calling it a "classic Giscours". Neal Martin, concurs, noting, "this is a superb, potentially long-term Giscours".
A perennial British favourite, Talbot 2019 has also been released, at an opening price of £35.15 per bottle (in-bond). Lister names Talbot 2019 one of her "coups de coeur", adding that it is "spicy and exotic", as well as "fresh and harmonious". Talbot's strong brand and visible recent quality improvements make this release a safe bet for any buyer looking for Left Bank Bordeaux to drink in 20-30 years.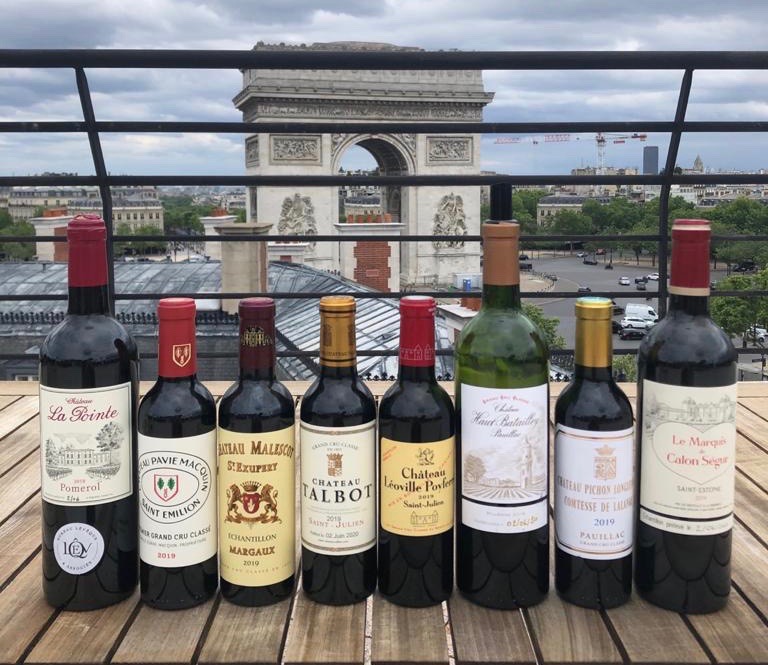 A "grand merci" to négociant Duclot for hosting the recent Bordeaux 2019 en primeur tasting in Paris. Pictured: some of Wine Lister's CEO, Ella Lister's favourites.
Grand-Puy-Lacoste released its 2019 this morning (Tuesday 16th June), at £45 per bottle (in-bond). Another UK favourite, this release has seen some buzz from those trade members who have tasted already, and critics agree – Lister writes that it is "blue fruited, aquiline, pure, and purring", while Martin (who gives it its best ever score – 95-97), says, "Classy and full of breeding – quintessential Pauillac". Despite some availability of recent back vintages – 2015 and 2014 – at a similar price (or indeed cheaper), this is still a solid bet for top-quality Pauillac to lay down for the future.
Value buys
Chasse-Spleen, a traditional value hit among claret buyers, released its 2019 on Friday 12th June. It enters the market at £20 per bottle (in-bond), a neat 30% below the current market price of the 2018. Neal Martin awards the 2019 a score of 92-94 – placing its quality in line with the 2016 (93 points), with the potential for it to become even better in the future.
Lafon-Rochet released its 2019 yesterday, at £28.30, 12% below the current market price of the 2018. Neal Martin's score of 93-95 suggests the Saint-Estèphe property has made another quality step up in 2019. Martin notes, "it is imbued with a sense of nobility and classicism that I much admire". While the "discount" on 2018's release price is not as high as some may have wished for, Lafon-Rochet 2019 still looks like a bargain relative to other Left Bank wines of similar quality.
Gloria 2019 was released this morning, at £25.10 per bottle (in bond). While only 13% below the current market price of the 2018, the 2019 still provides excellent value relative to other Saint-Julien wines, particularly considering its quality in 2019. Neal Martin awards it 93-95 points, and says, "this is a nimble Saint-Julien, athletic in build with a sapid finish that urges you back for another sip. Excellent".
Also released over the last few days are the following 2019s: Beauregard, Blason d'Issan, Certan de May, Connétable de Talbot, d'Issan, de Sales, du Tertre, Feytit-Clinet, Fourcas Hosten, Grand Corbin-Despagne, Gruaud-Larose, La Dame de Montrose, La Fleur-Pétrus, La Pointe, La Violette, Lacoste Borie, Lagrange, Le Gay, Les Cruzelles, Montviel, Pape Clément, Pape Clément Blanc, Prieuré-Lichine, Sarget de Gruaud-Larose, and Saint-Pierre.