Quality across Crus Classés – the best Médoc MUST BUYs
As we spare a thought for Bordeaux during what would have been the 2019 en primeur tasting week, we continue to encourage our readers to investigate the abundance of physical vintages available from this noble region. This week we examine the top Bordeaux MUST BUYs in four of the five left bank classified growth groups.
Though the tasting and sale of 2019 may be postponed, 17 reds from last year's en primeur campaign (2018) still appear in our top MUST BUYs selection, and are worth snapping up for future drinking. The impressive quality of recent physical vintages in Bordeaux, namely 2016 and 2015, is clear to see – each vintage earns 10 and nine MUST BUY places respectively in the Wine Leagues below.
Of the 222 Bordeaux wines that are currently identified as MUST BUYs, 97 are Médoc classified growths. Looking at the top 10 wines for 'Cru Classé' levels (second to fifth), WL scores indicate that the quality structure intended in the 1855 classification is perhaps not so rigid, now that modern winemaking techniques have more of an influence. For example, five wines in both the third and fourth growth groups earn 94 WL, and six wines among top fifth growths earn the same score.
These rankings are formulated by Wine Lister's new interactive tool – Wine Leagues – which can be accessed here.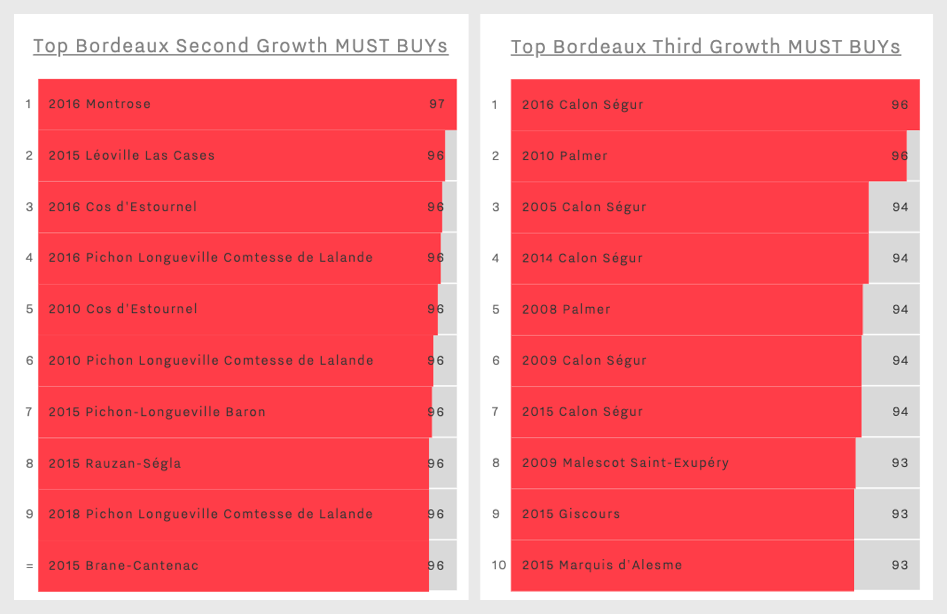 With a WL Score of 97, Montrose's 2016 release takes the lead spot in the list of top Bordeaux second growth MUST BUYs. Awarded 98 points by Wine Lister partner critic, Antonio Galloni, and described as 'a wine of pedigree, depth and character', this wine comes at price of £111 (per bottle, in-bond, when buying by the case). Super-second Pichon Comtesse features three times – with 2016, 2010 and 2018 vintages present. The latter two vintages are available in-bond at Goedhuis & Co – the 2010 would make for a great lockdown indulgence, whilst the 2018 is an investment for future drinking.
Calon Ségur dominates the Bordeaux third growth wine league, occupying half of the top 10 spots with vintages 2005, 2009, 2014, 2015 and 2016. The average cost of these vintages is £71 (per bottle, in-bond). Palmer features twice, though at a higher price – its two listed vintages (2008 and 2010) are available at £204 and £155 respectively from  BI Fine Wine & Spirits.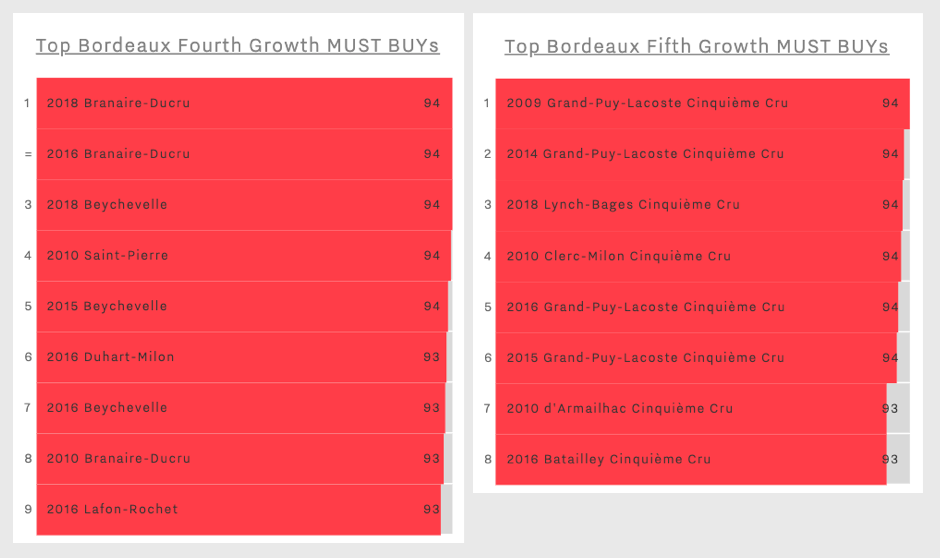 The top Bordeaux fourth growth MUST BUY list is dominated by more recent vintages (2015-2018). Occupying the top two positions with its 2018 and 2016 releases, Branaire-Ducru has a notably good quality-to-price ratio. Both vintages achieve a WL Score of 94 at the cost of £38 per bottle (in-bond). The 2018 Branaire-Ducru achieved special mention in last year's examination of WL MUST BUYs from Bordeaux en primeur 2018, as did Beychevelle. Both wines are available to purchase by the case (in-bond) at Albany Vintners.
Of the 18 Bordeaux fifth growths, eight achieve MUST BUY status. Grand-Puy-Lacoste achieves multiple entries on the League, with 2009, 2014, 2015 and 2016 all receiving a WL Score of 94. These four deliverable vintages are available from several UK merchants including Berry Bros & Rudd, where prices start from £245 for the 2014 vintage (per case of six in-bond). Described by Neal Martin as 'one of the great vintages from this estate in the modern era' the cost of the 2009 supersedes its descendants – a case of six bottles starts at £450 (in bond).
All users can see the standard Wine League page here. Pro users have access to a more extensive set of Leagues, and can log in to access here.