Finding good value in fine wine – part I (reds)
With Burgundy 2018 en primeur in full swing, soaring prices for some of Burgundy's best can add to the January blues. While Burgundy prices tend to rise more quickly after release than any other region (making the en primeur buying system therefore extremely worthwhile), other regions provide better sources of good value wines for drinking, rather than cellaring for future consumption. To wave goodbye to any remaining blues as January come to a close, Wine Lister therefore looks this week at Value Picks from across fine wine regions.
Wine Lister's Value Pick algorithm simply flags wines with the best quality-to-price ratios of all the wines in our database. A coefficient is applied to allow exceptional quality to be recognised, even for higher-priced wines.
The chart below shows the top nine regions for red Value Picks, and their average price per region.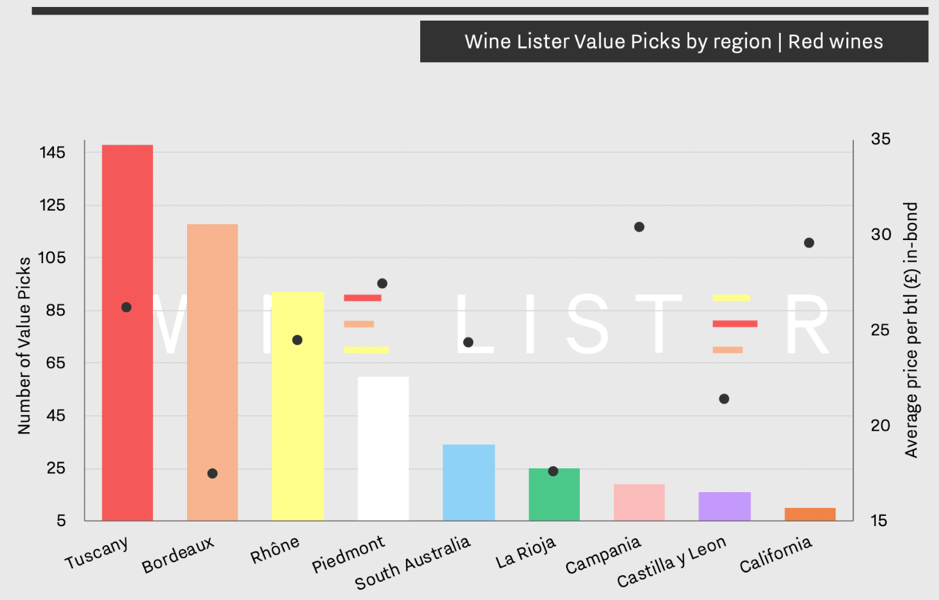 Italy takes the lead for number of best-value wines overall, with 227 Value Picks from across three regions – Tuscany, Piedmont, and Campania. Indeed, the top 10 Value Picks by WL score all hail from Tuscany, with wines such as Fontodi's Chianti Classico Vigna del Sorbo Riserva, Isole e Olena's Collezione Privata Syrah, and Castello dei Rampolla's Sammarco making the cut.
Piedmont does not go wanting for Value Picks, with a wide range of suggestions, from Domenico Clerico's Barolo Ciabot Mentin to Vietti's Langhe Nebbiolo Perbacco.
France also does well for Value Picks, with 210 reds entries between Bordeaux and the Rhône. The former region has the lowest average price of all Value Pick regions shown above (£17.47 per bottle in-bond – when buying a full case), and includes Crus Classés from across appellations such as Malartic-Lagravière Rouge and Grand Mayne, as well as some second wines of Grands Crus châteaux (e.g. Pichon Comtesse's Réserve de la Comtesse, and La Dame de Montrose).
The Rhône is home to 93 Value Picks from both north and south, and provides a list particularly strong in back vintages. Entries include Ferraton's Hermitage Les Dionnières 2004, and Clusel Roch's Côte Rôtie 2009.
The new world is well-represented by Value Picks from Australia across the McLaren Vale and Barossa Valley. California also makes an appearance, although perhaps expectedly, its 10 Value Picks earn the highest average price of any region shown in the chart above.
Search through all red Value Picks here.
Burgundy is, quite noticeably, missing from the top red Value Picks chart. It achieves just four in total: 2002 Joseph Drouhin Gevrey-Chambertin, 2003 Confuron-Cotetidot Echezeaux, 2017 Bertrand Ambroise Nuits-Saint-Georges, and 2007 Bouchard Volnay Clos des Chênes. However, Burgundy is much more present for whites – watch this space for white Value Picks later in the week.