Burgundy 2018: the wine grower's vintage
Eager to get a full picture of the 2018 vintage, the Wine Lister team immersed itself in London's Burgundy week last week, attending eight tastings between us. Having been spoilt by a handful of tastings in the cellars of top domaines in July and December 2019, we braced ourselves for a reality check in the light of the challenging growing season.
Burgundy was baking hot in the summer of 2018, with the highest amount of sunlight for half a century, according to Olivier Lamy of Domaine Hubert Lamy. Making great wine in this vintage was all about the producers' choices, and great wines there are, but not across the board. Key decisions included production volumes (not too high, or too low!), picking dates (early, or at least not too late), and canopy management (or rather lack thereof, letting the leaves protect the grapes from too much sunlight).
The 2018 vintage has been touted as one of quality and quantity. White wine volumes were indeed high, and this arguably helped avoid over-ripeness (though too much volume risked dilute flavours). However, red quantities are not always more generous than average in 2018, with many producers managing yields with green harvesting. As for picking dates, August start dates were more commonplace than ever before. Picking in time was crucial – throughout our tastings, the Wine Lister team found that occasional wines showed signs of fruit left hanging a day or two too long. However, no blanket rule applies, and producers such as Grivot, who waited until mid-September, made some of the finest wines of the vintage.
It was clear early on that a hot summer was potentially in store, so arguably an easy call to leave a sufficient amount of foliage to protect the grapes from the relentless sun. More producers are following in the footsteps of Lalou Bize-Leroy and forgoing trimming altogether. For example, Charles Lachaux of Arnoux-Lachaux has been experimenting with making arches of his vines, which necessarily creates more shade.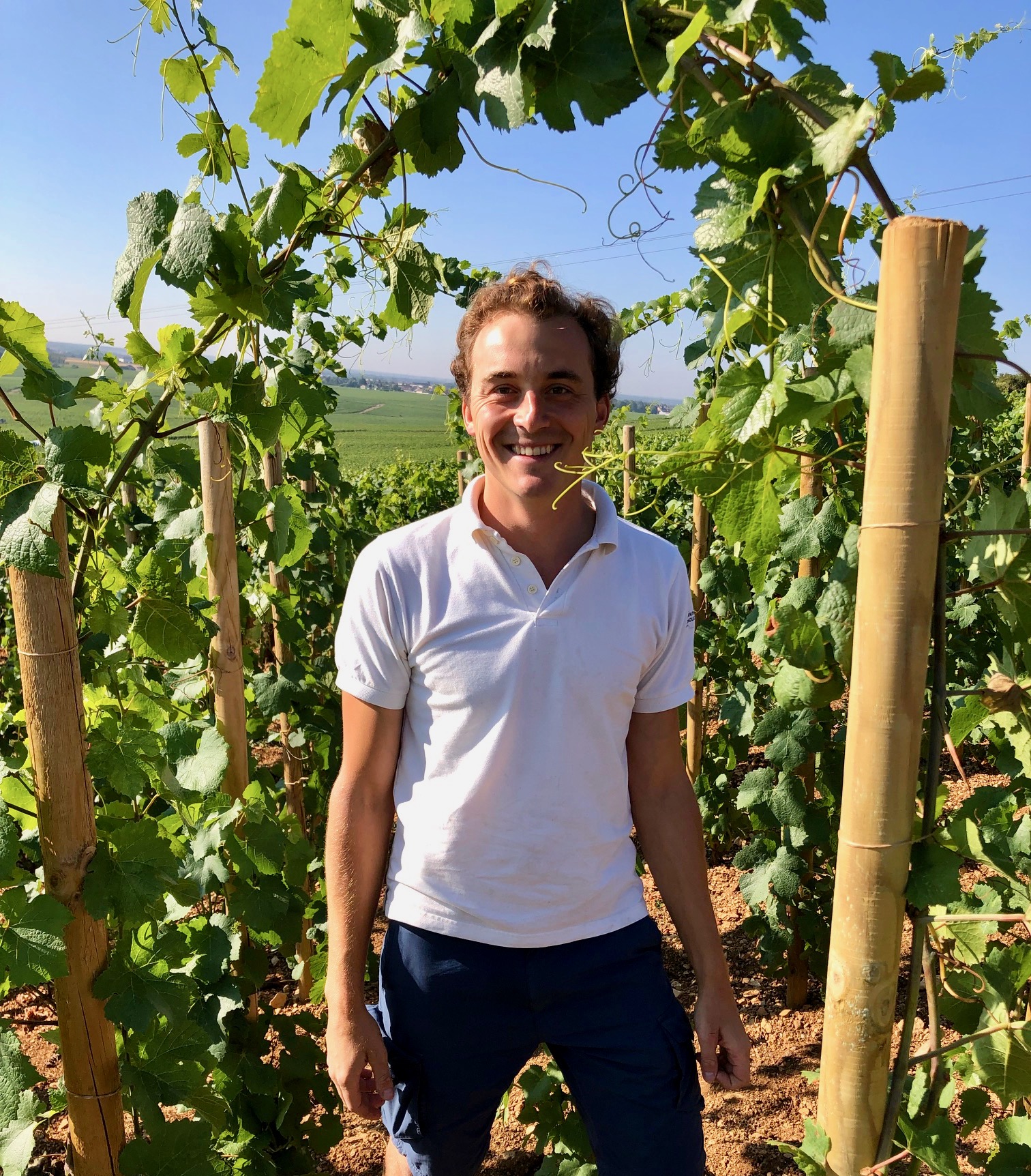 Pictured: Charles Lachaux says when building his vines into arches, "there's only one rule: there are no rules".
In some cases the sunshine overwhelmed, but in many more, savvy producers – used to making wine in the context of global warming by now – managed the conditions deftly. Romain Taupenot of Domaine Taupenot-Merme has observed that even the soils have learned to adapt to warmer conditions over time, regaining acidity more quickly than in hot vintages of the past, such as 2003.
The 2018 Burgundy vintage is heterogenous, but we were surprised by how few wines were negatively marked by the extreme conditions of the vintage. The majority of wines manage to harness good acidity and lightness of touch, if not the intense freshness and succulence of 2017. However, the words "limpid", "bright", and "lifted" appear far more often in my tasting notes than "rich", "ripe", or "heavy".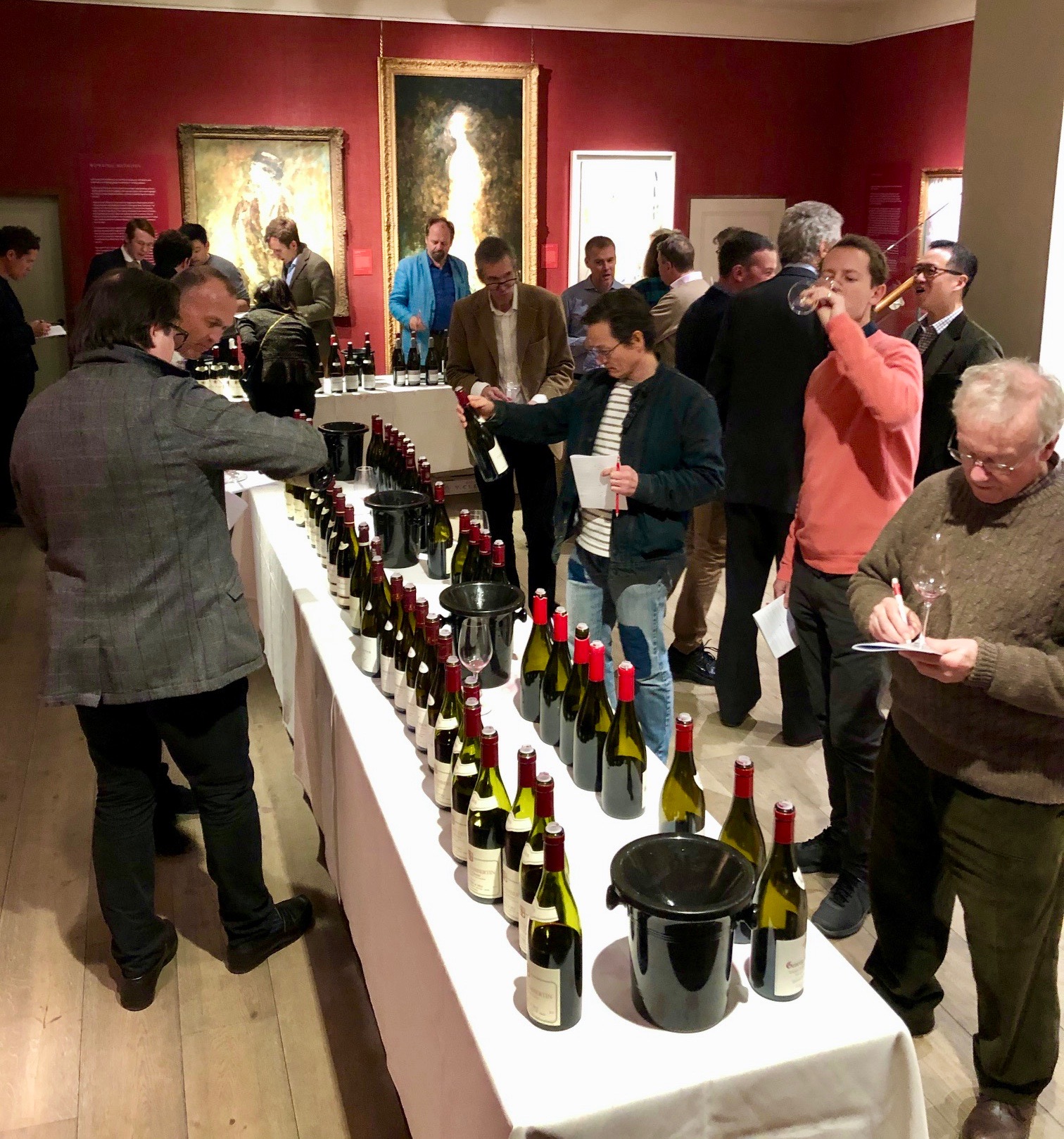 Kicking off Burgundy week tastings with Goedhuis at the Philip Mould Gallery, featuring producers such as Tortochot, Domaine de l'Arlot, Benjamin Leroux, and Jean-Marc & Thomas Bouley to name but a few.
If pushed to choose, this is a red vintage, with higher heights than for whites, which are more consistent but less often exciting, though absolutely not to be ignored. The best reds have harnessed all the energy, vibrancy and texture of the long, hot summer, without being overly sweet or jammy.
After tasting hundreds of wines last week, there are no obvious standout appellations, but rather standout producers. That does not mean that appellations did not stand out – many producers were able to translate terroir impressively given the strong imprint the vintage tried to leave. The wines of Bruno Clair for example, let the different vineyards sing, with a Chambolle "de chez Chambolle" and a very "Vosne" Vosne-Romanée Les Champs Perdrix.
Watch this space for our recommendations, coming soon.