MUST BUYs in Burgundy 2018
After discovering some 500 wines over eight tastings during Burgundy week last week, we are excited to publish our first round of Burgundy 2018 MUST BUYs.
Not all Burgundy 2018s are yet priced in the market, so this list has the potential to grow over the coming weeks – watch this space.
A neat 18 wines have so far made it through the MUST BUY algorithm, passing the artificial and human intelligence tests. That means that according to the critic and price data, they offer high quality and good value in the context of the Burgundy 2018 vintage, and that the global fine wine trade and / or the Wine Lister team deems it worthy of note. Given Burgundy's general trend for rising prices post-release – these Burgundy 2018s should be snapped up now.
Hailing from across the Côte d'Or, this week's MUST BUY selection confirms that no one appellation stands out in 2018, as outlined by our founder, Ella Lister, in her short vintage report published earlier in the week.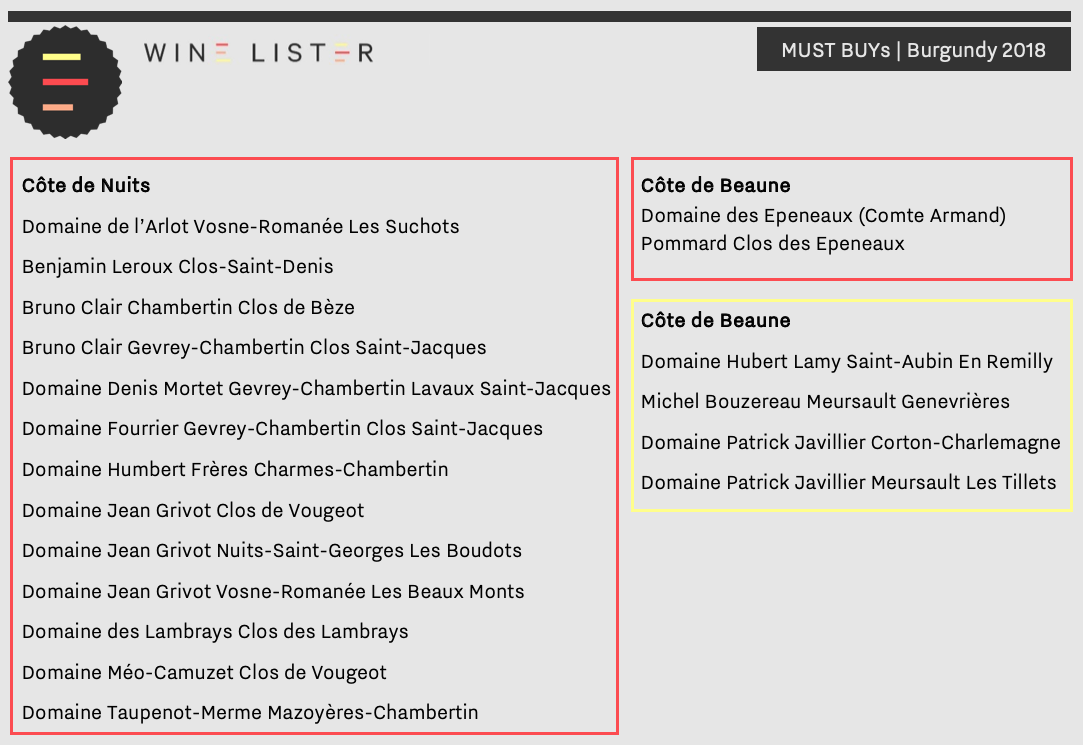 All but one red Burgundy 2018 MUST BUY comes from the Côte de Nuits, with producer Jean Grivot earning three entries – Clos de Vougeot, Nuits-Saint-Georges Les Boudots, and Vosne-Romanée Les Beaux Monts. Bruno Clair has two entries, for his Chambertin Clos de Bèze and Gevrey-Chambertin Clos Saint-Jacques.
From the Côte de Beaune, Comte Armand's Clos des Epeneaux is the only red to meet all the MUST BUY selection criteria. Of the four whites, the unfailingly consistent Saint-Aubin En Remilly from Hubert Lamy makes the cut, alongside a Meursault Genevrières from Michel Bouzereau, and two wines from Patrick Javillier – Corton-Charlemagne and  Value Pick Meursault Les Tillets.
Readers note that this week marks the first MUST BUY update including scores from our new regional partner critic, Jasper Morris.
Thank you to BBR, Corney & Barrow, Flint, Goedhuis, Justerini & Brooks, Lay & Wheeler, and Lea & Sandeman for the wonderful tastings organised!