New Wine Lister MUST BUYs
Wine Lister has almost 150 new MUST BUYs. Since we launched MUST BUYs officially in September, the list has been updated based first on the most recent prices and relative regional or appellational value within vintages, and subsequently on Wine Lister's most recent trips and tastings. The full MUST BUY list has reduced by 109 (1,693 wines vs. 1,802), and includes 149 new entries.
Perhaps unsurprisingly, 62 (or 42%) of new MUST BUYs hail from Burgundy. The 2017 vintage (released for the most part at the beginning of this year) yields 17 results, all worth getting hold of before availability reduces, and prices inevitably rise. Antoine Jobard achieves three mentions, all for 2017 Meursaults (Genevrières, Blagny, and Les Tillets), while Burgundy négociants are well-represented by additional MUST BUYs from Maisons Louis Latour, Louis Jadot, and Joseph Drouhin, who now count totals of 14, 42, and 20 MUST BUYs respectively. The Maisons de Négoce increasingly represent unparalleled value for money as the quality of their wines continues to increase, while their prices have not exploded in the same way as for many domaine wines.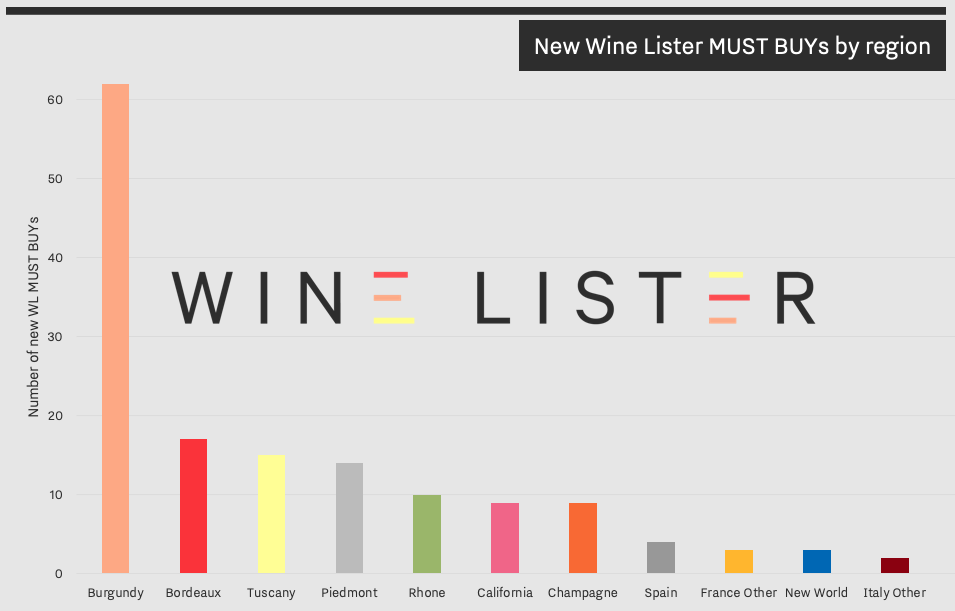 Bordeaux gains 17 new entries, including a 2018 en primeur listing – Domaine de Chevalier Blanc. The remaining new Bordeaux MUST BUYs are mainly older vintages, with premiers and deuxièmes crus from 1982-1999 that are worth uncovering ahead of the festive season. Two Value Picks stand out from the Wine Lister team's own tasting experiences of late – Capbern 2014 and Haut Carles 2015.
Italy reaps particular success in this new round of MUST BUYs, with 31 listings in total, split between Piedmont (14), Tuscany (15), Veneto (1), and Sicily (1). Gaja leads the charge in Piedmont with two vintages a piece for Barolo Sperss (2005 and 2014), and Barbaresco Sorì San Lorenzo (2005 and 2007). In Tuscany, a fourth vintage of Soldera's Case Basse makes it into the MUST BUY list (1999), alongside existing MUST BUY vintages 2008, 2009, and 2013. The indomitable Castello dei Rampolla also gains an additional vintage each for Sammarco (1991), and Alceo (2008), making it the most "essential" producer to buy in Italy.
The Wine Lister team was pleased to be able to select from new wines rendered by the MUST BUY algorithm a few gems from recent tastings, including Deutz Cuvée William 2008 and Pierre Péters Cuvée Spéciale Les Chétillons Blanc de Blancs 2010 from a recent trip to Champagne, and Cheval des Andes 2016 – one of the team's favourites from the September releases through the Place de Bordeaux.
All MUST BUYs are qualified by a minimum quality level, but at the very top of the new MUST BUY scoreboard are 16 wines with WL scores of 97 and above. While Burgundy outperforms Italy in number of new MUST BUYs, they each earn five places in the top scorers, as shown below.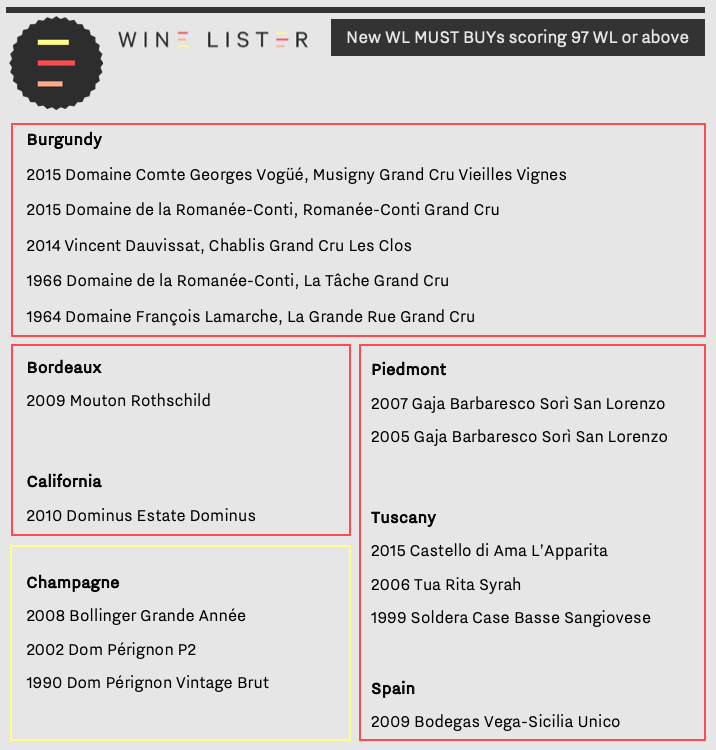 See the full list of MUST BUYs here, and watch this space for weekly MUST BUY updates from here on in.