Bordeaux 2018 en primeur part II : the campaign
The campaign in 2018 "won't be a record breaker," thinks Mathieu Chadronnier, MD of négociant CVBG, "but everything is there for it to work well." There are also some potential pitfalls. In this article we consider the role that volume, pricing, and timing will play in the success of the 2018 en primeur campaign – already well underway.
Volume
In 2018, yields were often slightly below 2017 levels. Last year, frost damage provided a cover for releasing less volume into the market. Will mildew serve the same purpose in 2018? There were some extreme mildew casualties across the two banks, mainly for organic and biodynamic properties such as Palmer, which produced just 11 hl/ha. In Pomerol, L'Evangile made 20 hl/ha, less than half what it would have produced under conventional agriculture. In Pauillac, Pontet-Canet made just 10 hl/ha in 2018 – one third of its usual production, losing 15 hl/ha to mildew and another 5hl/ha due to dried out grapes.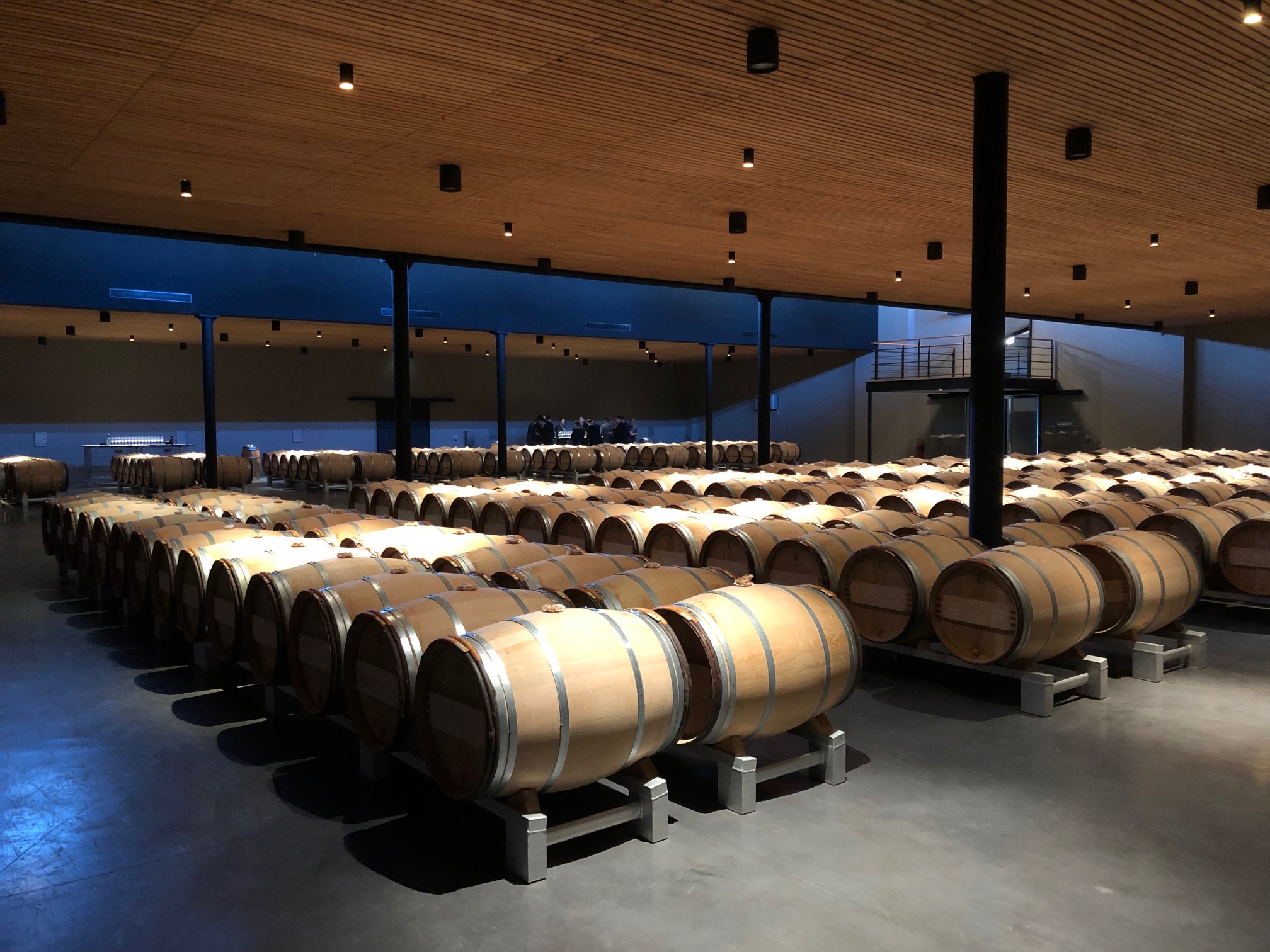 The cellar at biodynamic estate, Château Palmer, emptier than usual due to tiny production in 2018 following severe attacks of mildew.
François-Xavier Borie, owner of Grand-Puy-Lacoste, believes that the real burning issue for en primeur is the volume released onto the market – or not. Some châteaux release nearly all their production, and others as little as 30%, keeping the rest back to create an artificial rarity in hope of selling the rest at a higher price later. Borie believes the right amount to release en primeur is "at least 80 percent," cautioning that "releasing 30 percent and pretending it's a real price is dangerous."
Nicolas Ballarin of courtier Blanchy et de Lestapis agrees: "The problem of Bordeaux's distribution is not in the price but in the fact that we don't put enough wine into the market en primeur," he states. "The real paradox is that knowing there's none left at the château makes it more valued," explains Ballarin, adding, "the négoce know they won't get more." He concludes that "prices only go up if there's no more wine at the château."
And after all, every producer's objective is for their prices to go up. Many try to force this through their en primeur release price, while others let the market do the work. More than ever in 2018, there is no one-size-fits-all approach to bringing them onto the market.
As we saw in part I of our en primeur blog, 2018 was a vintage where producers' decisions counted for a lot. In the words of Nicolas Glumineau, Managing Director of Pichon Comtesse, it is "a year with very important personal choices." He was talking about the winemaking, but could just as easily be referring to the sale of the wine. "There won't be any blanket tendencies," says Frédéric Faye, Managing Director of Figeac, underlining that, "each château has to decide for itself and not look at its neighbours."
Pricing
The only golden rule that the trade seem to agree on is that the 2018s should not be priced higher than the 2016s were upon release. "It would be a massive mistake for prices to be above those of 2016," declared George Wilmoth, Head of Sales at UK merchant Justerini & Brooks. In Bordeaux, Edouard Moueix, Managing Director of Etablissements Jean-Pierre Moueix (producer and négociant), agrees, saying 2018 prices, "cannot be higher than 2016, it's impossible."
The exception to this rule of course, is where the 2016s have increased significantly since their release. Stephen Browett, Chairman of UK merchant Farr Vintners, reminds us that, "the vast majority of 2016 Bordeaux wines that customers bought en primeur are still available at delivery time at the same price as they paid two years ago, and in some cases less," but there are exceptions, such as Lafleur, whose 2016 has increased 109% since release. When it released this morning, the château could therefore up its 2016 release price by 12% and still offer a 2018 that remains significantly cheaper than the current market price of the 2016.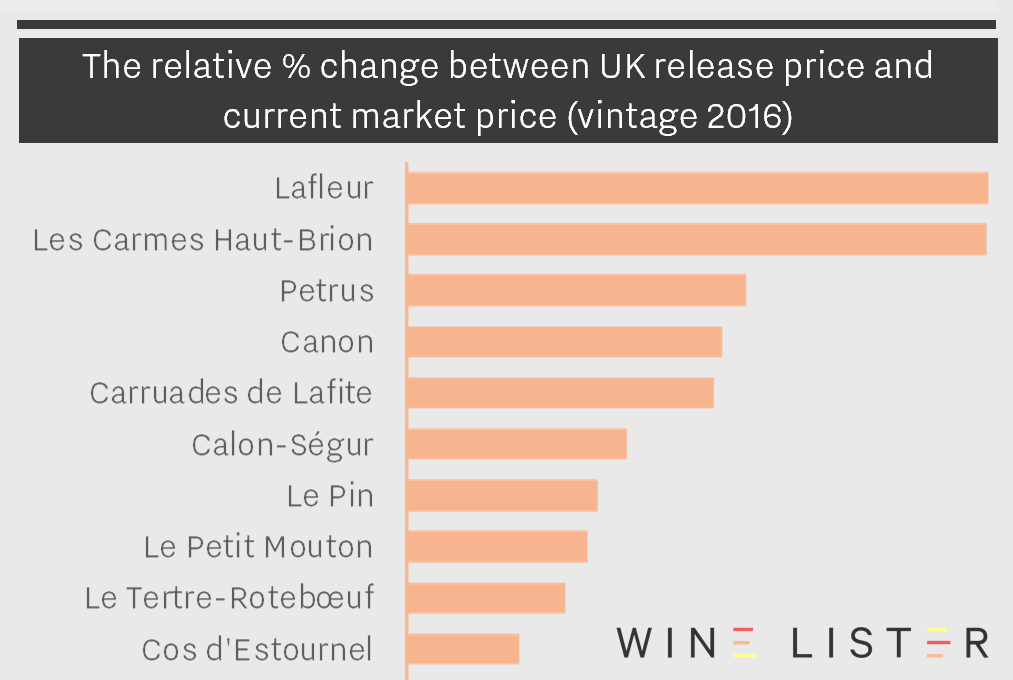 An excerpt from Wine Lister's Bordeaux Study part I, showing the 10 2016 Bordeaux whose prices have increased the most since their release two years ago.
"At the end of the day the châteaux will charge what they can get," states Mathieu Chadronnier, MD of négociant CVBG. The allocation system in Bordeaux means this is often more than what they should arguably be charging, because négociants don't want to risk losing share to competitors in future years. However, some did refuse allocations in last year's campaign, and this could happen again – and maybe on a larger scale – if prices are too ambitious.So far there have only been small instances of this.
Timing
The campaign is a precocious one, with Angélus releasing on 16th April, and a few dozen releases since, including well-known names Branaire-Ducru, Langoa-Barton, and Labégorce. However, it doesn't really seem to have got going. Some of the Wine Lister team is just back from two days in Bordeaux speaking with négociants and courtiers on the Place, and there is a distinct lack of energy so far.
However, after yesterday's bank holiday in France, and a handful of releases today, things are set to pick up pace in earnest next week. We expect a series of releases from châteaux that have historically judged their en primeur prices well, and this could breathe some life into the campaign. On the other hand, these are the very same châteaux who can actually conceive of increasing their prices, given their market value has risen sufficiently.
Some fear this will set the wrong precedent for their neighbours, which is why it is more important than ever for each property to consider its pricing strategy in the context of its own performance, and not what its neighbours are doing. Châteaux need to "make sure that their en primeur price to the consumer is lower than that of older vintages," says Browett. In part I of our recent Bordeaux study, we looked at a case study of a hot property in Bordeaux that did just that in last year's campaign.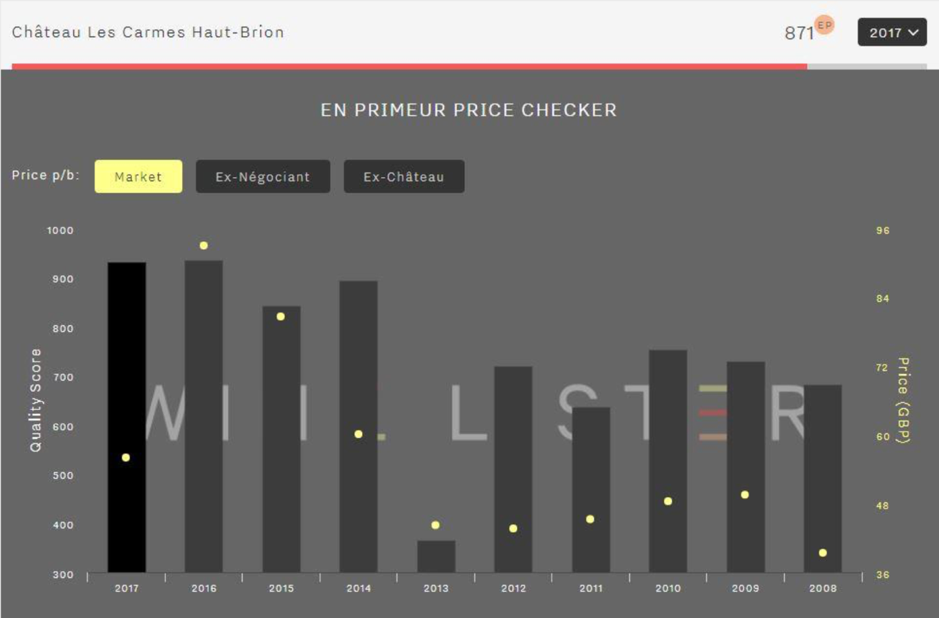 A masterclass in en primeur release pricing – the chart above shows Carmes Haut Brion's 2017 release prices versus previous vintages on its day of release last year. Today the market price of 2017 is £65 (16% above release), and the 2016, £133 (109% above release).
Let's hope that more and more châteaux follow this formula as the campaign continues to unfold next week. The week after that is Vinexpo in Bordeaux, and most big-name releases will begin in earnest from 20th May.
Watch this space for the release of Wine Lister's Bordeaux Study, Part II, before then.