Listed: Top five Bordeaux fifth growths by Quality score
Wine Lister recently analysed the Bordeaux 2009 vintage in two parts. The first – a tasting and subsequent selection of top picks by Wine Lister's founder, Ella Lister, revealed sublime quality across both banks. The second – a two-page analysis of the vintage overall – reveals that alongside top quality, prices of Bordeaux 2009s are high, and it is therefore all the more difficult to find good value, particularly among the left bank's classified growths.
With this in mind, our Listed: top five blog this week explores the highest-quality Bordeaux fifth growths from the 2009 vintage. Despite the great quality across appellations, all five hail from Pauillac. They are all also Wine Lister Buzz Brands.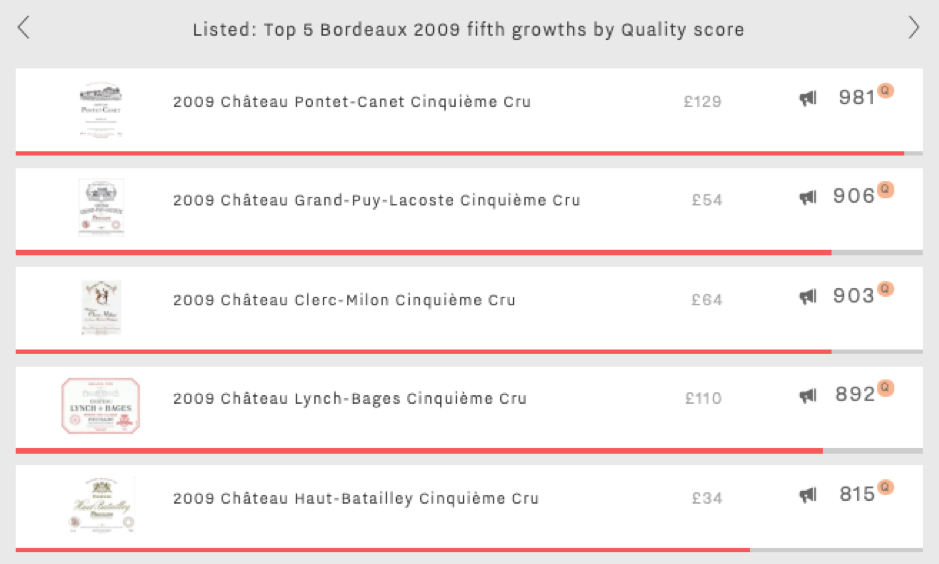 In first place is Pontet-Canet 2009. Its Quality score of 981 sits a full 102 points above the average of the other four wines in this week's top five. This presumably contributes to its price of £129 per bottle in-bond – the highest of the group.
Next is Grand-Puy-Lacoste 2009, with a Quality score of 906 and the second-lowest price of this week's top five (£54 per bottle in-bond). It is the only one of the group to appear among top picks from the recent 2009 re-tasting.
Just three points behind Grand-Puy-Lacoste, in third place, is Clerc-Milon 2009. In the economics department it outperforms the rest of the group significantly, with an Economics score of 905 and a compound annual growth rate (CAGR) of 17.3% – over two and a half times higher than the average of the other four wines in this week's top five.
This week's last two wines now fall under the same ownership, that of the Cazes Family. Nonetheless, the 2009 vintages of Lynch-Bages and Haut-Batailley, which achieve Quality scores of 892 and 815 respectively, present quite different profiles. Lynch-Bages is this week's "brand king" with a Brand score of 996 – the highest of this week's top five – and a price of £110 per bottle in-bond. Though Haut-Batailley 2009 achieves a Quality score 7% lower than Lynch-Bages, its price of £34 is 69% lower than that of its sibling, therefore providing exceptional value. After the acquisition and subsequent repositioning of Haut-Batailley through its 2017 en primeur release, it will be interesting to see how both châteaux fare in the upcoming 2018 campaign.