Top five Piedmont Buzz Brands by Brand score
With the first major set of releases for 2019 in full swing (Burgundy 2017), the Wine Lister team are already looking ahead for what else is in store for wine collectors and trade members alike. In February we expect to see the release of Barolo 2015s – set to be a more concentrated and riper vintage than the previous due to high temperatures throughout the summer. In anticipation of these, Wine Lister is examining the top five Piedmont Buzz Brands by Brand score.
Ironically, the highest-scoring brand of this week's top five is in fact not a Barolo at all. Gaja's Barbaresco takes the top spot with a Brand score of 975. Wine Lister partner critic Antonio Galloni gives the 2014 vintage 96 points, and comments, "this is one of the most tightly wound, intense versions of Gaja's Barbaresco I can remember tasting. Don't miss it".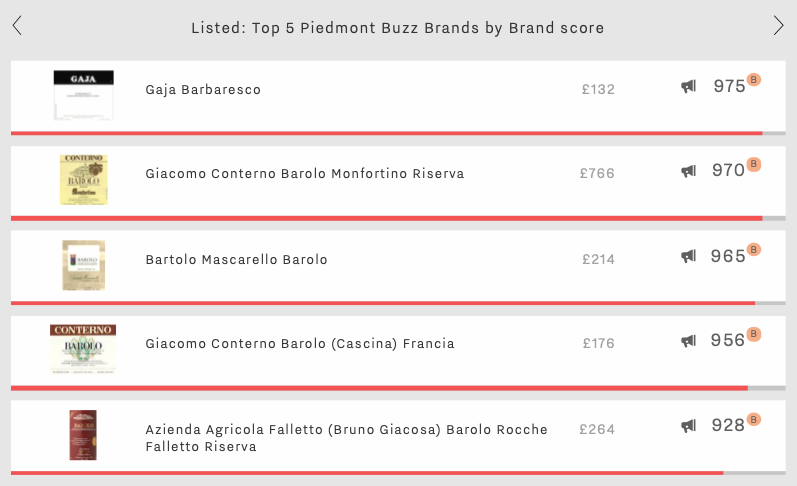 While it is no longer breaking news to see such high quality Barbaresco emerging from under Barolo's shadow, the making of such a well-recognised brand is impressive. This is achieved by presence in 31% of the world's best restaurants, and a search rank of 76 out of the c.4,000+ wines on Wine Lister. Gaja's single vineyard Barbarescos, Sorì San Lorenzo, Sorì Tildin, and Costa Russi are also popular with an average Brand score of 915.
In second place for top Piedmont Buzz Brands is Giacomo Conterno's Barolo Monfortino Riserva. Sitting just outside the top 50 most-searched-for wines (in 51stplace), it is both the highest quality and the most expensive wine of this week's top five, with a Quality score of 977, and an in-bond per bottle price of £766. The price tag, which is just under four times higher than the average price of the other four wines of this week's group, is perhaps due to the tiny production quantities of just c.7,000 bottles per year.
Giacomo Conterno also takes a second spot in this week's top five – fourth place, with his Barolo Cascina Francia, which earns a Brand score of 956 and a Quality score of 960. Despite score gaps between these two wines of a mere 14 and 17 points respectively, an average of three times as many bottles are produced of Cascina Francia than its grander (and much rarer) sibling. It is available at just 23% of the price of the Barolo Monfortino Riserva – £176 per bottle in-bond.
In third place of this week's top five is Bartolo Mascarello's Barolo with a Brand score of 965. While its scores across the board sit in the mid-range of this week's top five, it achieves the best long-term price performance, with a three-year compound annual growth rate (CAGR) of 34.7%.
Lastly, at number five of this week's group is Bruno Giacosa's Barolo Rocche Falletto Riserva with a Brand score of 928. Although the Barolo Rocche Falletto Riserva has the lowest search rank of this week's top five (158th), online searches for this wine saw impressive increases last year (read more here). It achieves a Quality score of 974 – just two points under the best Quality performer of the group (Conterno's Barolo Monfortino Riserva). Indeed at vintage level these two wines share a near-perfect Quality score of 998 for their respective 2004 vintages, both earning 100/100 from Antonio Galloni.
It is interesting to note the high quality that accompanies these top Piedmont Buzz Brands (an average Brand score of 959 vs. 945 for Quality). The disparity between scores is more accentuated for the equivalent group in Tuscany, which achieves a Brand score of 991 for a Quality score of 932, or in other words, a 59-point gap.