The rise of the grower vs. maison Champagnes
At the beginning of this new year, Wine Lister is prolonging the festive sparkle through a look at the major trends to emerge from our first Champagne report. Wine Lister's Champagne study analyses a basket of 109 top wines from the world's premier sparkling region, and includes insight into the major trends of the Champagne market as identified by Wine Lister Founding Members (c.50 key players in the international fine wine trade).
While quality across the board is something to keep us celebrating well in to 2019 (see more on this here), the notable trends could indicate an increase in year-round enjoyment of Champagne. The chart below shows responses to our question, "What are the most important trends in Champagne?" by number of votes.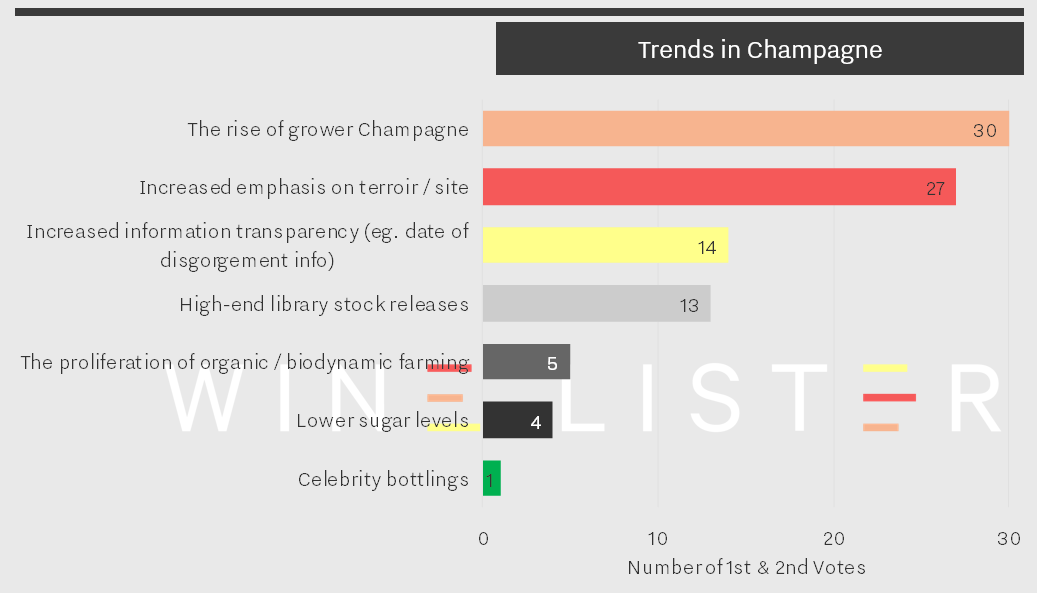 The trend most-frequently ranked as number one or two by Wine Lister Founding Members was the rise of grower Champagnes, closely followed by the increased emphasis on terroir / site Champagnes. One U.K. merchant remarked that "Consumers are now identifying with specific terroir in Champagne and understanding the value of the grower…" – a comment that further leads us to suspect an increased appreciation of Champagnes as wines, and not just celebratory bubbles.
The "rise of the grower" trend is, however, juxtaposed by continued demand for big brands. Of the basket of wines treated in the study, the grower Champagne segment has seen an increase in popularity (measured by search rank) of 9% since the beginning of 2017. Though this performance is superior to the maison segment's slight decline in popularity (-4%), grower Champagnes still sit twice as far down the popularity rankings, with an average search rank of 1,620 compared to 775.
Perhaps predictably, big brands still win the race when it comes down to the bottom line. A U.K. merchant commented, "Small growers are getting much better press, but I suspect the big name cuvées still rule the roost for sales/investment". Indeed, when asked to award confidence ratings to specific Champagne producers, the trade cited only one grower champagne within the top two confidence scores (9/10 and 8/10), Jacques Selosse. The houses to earn top confidence ratings were Dom Pérignon, Krug, Louis Roederer, Salon, Bollinger, Pol Roger, and Taittinger, as shown on the chart below.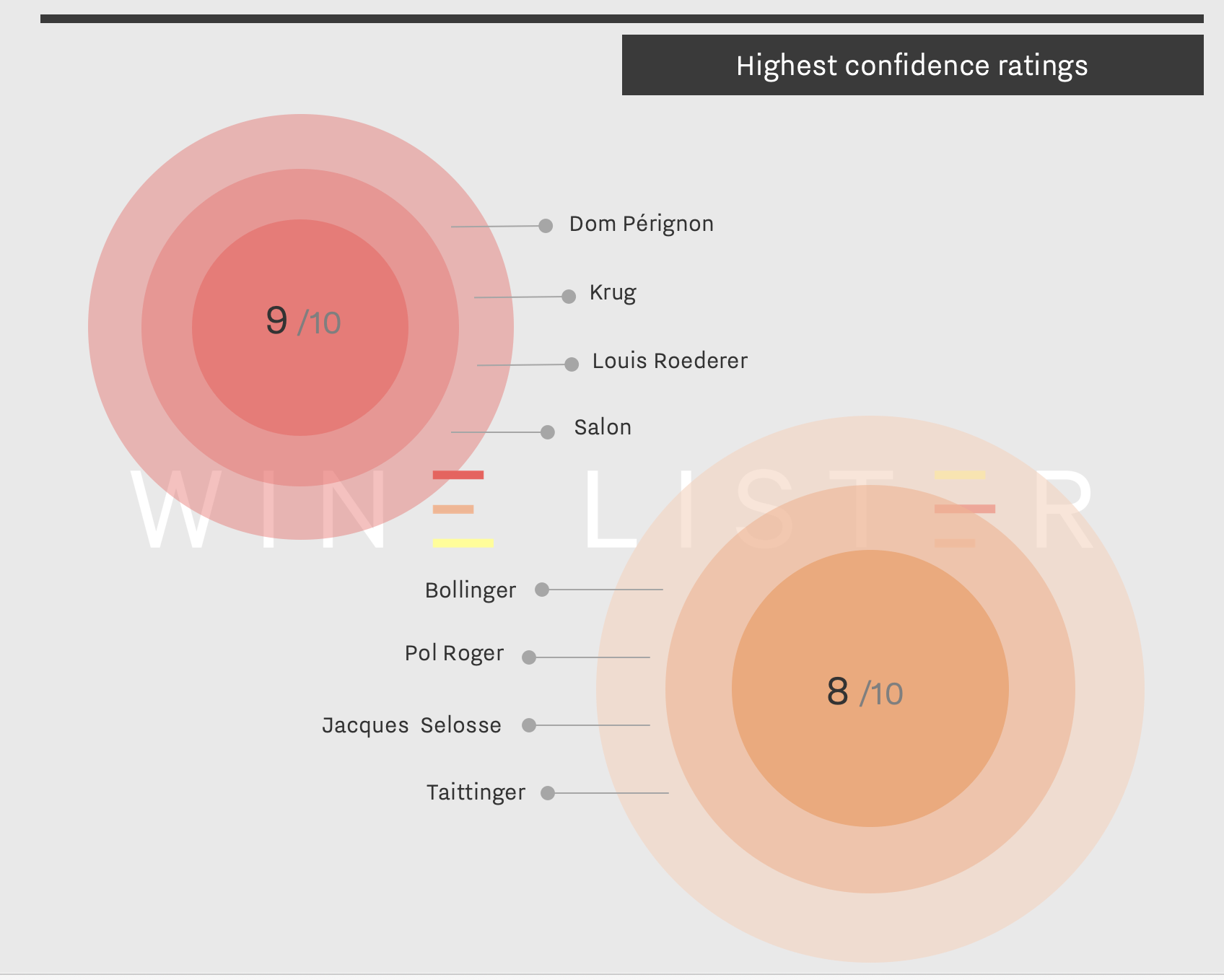 A top tier merchant offers some explanation into the difference in picture painted between the top Champagne trend and Champagne confidence ratings: "Production needs to be small but not so small as to result in a proliferation of Champagnes which the vast majority have never heard of. The big brands which produce great quality are still finding serious demand in the market!"
For a more in-depth look at Champagne, subscribe or log-into read the full report here. Alternatively, all readers can access a five-page executive summary. (Both versions are also available to download in French).