Who wins the battle of the best bubbles?
With the festive season fast approaching, what better time to take a look at Wine Lister's first Champagne study, giving you the inside track on the best Champagnes that money can buy?
The in-depth report covers all angles of this fabled region, from the views of the international trade to all three Wine Lister score categories. In this blog post we drill down to focus on Champagne's quality. Specifically, here we look at the top 20 Champagnes by Quality score: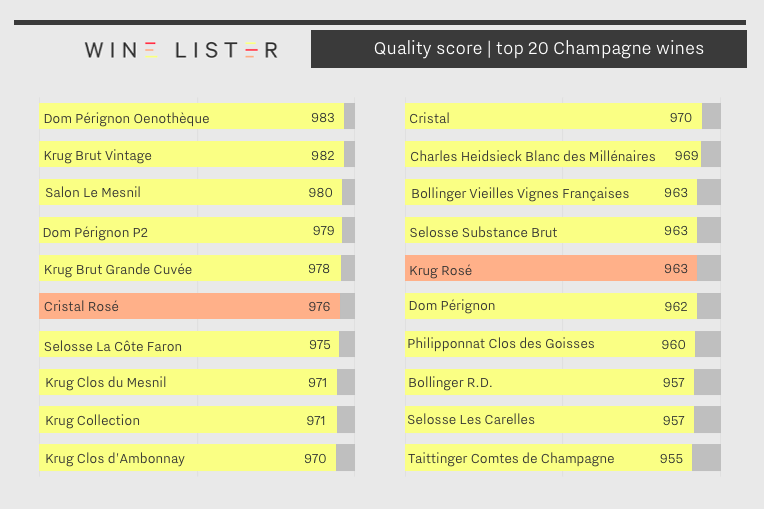 The top maison-led Champagnes dominate the top 20 Champagne Quality scores. Dom Pérignon Oenothèque tops the chart with a score of 983, and its successor (P2) comes in fourth, scoring 979. Krug manages an impressive five wines in the top 10 and six in the top 20, testament to the house's consistently exceptional quality across its whole range. Krug Brut Vintage is second overall with a score of 982, while Krug Brut Grande Cuvée comes fifth, scoring 978. Krug Clos du Mesnil, Collection, and Clos d'Ambonnay round out the top 10 for Krug.
Salon Le Mesnil, the top scoring Champagne by overall Wine Lister score, comes third for Quality with a score of 982. Cristal Rosé is the highest scoring rosé, coming in sixth place overall with a score of 976, six points ahead of Cristal. Krug Rosé, scoring 963, is the only other rosé to make this top 20.
One of the most important trends identified in Wine Lister's newly-released study is the rise of grower Champagnes. However, this is nascent enough that only one grower producer threatens the top Champagne houses at the top of the Quality leaderboard. That is cult grower Jacques Selosse, with three wines in the top 20, the same number as Dom Pérignon, trailing only behind Krug. The top wine from Selosse based on Quality score is La Côte Faron, coming in seventh with a score of 975. Substance and Les Carrelles also feature.
Despite the maison-led dominance of the top 20 Quality scores, grower Champagnes win the Quality crown overall. Of the 109 wines included in the study, the 29 grower Champagnes received an average Quality score of 862, while the 80 maison bottlings averaged 853, reflecting the excellent quality that grower Champagne can provide: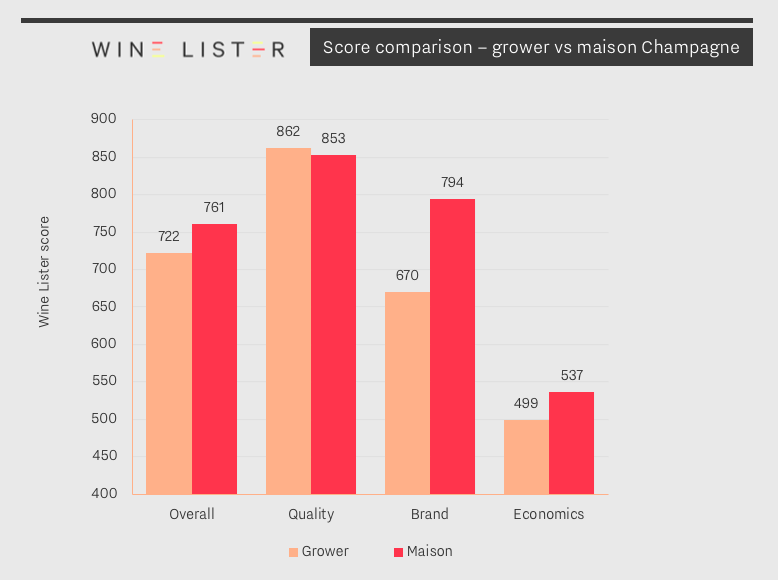 Watch this space for more on grower vs maison Champagnes, and commentary on other major trends featured in the study.
For a more in-depth look at Champagne, subscribe or log-into read the full report here. Alternatively, all readers can access a five-page executive summary. (Both versions are also available to download in French).
Other wines featured in the top 20 Champagnes by Quality score are: Charles Heidsieck Blanc de Millénaires, Bollinger Vieilles Vignes Françaises, Philipponnat Clos des Goisses, Bollinger R.D., and Taittinger Comtes de Champagne.