Newly scored wines – top 20 Economics scores
Wine Lister's three-pronged rating system, which measures a wine's Quality, Brand strength, and Economic performance, gives a uniquely holistic outlook on the world's finest wines. Wine Lister's Economics score comes courtesy of data partnerships with Wine Owners and Wine Market Journal, the former supplying price data and the latter auction trading volumes from the world's major fine wine auction houses.
Thanks to an expansion of the data we receive from both Wine Owners and Wine Market Journal, we have recently added Economics scores, and therefore overall Wine Lister scores, to c.1,250 wines on Wine Lister.
Having examined the top overall scorers last week, below we look at the top 20 highest Economics scorers of this new batch.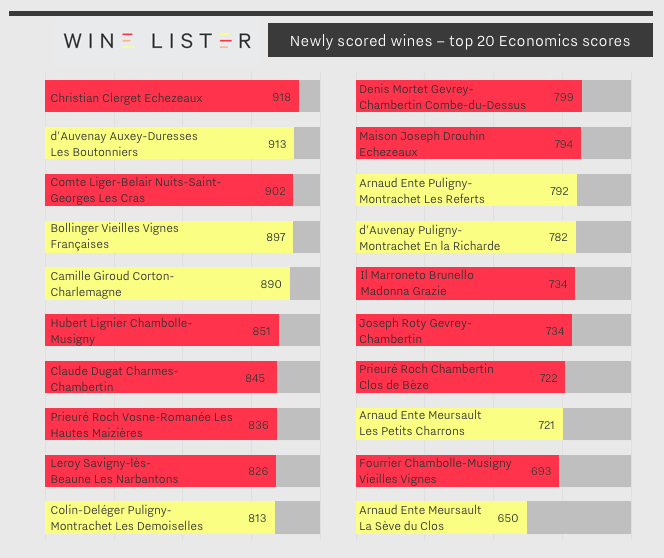 Whilst Burgundy represents 58% of wines newly-armed with full Wine Lister scores, the region claims 90% of the group's top 20 Economics scores. Ten of these hail from the Côte de Nuits, earning an impressive average Economics score of 809, and including the best Economics performer of these newly-scored wines, Christian Clerget's Echezeaux (918). Clerget's Echezeaux has traded 48 bottles at auction over the past year, just over 1% of its 4,000-bottle annual production volume.
Next in line from the Côte de Nuits – and the only Nuits-Saint-Georges in the top 20 – is Les Cras from Domaine du Comte Liger-Belair, which takes the third-best Economics score of this new batch (902), despite having traded just 14 bottles at auction over the past 12 months. It does so thanks to excellent short and long-term price performance. It has added 20.2% to its price over the past six months and recorded a three-year compound annual growth rate (CAGR) of 25.4%. It also has a high average price of £394.
The Côte de Beaune features eight times, with Domaine d'Auvenay's Auxey-Duresses Les Boutonniers coming second overall with a score of 913. However, Puligny-Montrachet takes the lion's share of the Côte de Beaune's spots. The first is Colin-Deléger Les Demoiselles with a score of 813, its strong economic performance is the result of a three-year CAGR of 24.4%.
While Arnaud Ente is represented in Puligny-Montrachet by Les Referts, which achieves an Economics score of 792, the domaine features more prominently in Meursault, taking two spots with Les Petits Charrons (721) and La Sève du Clos (650). The latter also records the highest Quality score of any Burgundy in this group (952).
Interestingly, the number one overall scorer of the 20 is in fact one of only two non-Burgundian wines to feature. Champagne Bollinger Vieilles Vignes Françaises achieves a Wine Lister score of 923, at least 98 points ahead of any of the other 19 wines featured here. Its Economics score of 897 is thanks to a three-month average price of £712, a three-year CAGR of 13.8%, and having traded 128 bottles at auction over the past year.
Other wines from the newly-scored list to feature in the top 20 Economics scores are: Domaine Leroy Savigny-lès-Beaune Premier Cru Les Narbantons, Camille Giroud Corton-Charlemagne Grand Cru, Maison Joseph Drouhin Echezeaux Grand Cru, Domaine Prieuré Roch Vosne-Romanée Les Hautes Maizières, Domaine Claude Dugat Charmes-Chambertin Grand Cru, Domaine Hubert Lignier Chambolle-Musigny, Domaine Prieuré Roch Chambertin Clos de Bèze Grand Cru, Domaine Joseph Roty Gevrey-Chambertin, Domaine Colin-Deléger Puligny-Montrachet Premier Cru Les Demoiselles, Il Marroneto di Mori Alessandro Brunello di Montalcino Madonna Grazie, Domaine Fourrier Chambolle-Musigny Vieilles Vignes, and Domaine Denis Mortet Gevrey-Chambertin Combe-du-Dessus.