Wine Lister expands its coverage by 66%
We are hugely excited to announce a 66% increase in the number of wines with full Wine Lister scores, to a total of 3,140 wines and just shy of 30,000 wine-vintages. That means you are now far more likely to find the wine you are looking for when searching the Wine Lister database.
In a survey, Wine Lister subscribers said they wanted increased wine coverage on the website, allowing them to discover Wine Lister scores and decision-making tools on a broader range of fine wines, and we have worked hard to make this happen.
This important development comes thanks to the expansion of Wine Lister's data partnerships with Wine Market Journal and Wine Owners, the former supplying unparalleled auction trading data from the world's major fine wine auction houses, and the latter comprehensive price data.
In particular, Wine Lister's coverage of Burgundy's top wines has greatly increased, with 58% of the newly-scored wines hailing from the region. However, the overall top 10 highest-scoring wines in this new batch show a thrilling level of variety: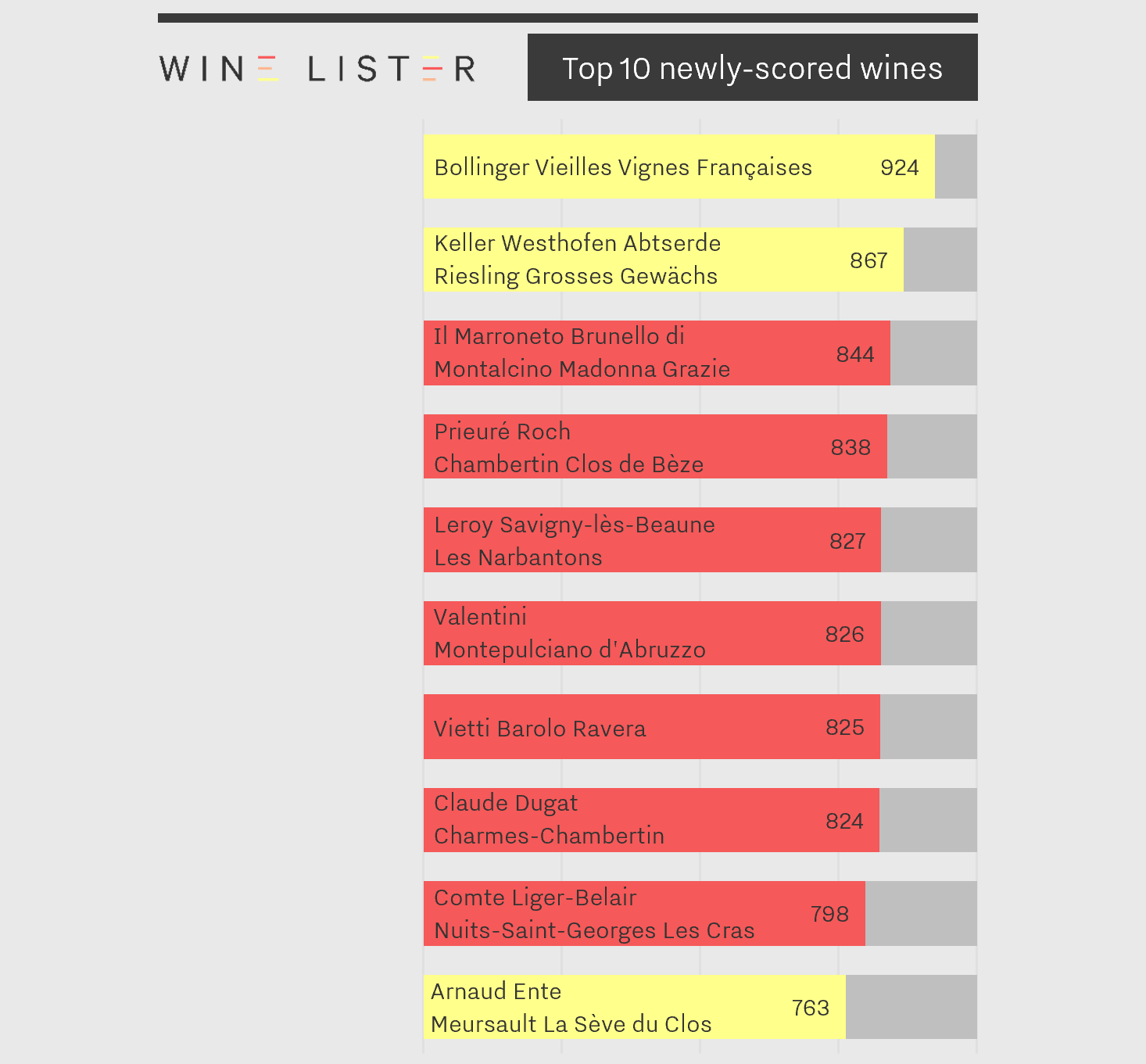 Users can now find out everything they need to know about wines such as Bollinger's hallowed pre-phylloxera Vieilles Vignes Françaises, to Keller's Westhofen Absterde Riesling, Valentini's ultra-traditional Montepulciano d'Abruzzo, and back to some Côte d'Or heavyweights via top Brunello and Barolo from Il Marroneto and Vietti. The top 10 newly-scored wines confirm the rich diversity of wines on Wine Lister.
This coverage expansion is the first step in a series of exciting developments that Wine Lister has in store over the coming months, as it approaches its third birthday in May 2019. Each one is designed to help the different facets of the international fine wine community to get the most out of our unparalleled database and intelligence. Watch this space!