Listed: top five Bordeaux reds under £50 by Wine Lister score
With just over eight weeks to go until Christmas, part of the pre-season ritual of any respectable wine lover is surely agonising over which wines to drink with the holiday meal. Whether that means digging into the cellar or making new purchases, perhaps this week's top five can provide some inspiration. Since claret is a frequent feature at the Christmas table, this week we consider the best red Bordeaux under £50 by Wine Lister score (although note that prices are based on the per bottle average of in-bond case prices across vintages).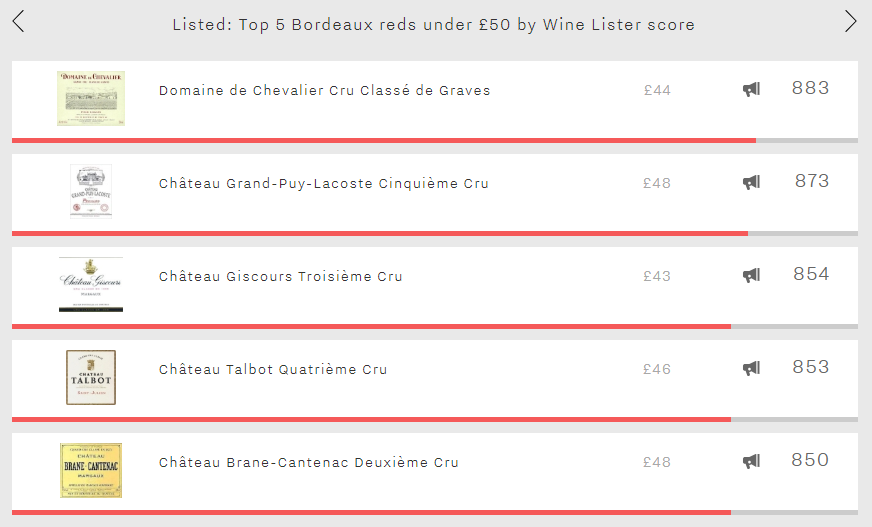 Each of this week's top five are Buzz Brands, with every wine earning its best score in the Brand category. They also all hail from the left bank, and achieve an average Wine Lister score of 863, 75 points higher than the right bank's top reds under £50 (788).
First of this week's top five both overall and for Quality is Domaine de Chevalier, with scores of 883 and 885 respectively, and an average price of £44 per bottle. Though its most qualitative vintage (2015) is only just physical, and therefore not suitable for drinking straight away, there are plenty of vintages around the same in-bond per-case price point to choose from. For example, the 2011 holds a Quality score of 864 and a price of £36, and the 2008 a Quality score of 855 for £40.
Next on the list is Grand-Puy-Lacoste, with a Wine Lister score of 873, and coming in at £48 on average. The 2014 Grand-Puy-Lacoste provides by far the best Quality to price ratio of recent vintages, with a Quality score of 946 and an in-bond per-case price of £41 per bottle. Wine Lister partner critic Neal Martin awards it 95 points, and notes, "the purity and elegance of this Pauillac cannot be denied – a quite brilliant contribution to the 2014 vintage". This is a wine to give to a loved one for Christmas for them to stow away and open several years down the line – its drinking window ranging from 2022 to 2040.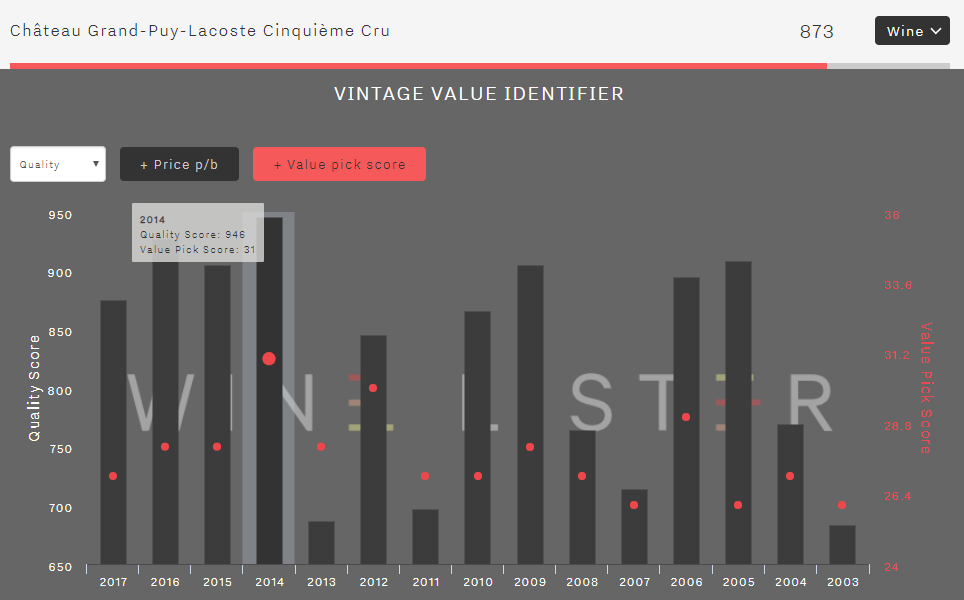 To view quality to price ratios for every wine on Wine Lister, on each wine page use the Value Pick score on Vintage Value Identifier charts, as above.
Wines three, four, and five of this week's Listed blog stand within a mere four points of each other. The two Margaux wines to feature, Giscours and Brane-Cantenac, achieve Wine Lister scores of 854 and 850 respectively, and have an identical Quality score (804). However, their profiles differ elsewhere, Brane-Cantenac being the better performer for Economics (806 vs 791), whereas Giscours excels for Brand strength (956 vs 934).
Sandwiched between the two in this week's top five line-up is Talbot, which claims the group's highest Brand score (984), if also the lowest Quality score (748), and an average price of £46.
A final commonality of all five wines (and of course of top Bordeaux red as a whole) is the long ageing potential. These five left bank reds have an average drinking window of 13 years, with some more recent vintages expected to be drinking well until beyond 2040 – testament to the tradition of buying claret to lay down for life, and not just for Christmas.