Listed: top 5 Brunellos by Quality score
To many wine collectors, the king of Italian wine is Barolo. Its popularity, particularly for older vintages, continues to grow (as proven in our latest restaurant presence analysis). However, the Piedmont sovereign's Tuscan counterpart – Brunello – should not be overlooked. This week's top five looks at the best Brunellos by Quality score – and all five achieve scores above 900.
Perhaps unsurprisingly, the top five Barolos by Quality score achieve an average score 34 points higher than this week's Brunello group (964 vs 929). However, couple this with the fact that the Brunellos tend to cost nearly half as much as their Barolo counterparts (£142 vs £275), and Brunello's value starts to become clear.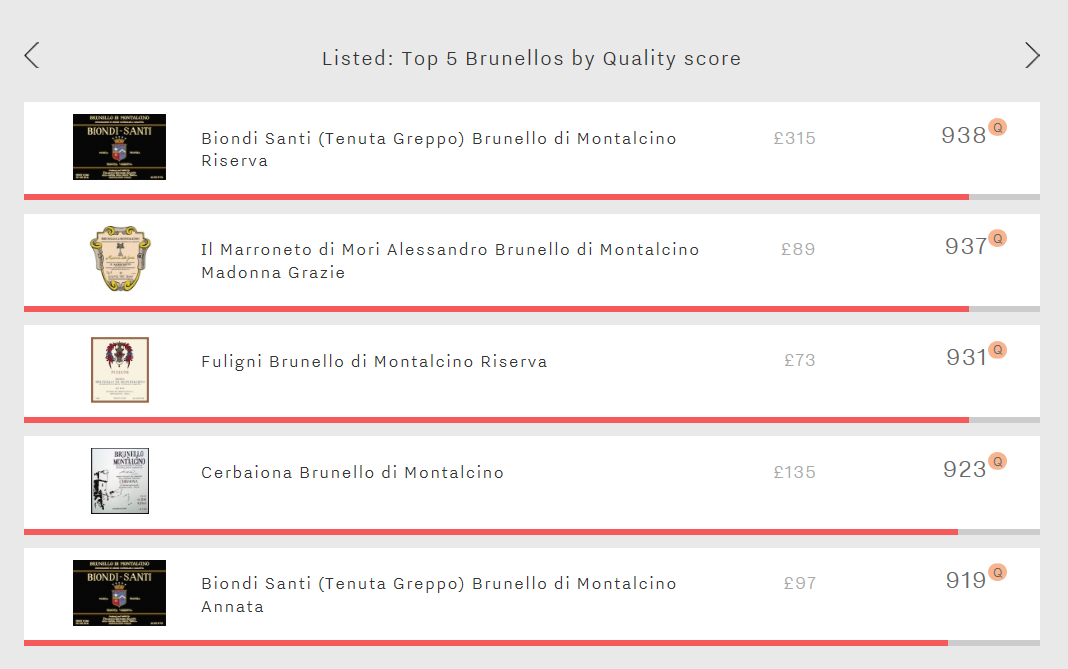 Biondi Santi earns two spots in this week's top five, with its Brunello Riserva and Brunello Annata bookending the group. The former wins this week's battle with an impressive Quality score of 938. It also achieves this week's highest Economics score (941), contributing to its excellent overall Wine Lister score of 926 – also the best of the group. Although, at £315 a bottle it is also more than three times as expensive as the collective average price of the other four (£99).
In second place this week is Il Marroneto di Mori Alessandro Brunello Madonna Grazie. With a Quality score of 937 it is just one point behind this week's number one – the slightly lower score being due to its shorter average ageing potential (12 vs 19 years). Its 2008 vintage provides the most impressive quality to price ratio of this week's top five, achieving a Quality score of 938, yet available for as little as £45 per bottle in-bond.
Next in this week's top five is Fuligni Brunello Riserva with a Quality score of 931. It appears to be the least well-known of the group, with a Brand score of 645. This is down to presence in just 5% of the world's best restaurants, and being ranked 1,257th for monthly online searches of all Wine Lister's wines on Wine Searcher. Its relatively modest Brand score could perhaps be the reason for its average price being the least expensive of the group (£73 per bottle).
Cerbaiona's Brunello takes fourth place, with a Quality score of 923. Though not earning the highest Brand score of this week's top five, it is still a Brand to watch – Cerbaiona was the only Brunello to feature in both recent top 20 lists for horizontal and vertical restaurant presence gains. Perhaps its increasing popularity is in part thanks to such an impressive score for the 2010 vintage. Vinous awards it 100 points, singing its praises: "The most anticipated wine of the night, the Cerbaiona shows why it belongs in the pantheon of the most epic wines ever made in Montalcino. A Brunello with no beginning and no end, the 2010 Cerbaiona just is. Every aroma, every shade of nuance, every texture is just…perfect."
Last but not least is Biondi Santi's Brunello Annata with a Quality score of 919. Though in fifth place for Quality, it achieves the highest Brand score of this week's top five, at 934. This impressive Brand score is the result of great restaurant presence (17%) and being the 118th most searched-for wine on Wine Lister.