Restaurant presence: branching out with grower bubbles
Part of Wine Lister's Brand score includes a measure of prestige, achieved by analysing a wine's presence in the world's best restaurants. Whether a restaurant makes the cut depend on a combination of measures including the Michelin Guide, San Pellegrino 50 Best Restaurants, and World of Fine Wine Best Wine List Awards.
The chosen wine lists are then analysed to give us the breadth (how many restaurants) and depth (how many formats and/or vintages in each restaurant) of presence achieved by each wine on Wine Lister. Looking at the former criterion, the chart below shows the top 20 biggest gainers since our last blog on the subject. (Next week we will be looking at wines with the greatest increase in depth of representation.)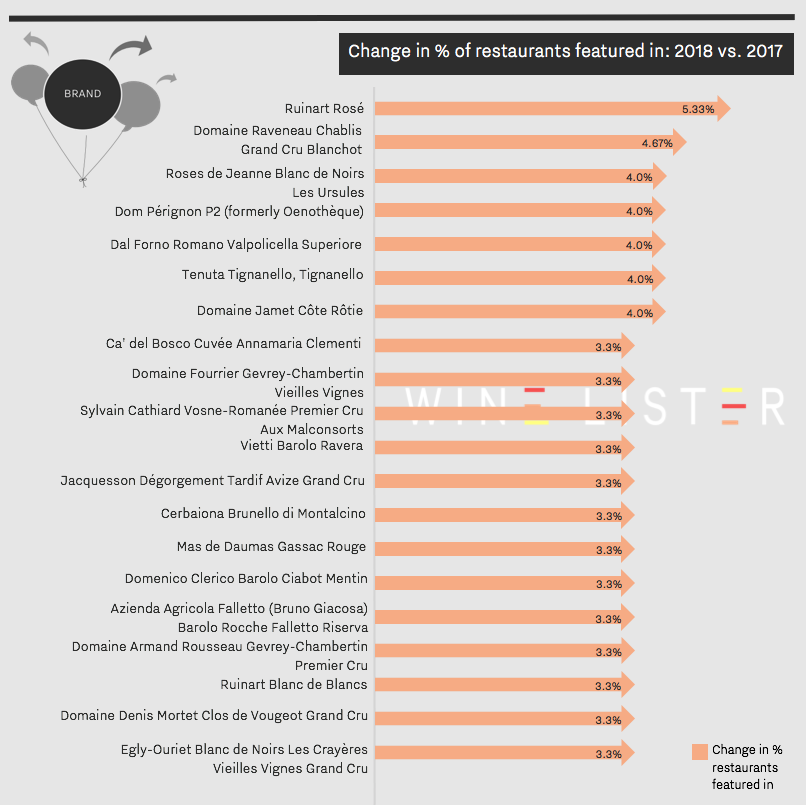 Six out of the 20 wines with the biggest increase in restaurant presence are Champagnes. Ruinart appears twice, with its NV rosé having made the greatest improvement, now appearing in 33% of the world's best restaurants. However, the overall winner – present in more than double the number of restaurants, is Dom Pérignon's Vintage Brut. Despite not featuring in the top 20 biggest risers above, the Champagne Brand king is now present in 69% of top restaurants worldwide, overtaking last year's winner, Yquem.
Contrary to our last analysis on the subject, not all the biggest Champagne gainers in restaurant presence are big brands. Ruinart Rosé, Dom Pérignon P2, and Ruinart Blanc de Blancs may well fit this bill, with an average Brand score of 878, but the lesser-known three, grower Champagnes Roses de Jeanne Blanc de Noirs Les Ursules, Jacquesson Dégorgement Tardif Avize Grand Cru, and Egly-Ouriet Blanc de Noirs Les Crayères Vieilles Vignes, do not, as shown by a lower collective Brand score average of 664.
If this alone is not an indication of restaurant wine lists branching out, then perhaps the absence of Bordeaux is (indeed, a handful of Bordeaux wines with strong restaurant presence have lost a little ground since last year's analysis). This diversification does however appear exclusive to the Old World, with no New World wines in the top 20 gainers.
Burgundy is well-represented amongst the top gainers, with one white, Raveneau's Chablis Blanchot, and four reds: Sylvain Cathiard's Vosne-Romanée Aux Malconsorts, Denis Mortet's Clos de Vougeot, Armand Rousseau's Gevrey-Chambertin, and Fourrier's Gevrey Chambertin Vieilles Vignes.
Italy brings a show of diversity with six wines hailing from four different appellations across the 20 biggest movers. Vietti's Barolo Ravera – one of three Barolos to feature in this list – has the lowest restaurant presence of the group (5%) and Solaia's younger sibling, Tignanello the highest (47%).