Restaurant presence: the wines taking over the world
As Wine Lister's holistic rating system demonstrates, there are many factors (nine criteria, in all) to take into account when calculating a wine's greatness. One of these is distribution in the world's top restaurants, our measure of a wine's prestige and clout on the international market. In order to identify the restaurants that count – not just for the food but for the wine – we have created a matrix of global restaurants with Michelin stars, 50 Best Restaurants, World of Fine Wine Best Wine List awards, and more. We take the most formidable combination of these as the basis for our painstaking analysis.
We are expanding our coverage constantly, and the latest instalment is now in. This year alone has seen an increase of 50%, to 150 restaurants analysed. New entrants come from across the globe, from New York's Balthazar to Paris's Carré des Feuillants.
The table below shows the 20 wines to have seen their restaurant presence increase the most since the last update in April: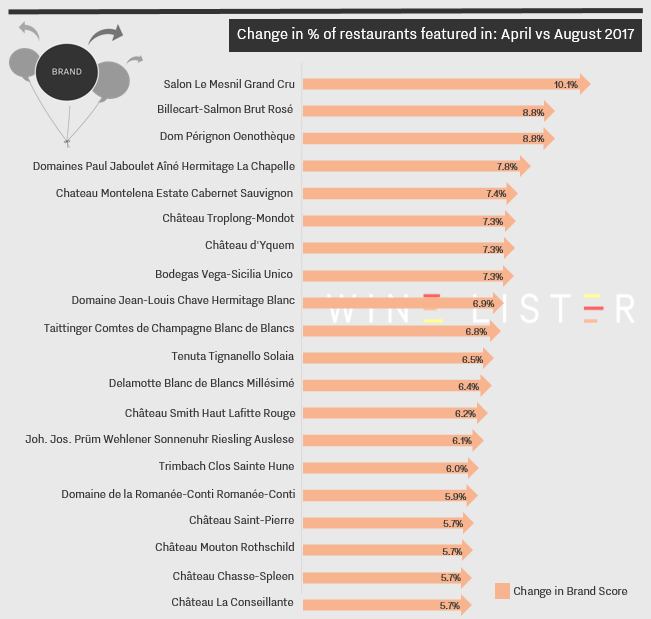 The top three wines are Champagnes: Salon Le Mesnil, Billecart-Salmon Brut Rosé, and Dom Pérignon Oenothèque (the last all the more impressive since the wine was re-branded a few years ago). None of them, however, is the wine with the largest restaurant presence. That accolade falls to Yquem, which saw its presence increase by 7.3% in the latest update, appearing on 69% of the world's top wine lists – including Boulud in New York and Sketch in London.
Second most popular of the wines above is Mouton Rothschild, whose restaurant presence increased by 5.7%, and which overall features on 58% of the best restaurants, from The French Laundry in California to L'Atelier de Joël Robuchon in Hong Kong.
It is also interesting to note the wines that have relatively low overall restaurant presence but saw a significant increase in the latest update, suggesting that their stars are on the rise. These include Bordeaux Saint Pierre and Champagne Delamotte Blanc de Blancs Millésimé, which appeared on 2% of the previous restaurant lists but are now at 8% and 9% respectively. Meanwhile, Smith Haut Lafitte Rouge found its restaurant presence tip from 9% to 15% in the latest update.