The second Founding Members' tasting
Wine Lister's Founding Members' tasting (the second if its kind) was held last week in the most beautiful surroundings at Ten Trinity Square Private Club. Aside from showcasing how Wine Lister data relates to the actual liquid in the bottle, these tastings are an opportunity to thank friends and supporters of Wine Lister, from subscribers to Founding Members.
We were excited to share news of upcoming developments with our guests, including the imminent expansion of Wine Lister's coverage (almost doubling from the current 20,000 wines scored), as well as the addition of a new rating criterion. Watch this space!
Wine Lister's Founding Members, more than 50 major players in the international wine trade, make an invaluable contribution to Wine Lister's research by sharing their market insights with us on a biannual basis. It is Wine Lister's role as a fine wine intelligence agency to combine this qualitative information with quantitative data to shed analytical light on fine wines from across the world, for example in our regional reports and factsheets.
In one recent trade survey we asked Founding Members the question, "Which wines do you consider hidden gems (wines you rate highly but which are under-appreciated)?". The responses inspired the wonderfully varied (but consistently delicious) selection of 24 hidden gems tasted last Thursday (see the full list of wines below).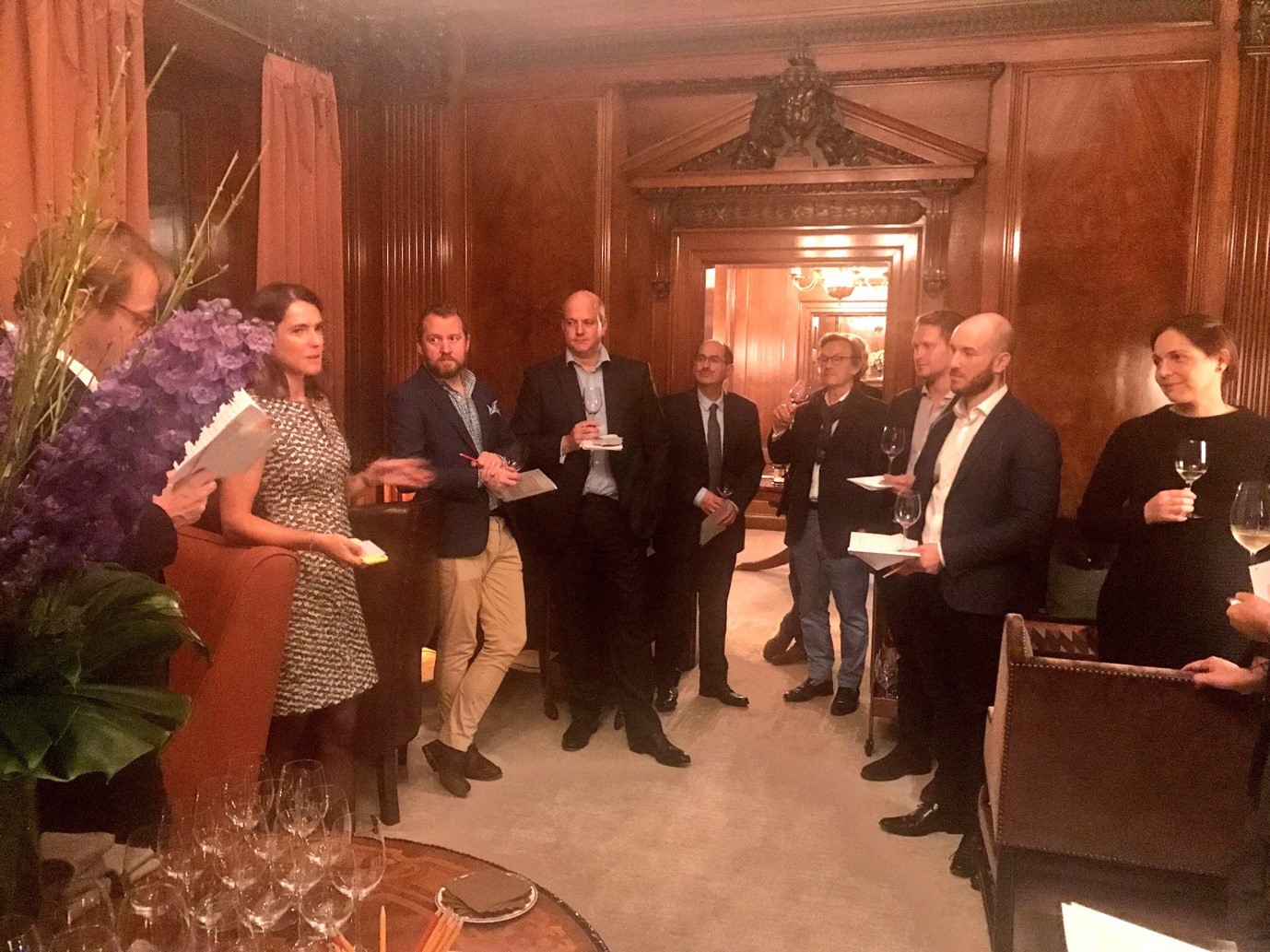 From left to right: Antoine Forterre, Ella Lister, Giles Cooper, Henry Donne, Pascal Kuzniewski, Pierre-Marie Boury, Anthony Vertadier Mabille, Gareth Kristensen, Sara Guiducci.
In an illustration of how Wine Lister brings together market research with hard data, the "raw" hidden gems selected by our Founding Members are then overlaid with critics' ratings, restaurant presence, and search frequency data. This gives us the final Hidden Gems presented on the Wine Lister website. In other words, Hidden Gems are wines that are rarely found in top restaurants, and not often searched for online, but which receive high ratings from our partner critics, and have been singled out by our Founding Members as not garnering due attention.
The Founding Members' "raw" hidden gems featured several Bordeaux wines, including 10 out of the 24 wines shown in the tasting. However, none of these achieve final Hidden Gem status due to their already established brands.
To liven up the evening, we encouraged guests to play "guess the score" – to see how closely they could estimate the Wine Lister score of the wines that they tasted. All the wines were showing beautifully, but Pichon Longueville Comtesse de Lalande 2005 was the wine that our guests successfully identified as having the highest Wine Lister score of the tasting, despite their guesses sitting an average 44 points below Pichon Comtesse 2005's actual Wine Lister score of 931.
Conversely, Henschke Mount Edelstone Shiraz 2014, Pédesclaux 2014, and Louis Roederer Brut Premier were all awarded higher scores on average by our guests than their official Wine Lister ratings, but the biggest difference was for G.D. Vajra Barolo Albe 2013. It was awarded an average score of 746 by our guests, 73 points above its actual Wine Lister score, which is brought down by a very low Economics score of 124, due to very little price movement or liquidity. This illustrates how the data-driven elements of Wine Lister scores complement the tasting component.
The wine where our guests came closest with their guesses, just 10 points out, was Brane-Cantenac 2005, estimated at 840 compared to its real Wine Lister score of 850.
Congratulations to the game's winner, Anneka Swann of BI Wines & Spirits, who was just 37 points out on average. We would also like to thank all our other guests for their valiant efforts at guessing the scores: Adam Brett-Smith, Andrea Frost, Chad Delaney, Charles Metcalfe, James Jackson-Nichols, Nicolas Clerc, Richard Stow, Rupert Millar, Tahir Sultan, and Will Hargrove.
Wines featured in the tasting: Louis Roederer Brut Premier, Philipponnat Clos de Goisses 2007, E. Guigal Condrieu La Doriane 2016, Casa Lapostolle Clos Apalta 2014, Seña 2010, Henschke Mount Edelstone Shiraz 2014, Isole e Olena Syrah Collezione Privata 2011, Tenuta San Guido Guidalberto 2016, Produttori del Barbaresco Barbaresco 2014, G.D. Vajra Barolo Albe 2013, G.D. Vajra Barolo Bricco delle Viole 2009, Domaine Duroché Gevrey-Chambertin Les Jeunes Rois 2015, Domaine Duroché Chambertin Clos de Bèze Grand Cru 2015, Domaine Tempier Cuvée Cabassou 2007, Château La Gaffelière 2014, Le Marquis de Calon Ségur 2014, Château Haut-Bailly La Parde 2012, Château Les Carmes Haut-Brion 2014, Château d'Issan 2011, Château Branaire-Ducru 2012, Château Pédesclaux 2014, Château Pichon Longueville Comtesse de Lalande 2005, Château Brane-Cantenac 2005, Château Lafon Rochet 2010.