Founding Members' tasting
Hidden Gems are one of four Wine Lister "Indicators", segmenting wines that meet specific sets of criteria into groups. Hidden Gems are those wines rarely found in the top restaurants, and not often searched for online, but which either have high ratings from wine critics, or have been singled out as a hidden gem by Founding Members in Wine Lister surveys.
Last week, Wine Lister celebrated its second birthday with a special tasting of a selection of 27 "raw" hidden gems, identified by our Founding Members (c.50 key players from the international fine wine trade) when asked which wines they rated highly, but which they felt were underappreciated.
Founding Members' Hidden Gems hail from a variety of regions, producers and vintages. Their average Wine Lister scores vary too, as shown on the histogram below, where the grey columns represent the total number of fine wines currently listed on Wine Lister which fall into each score bucket.
The full list of wines tasted is available here: Wine Lister Founding Members' Hidden Gems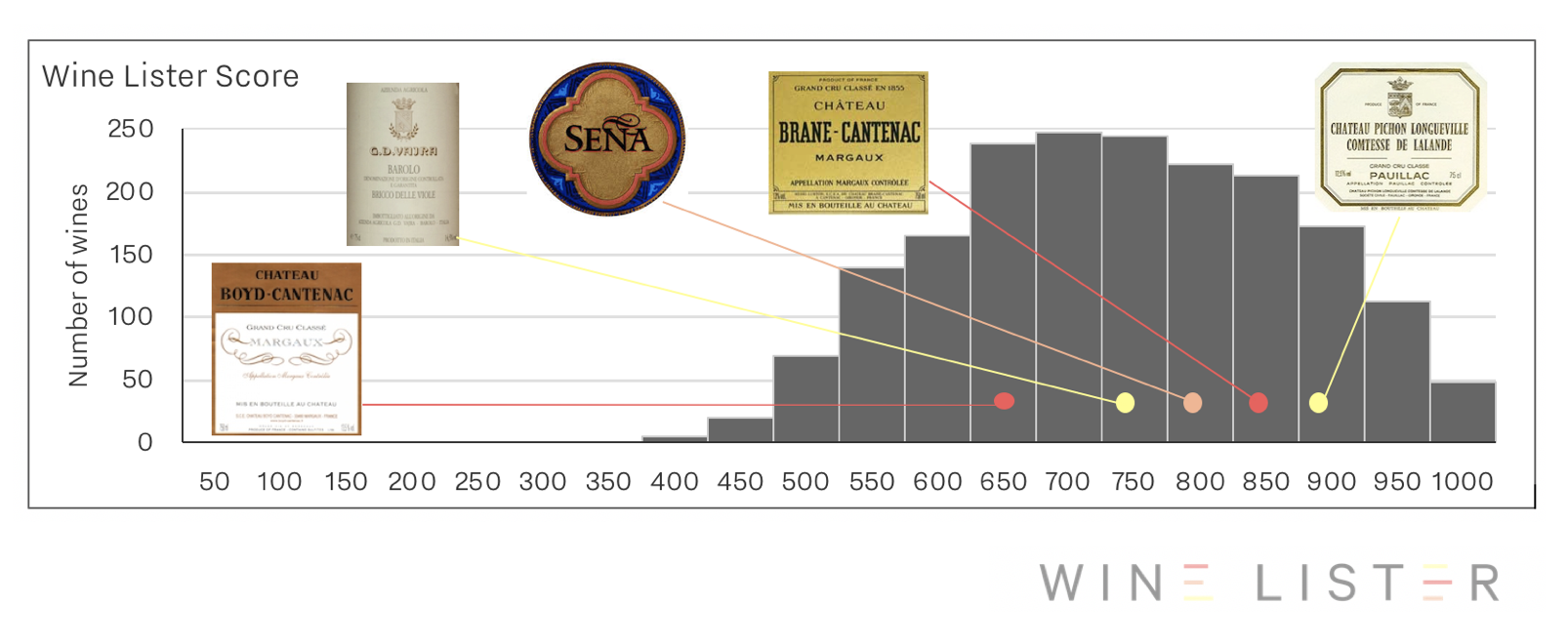 The Wine Lister team was joined by some of our trade Founding Members, data partners, and other supporters of Wine Lister. We encouraged tasters to share their comments by writing on the tasting table. All the wines were showing beautifully, and G.D. Vajra's Barolo Bricco delle Viole 2009, tasted from magnum, won widespread praise from all the guests. It also holds the highest Quality score (927) of all wines in the room. One taster even went so far as to name it "the Lafite of Barolo"!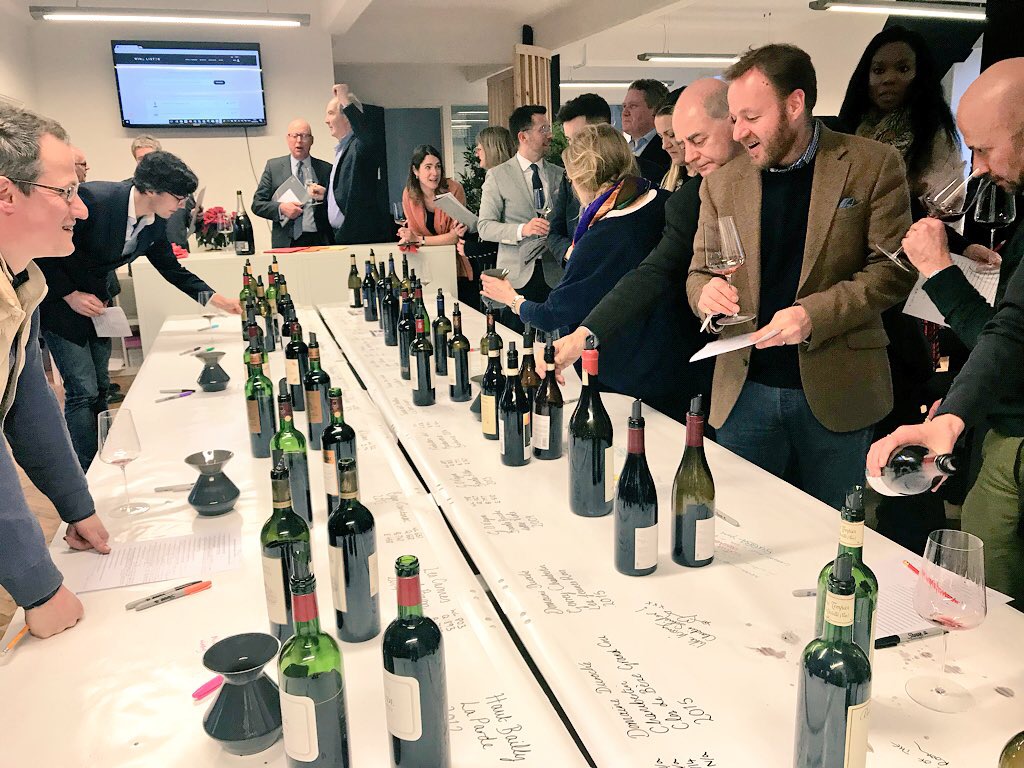 From left to right: David Harvey, Arthur de Lencquesaing, Dan Jago, Charles Lea, Ella Lister, Jancis Robinson, Jan Konetzki, Adam Bruntlett, Katy Andersen, Grant Ashton, Sophie Mclean, Richard Harvey, Greg Sherwood, Aita Ighodaro, Joe Fattorini.
Find out what else was said about the wines by following this link to more photos of the event.
Wines featured in the tasting: Louis Roederer Brut Premier, E. Guigal Condrieu La Doriane 2016, Casa Lapostolle Clos Apalta 2014, Seña 2010, Henschke Mount Edelstone Shiraz 2014, Isole e Olena Syrah Collezione Privata 2011, Tenuta San Guido Guidalberto 2016, Tenuta dell'Ornellaia Le Serre Nuove 2015, 2011, 2007, Produttori del Barbaresco Barbaresco 2014, G.D. Vajra Barolo Albe 2013, G.D. Vajra Barolo Bricco delle Viole 2009, Domaine Duroché Gevrey-Chambertin Les Jeunes Rois 2015, Domaine Duroché Chambertin Clos de Bèze Grand Cru 2015, Domaine Tempier Cuvée Cabassou 2007, Château La Gaffelière 2014, Le Marquis de Calon Ségur 2014, Château Haut-Bailly La Parde 2012, Château Les Carmes Haut-Brion 2014, Château Boyd-Cantenac 2013, Château d'Issan 2011, Château Branaire-Ducru 2012, Château Pédesclaux 2014, Château Pichon Longueville Comtesse de Lalande 2005, Château Brane-Cantenac 2005, Château Lafon Rochet 2010.